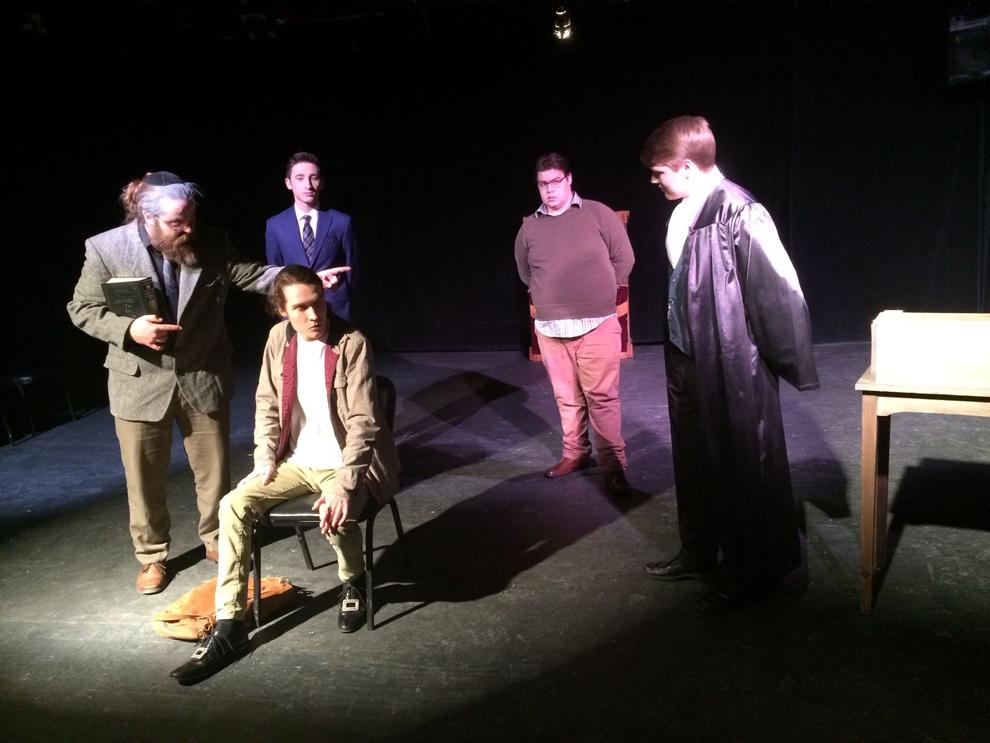 On its surface, The Interrogation of Baruch de Spinoza is a simple story. A young, misunderstood genius seeks to break down social barriers in order to lead his people towards a better future. If only they would listen, he would lead them out of the darkness and into the light, and they would all be better for it.
But as the show comes to life, it quickly becomes clear that things are not so simple.
Running from Jan. 30 to Feb. 2, the Arts and Humanities Students' Council's production strives to illuminate the difficulties of Spinoza's situation.
Set in July of 1656, the story follows the trial of Baruch de Spinoza, a prominent Jewish philosopher of the 17th century. However, during the time in which this play takes place, Spinoza is simply a confused 23 year-old Jewish man living under the tolerant but limiting law of a Christian dominated Amsterdam. After spreading his radical ideas about God and religion to those in his community, he is accused of atheism and brought before a crowd to stand trial for his crimes against both Amsterdam and Judaism.
Part of the appeal of the production is that the crowd watching the performance is treated as though they are the members of the community witnessing the young philosopher's trial.
The fourth wall breaking presence of the crowd was something that director Julia Sebastien felt was essential to the performance.
"That's definitely something that I wanted to bring into this small space: a sense of intimacy, connectedness and participatory energy," says Sebastien, a fourth-year Faculty of Information and Media Studies, and School for Advanced Studies in the Arts and Humanities student.
Aside from producing an engrossing atmosphere, Sebastien sought to leave her mark on a play which she has admired for years.
"It's a play that I've loved from the time I saw it on a class trip in high school," says Sebastien. "In the version that I saw, everyone left applauding Spinoza for being right the whole time. In this version, I really wanted to play up a genuine internal conflict within Spinoza."
This internal conflict comes from the fact that Spinoza, in defiantly voicing his radical opinions, is putting the safety of his people at risk. Throughout his trial he must defend his views against not only a narrow-minded Christian who wants to see him excommunicated from the Jewish community, but also against his mentor, Rabbi Saul Mortera.
While it may seem obvious that Spinoza should be allowed to voice his opinions, it is difficult not to sympathize with Mortera, whose greatest concern is keeping the Jewish community of Amsterdam safe.
This conflict is one that is felt not only by the crowd, but by the performers as well.
"I don't feel like the hero the whole time," says Aaron Fysh, a first-year SASAH student who portrays Spinoza.
Despite all of these uncertainties, Spinoza is still indisputably the central figure and protagonist of the play. What's less clear is who or what exactly Spinoza is fighting against. Throughout the play, all characters are shown to have reasonable motives for their actions, and as a result of this, it becomes difficult to pick out one figure who truly represents the villain.
"The real thing that is condemned throughout the play is a lack of freedom," says Sebastien. "The antagonist [is] the situation."
The dialogue which occurs throughout the play between Spinoza and Mortera is at the heart of what makes this production worth seeing. Witnessing two people who care so deeply for one another openly lash out in defence of their beliefs is striking; seeing them console one another and attempt to find common ground when left alone is doubly so.
No transcripts of the actual trial of Baruch de Spinoza exist, so there is no way to know what really happened on that summer day in 1656. If Spinoza's trial was simply a product of poor timing and unfortunate circumstance, it nonetheless carries important lessons for those who find themselves confronted by beliefs differing from their own in the current day.
Tickets and showtimes can be found here.