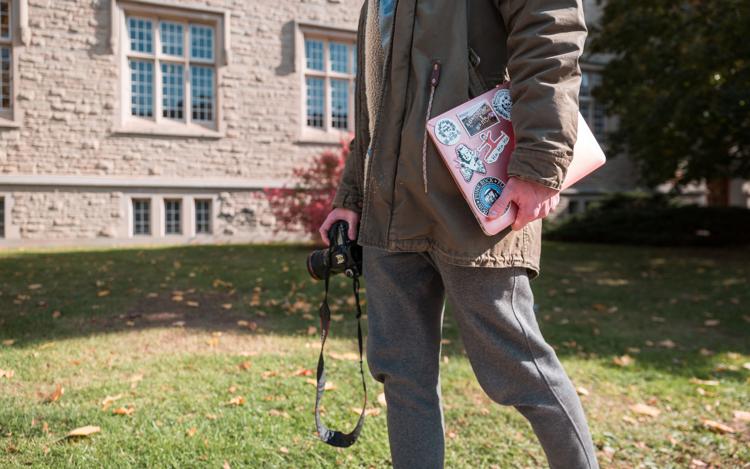 When the average traveler lands in a city like Marrakesh, Prague or Berlin, the first thing they might do is head toward popular tourist attractions or grab drinks on a elegant rooftop bar.
But Joanna Joy Afghani is not your average traveler. A freelance videographer, photographer and former online English teacher, Afghani has been living the digital nomad lifestyle for the past year. She has travelled across Europe, teaching English in school camps in Italy, networking in coffee shops in Portugal and pursuing videography for an urban running group in Germany. Borderless and self employed, the 26-year-old works freelance with different companies that align with her interests, ranging from fashion brands to sports organizations. 
After pursuing her undergraduate in psychology and receiving her master's of media in journalism and communication, both at Western, she wanted to find work where she could prioritize flexibility, build her portfolio and be her own boss. Following her brother's footsteps, she began teaching English online to children in China while travelling the world.
As it's a relatively new phenomenon, there aren't a lot of credible statistics on the prevalence of this cultural trend; however, a recent study by the New York Times found that most industries are embracing remote work. Thanks to the rise of freelance employment, a networked global economy and a myriad of digital tools, many people are realizing that they don't have to tie themselves to one place to make money.
According to Anabel Quan-Haase, Western University professor in the faculties of Information and Media Studies and Sociology, it's a lifestyle marked by financial uncertainties and a lack of familiarity with local spaces. Technology is the only constant. 
There's a lot that remains unsaid about this new breed of nomad. One issue both Afghani and Quan-Haase have is the idealized representation associated with the lifestyle. 
"I really want to make sure that we don't paint the picture that being a digital nomad means you're going to be on an exotic beach all the time, sipping rosé with your besties in your hashtag sponsored bikini and your perfectly sculpted body," says Afghani. "Honestly, that pretentious picture of a digital nomad gets painted so much on social media, and I think it's the kind of image most people scoff at and hate."
While she does enjoy the benefits of the lifestyle, the Western alumna notes that it's not as glamorous as the media portrays it to be and that these disfigured depictions can lead to disappointment for those thinking of pursuing the lifestyle. 
"I don't think people talk enough about the downsides on social media, like being tired from all the travelling, or when a client pays you late or not having health benefits," says Afghani.
Often navigating through confusing foreign systems, living with unfamiliar roommates and being frequently uncertain of her monthly income, Afghani believes that, like with any other career, being a digital nomad has its ups and downs.
While pursuing a number of media-based projects, it can be hard for her to maintain a healthy work-life balance, with all of the behind the scenes work that goes into shooting and editing her photos and videos. The travel can also be very demanding and tiring on her body — most days, she's too tired to do any sightseeing.
For those considering pursuing the lifestyle, Afghani recommends doing lots of research and finding out what you're most passionate about; while you may visit Berlin, you might be too busy to actually check out the Berlin Wall, so make sure you're going to enjoy the work you're doing while you're there. 
Budgeting is important since nomads may not have a steady flow of income. 
"It's more difficult not having a set amount coming into my bank account each month, but if you budget and if you plan in advance, it's definitely possible," says Afghani. "When you're starting off in this field, you won't have all of the clients that you will build over time. It's something that you have to stick out for a while and hope that, as you build a bigger portfolio, that you'll have more clients and more reoccurring income."
That said, Afghani also reaps the benefits of travelling abroad: rent isn't always as expensive as it is in cities like Toronto and networking around the world opens up a number of freelance opportunities. Currently, she's editing a promotional video project she picked up after bumping shoulders with an entrepreneur in a Lisbon cafe.
And there are other benefits to being immersed in diverse cultural settings: Afghani has tried authentic Italian parmigiana di melanzane, mingled with locals in Marrakesh and attended a pierogi festival in Poland.
As her clientele grows and she continues to travel the world, Afghani is building an infrastructure for her career, helping her clients tell stories while she continues to pursue her own.