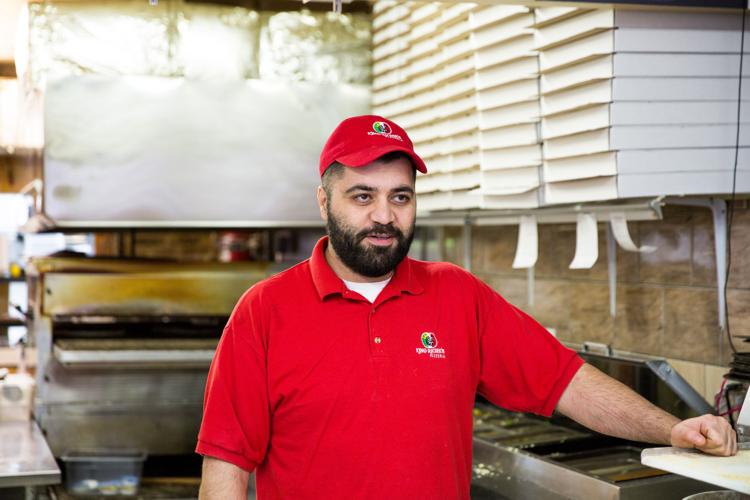 In the six years that it's been open, King Richie's Pizzeria has become a student fixture. This is in part due to its prime location on Richmond Street, near campus's main gates and the infamous Broughdale Avenue, but thanks must also be given to the man behind the monarchy: Afshine Jahangiri.
During our conversation together, Ash — as he likes to go by — answered questions, while also overseeing employees and taking customer orders as the Monday-afternoon crowd filed in and out.
Ash cofounded King Richie's with his friend, Wahid Barakzai. Ash came up with the idea for King Richie's when he was working at the now-defunct Pita Pit in the same building, and the owner told him the space was for sale. They had first thought of 'King of Richmond' as the name for the business, but decided King Richie's was catchier.
"I noticed there was no pizza place between Masonville and downtown, so I thought this would be a good location," Ash says. "I have a pizza background myself [having worked at Pizza Pizza and Domino's], so I decided to roll with it."
Ash and Barakzai split up duties at the pizzeria, and it's Ash who's in charge of King Richie's social media. It was his idea to make a customer wall of fame in the store and use Facebook, Instagram and Snapchat for marketing.
He says the constant snaps started out as fun, with clips of the employees dancing, customers yelling or pizzas being made from start to finish, but eventually it took off, and now he says they have more followers on Snapchat than on Facebook and Instagram combined.
Ash credits the student community and the pizzeria's location with its success.
"I know that when you have a student business in this city you will be successful, especially [because of] Western."
Given Western University's reputation as a party school, one might think Ash would have plenty of war stories considering he's positioned so close to the university, Broughdale Avenue and student housing. Yet, he says the opposite is true.
"I actually like the drunk students more than the ones in finals," he says. "I see it every weekend, and I get a positive energy from them."
For Ash, the students studying for exams are often short with him, stressed out and more apt to give him a hard time, especially over the phone. Certainly, intoxicated students aren't perfect, but he says he could only recall two real fights.
"One student thought the other was being rude to us and so they rushed to our defence," says Ash. "Both times, I split them up and told the one who had already got his pizza to go home and that we'd talk when he is sober."
He remembers one student who, once a year, manages to pass out drunk in the store, with Ash once having to carry him into the cab outside. He admits there is one student, who he says is a good kid who just "once in a while, he just drinks more than he should."
With any successful business, people often point to expansion, but Ash is not so eager to jump right in. The one shop is enough work for him right now, and another location wouldn't have the same robust student population around it.
"If I change anything now, I might lose business," he says. "Sometimes change can be good, but ... sometimes keeping it simple is the best thing."