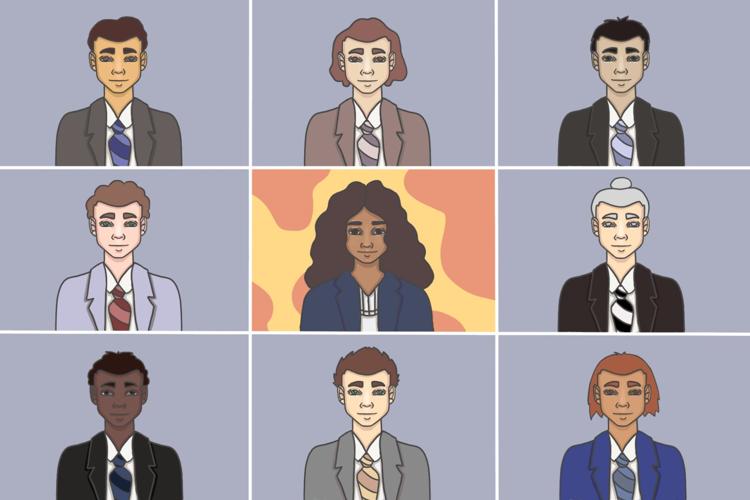 On Sunday, we celebrate International women's day — a day dedicated to recognizing female empowerment.
On this day, social media is abuzz with recognition for women and it's an opportunity for supporters to recognize strong female figures in their lives.
And while it's a time of acknowledgement, respect and celebration — it also serves as reminder of the gender inequality that is still prevalent in our society. While women have made leaps and bounds in positioning themselves as equals, they are still faced with the "sweethearts," the "you just helped them reach quotas," and the "but who will take care of the kids?"
There was a time when the workforce was comprised of men alone. Since then, women have come a long way, but still, there are a myriad of occupations that remain heavily male dominated.
Engineering, construction and technology-oriented careers, to name a few, all see a massive split in female acceptance — entering these careers can be both isolating and daunting.
Laura Popa, a third-year computer science student believes this is true. "When you pick a career path, it's hard to see yourself somewhere you're not represented … when I was younger I wanted to be an electrician, but I never once saw a female one — it just didn't seem accessible," she says.
The idea of "men's work" and "women's work" is heavily socialized, so many women fail to recognize opportunity in what are conventionally deemed "masculine" careers.
Sarah Mooney, a first-year criminology student at Brescia University College felt backlash for her interest in joining law enforcement, traditionally known as an "old boys' club." It's a physically demanding career that, in Canada, sees only 20 per cent of its workforce comprised of females.
"A lot of family and friends questioned if this was something I could handle … I'd be asked 'there's so many jobs out there — why would you go into something so dangerous?' or 'why, it's so male dominated?' Just a lot of negative responses," says Mooney.  
And she isn't the only person who has heard sexist comments. Nanami Carlson is a fourth-year psychology student who spends her summers working in carpentry.
Being called a "little girl," asking if she had a "designer belt," or constantly being asked if she "needed help carrying things," while her male colleagues did their work independently was difficult.
"I got to the point where I just ignored [the comments] and showed them what I can do," says Carlson.
Despite the challenges, there is an increased amount of females that brave the backlash — although that doesn't mean it's easy. For women working in male-dominated industries, being a minority often comes with being dismissed, undermined and ignored.
Third-year criminology student and intramural hockey convener Hilary Pomajba said "While other referee's respected me, coaches and players often didn't. It was like 'Oh you're a girl, you don't know what you're doing.' And then officiating in university, I was dismissed again … all the pushback I get, my male colleagues don't. I know what I'm doing but people will continuously say 'you're wrong'."
Second-year physics student Elise Woodward had similar experiences.
"I was told by the other male in the group that he knew what was going on … he wouldn't even listen to [all of my ideas] and cut me off, right off the bat. That's actually happened three or four times since first year … just not having your voice heard," says Woodward.
And while females are slowly inserting themselves in "traditionally male roles," these students expressed that it's almost as if they must give up a part of their identity to fit in. Somehow, for some reason, being feminine and being successful in certain industries is a difficult idea for some to digest.
"If I were to go out to bars and say, 'Oh I'm in computer science,' they'd respond 'Oh, you don't look like someone who's in computer science,' — it's like a backhanded compliment, where they're like 'you're pretty, but you're too pretty for computer science.' Okay then — so I look dumb?" says Popa.
Woodward supported the feeling, saying "Obviously if you are coming to university, if you are trying hard, that's all the merit you need. You don't need to be a genius, you don't need to be the best in your class and you don't need to be one of the boys — that's not a requirement to be a student in physics."
And while these women actively try to shake off the stereotypes that are adamant on following them into their careers, we find that they, while being accepted, are only done so at surface level. They are invited into the club, but are still expected to do a "woman's job" or offer something "only a female can."
"I remember for a group project we got to pick our teams and I didn't know anyone. A group of guys approached me and asked if I wanted to join. I was like 'yeah, that would be great.' I later realized it was only because they thought I'd be great at the aesthetics of making our product look nice. I'm not even good at that. They would ask me about CSS and what colours should we use — I really didn't care," says Popa.
Mooney also describes an experience where she felt undermined for her gender. "I applied to the military, to serve in an infantry role and upon application and for the duration of testing, I felt targeted by my male counterparts," describes Mooney. "I was asked questions that focused on my gender, 'what makes you an exceptional female candidate?' or 'why do you even want to pursue this?' In testing, it seemed like there was less targeting on the males, and as one of only two females … I felt very pressured. Rather than just being a candidate, I was a gendered one."
And so we celebrate women, because it's not easy being one. There are many horror stories, and many challenges but there are is also success and empowerment. For change to happen, there must be those brave enough and willing to fight for it.
"You have something all the males don't — own that. Stop letting the concern of men dominate your decisions," says Mooney.