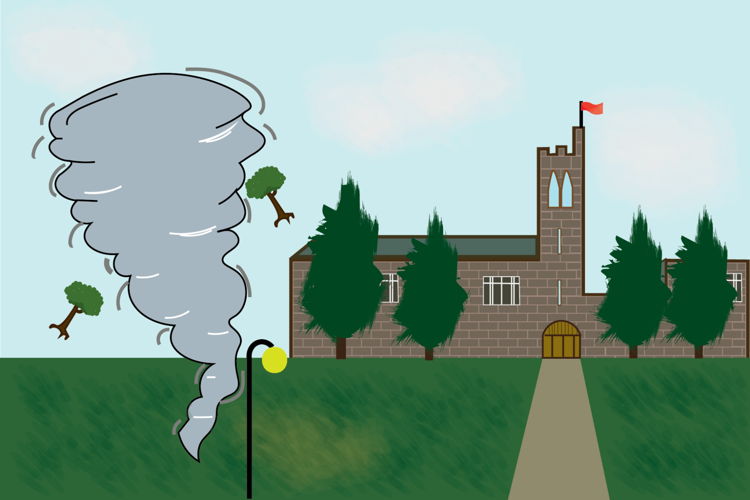 It's no trip to the land of Oz when a tornado touches down. In the event of one actually happening on campus, not only do the buildings need to be strong enough to withstand winds of up to 300 km/h, but students also need to know the proper procedures and protocols to follow.
Due to its geographic location, Western University is exposed to a variety of natural threats, including tornadoes. London resides, according to the London Free Press, in a tornado alley, an area comprising regions of southwestern Ontario.
Although Canada's tornado-prone region isn't as large as the United States' "Tornado Alley," Canada, especially southwestern Ontario, can still see tornado activity.
I'm on campus, where should I go?
In the event of an emergency — which Western defines as "an urgent and/or critical situation, temporary in nature, that threatens or causes harm to people, the environment, Western's property or disrupts critical operations" — it's safe to assume that all emergency services will provide immediate assistance. Local public safety agencies like the London Police Service and the London Fire Department are also available for immediate response.
Tornadoes travel at an average of 30 km/h, but their spinning speed is much stronger, garnering a speed of about 200 km/h — double the speed of a car when driving double highway speeds — according to Ashraf El Damatty, professor and chair of the department of civil and environmental engineering. These twisters can form very quickly, and it's often unforeseeable where exactly they are going to happen. Preparation is key. 
A system of sirens and broadcasting device sits atop Alumni Hall, ready to alert campus that severe weather is imminent.
When you're on campus and you hear the siren, seek shelter immediately. Most of the structures on campus, according to El Damatty, are mostly made of concrete, so they have good resistance to tornadoes. El Damatty says, although they're not likely to withstand a F5 tornado, the power plants on campus have also been designed for this.
A 2013 general order updated by Campus Police says on-campus areas "such as interior stairwells, corridors, classrooms, offices, washrooms and other structurally sound rooms can provide shelter from flying debris and broken glass."
Western's emergency process advises students to avoid large open spaces like auditoriums, cafeterias or gymnasiums, as these places are prone to collapsing. 
El Damatty says tornadoes can last for about 10 to 15 minutes. This means you'll want to stay inside until you know for sure the winds have halted. If you're on campus, you'll hear a repeated message that says, "All clear; the emergency is over."
Campus Police consistently monitor weather through Environment Canada's severe weather warnings, watches and advisories through weather radio, email, Exeter Radar and by watching the sky. When a weather warning is in effect, they will sound the sirens, notifying campus community members to seek shelter.
I'm at home, what do I do?
During a disaster, staying calm and keeping a clear head can help you avoid injury and survive devastating conditions. Learn how to stay safe before you need to.
"Tornadoes and hurricanes can be very damaging," says El Damatty. "We've seen cases where whole cities were wiped out. Tornadoes are much more dangerous than hurricanes because they are much more unpredictable, and there is very little warning when one is coming."
El Damatty says tornadoes can take the roof off low-rise structures, such as houses, meaning the structure will be exposed and the walls will collapse. He says the best thing to do if you're in off-campus housing is to go into a concrete room in the basement, which should be more resistant to strong winds.
Because of his research interests in the effects of natural disasters on structures, El Damatty developed a structural solution for low-rise buildings, such as houses, and for transmission towers, which are most vulnerable and usually the first to go during tornadoes.
By collaborating with his graduate research group and by using the Wind Engineering Environment and Energy program's facility, El Damatty's research has even influenced international structures in the U.S. — his work will be implemented into the ASCE Guidelines for Electrical Transmission Line Structural Loading known as ASCE-74 — Mexico, Japan, and the Caribbean.
I'm outside, what can help me?
If you're close to a building, attempt to reach the basement. The other option, Western outlines, is to lie flat and face-down on the ground, covering the back of your head with your arms. Seeking protection from trees and cars is not suggested as they can be blown into you. 
Other advice is more obvious.
"Don't chase tornadoes," says El Damatty. "Some crazy people try to chase tornadoes because they look interesting, but don't do that. Try to see what path the tornado is going and then go into the complete opposite direction."
We're not in Kansas, but that doesn't mean you should let your guard down. Like the exam you're studying for, be prepared!
If you are calling 911 from a cell phone, you'll reach London Police, so be sure to let them know you're calling from Western.