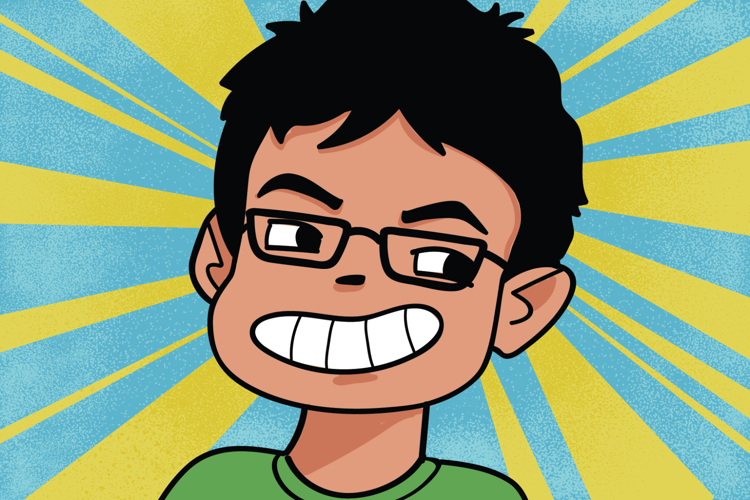 When Bryan Lee O'Malley recalls his time at Western University, he remembers the atmosphere more than the academics. He describes mornings spent eating eggs at the King's University College campus eatery, afternoons spent listening to indie music, and classes spent drawing instead of taking notes.
"I don't think I actually had a major," he says, though he remembers many film studies courses. "I just loved hanging out there, but I wasn't good at going to class and studying and paying attention."
But Bryan was good at one thing: comics. The internationally acclaimed cartoonist behind books like Lost at Sea, Seconds and the cult classic Scott Pilgrim series started drawing in elementary school. As early as the third grade, Bryan drew comics and handed them in as class assignments. Though the hobby followed him to high school, he didn't realize he wanted to pursue drawing as a career until later.
"In high school, for a while I wanted to be a writer or a novelist," he explains. "I thought comics were kind of lowbrow."
His eventual desire to be a cartoonist stemmed from his love of the Canadian indie scene. In high school, he used Western's campus radio station, Radio Western, as his alarm clock, which introduced him to the garage-rock sounds of the '90s. He distinctly remembers hearing the band Plumtree and their song "Scott Pilgrim" on the radio for the first time. He knew that, eventually, we would want to create a character based on that song.
After a year and a half at Western, Bryan decided to take time off from his studies, and he never went back. Instead, in 2001 he visited California, where some friends he met online were drawing indie comics.
"By the time I was 20 or 21, that was what I wanted to do. I just didn't see myself having the capacity to do anything else," Bryan explains.
Bryan stayed in California for six months. By the time he returned to London, he had befriended James Lucas Jones, an editor at an independent comic book publisher. Eventually, he pitched Jones the idea for Lost at Sea, which became his first book.
"I just kept sending him pitches, and the one that worked the best was Lost at Sea, which was basically just a road trip with teenagers and cats," Bryan laughs. 
At 23, after publishing Lost at Sea, Bryan moved to Toronto. His next book, Scott Pilgrim's Precious Little Life, changed his own life.
"I had no idea what it was gonna be. I just really liked the name," he says. 
Scott Pilgrim started off as an embellished version of Bryan  — he was a young man who lived in Toronto, loved Canadian indie music, took the TTC everywhere and shared a bed with his roommate. With time, Scott Pilgrim grew into something more: a quirky hero who would have to defeat an army of evil exes to get the girl. 
"I kept imagining stuff and adding on to my life basically, making it more fun, and it just came out," Bryan says.
In the following years, his indie series became a phenomenon. By the time the third book came out, Edgar Wright, director the 2004 horror comedy Shaun of the Dead, contacted Bryan about a potential movie adaptation. Four years later, in 2010, the sixth and final book was released, alongside both a genre-bending movie, Scott Pilgrim vs. the World, and a beat-'em-up-style video game of the same name.
"I never thought I would do this in my life," he says. "The first couple of books weren't selling that great because indie comics were always pretty small. It just kind of became this huge outlier of success, and it's way beyond me or anything I would have anticipated."
When the movie came out, Bryan moved to Los Angeles to work on other projects. The first of these was a graphic novel called Seconds, which is based on his time working at restaurants to support himself while writing the first few Scott Pilgrim books. Though Seconds takes place in a fictional city, many of its buildings are inspired by locations in London.
"You can find bits and pieces of yourself and your friends in any character, but you have to go beyond what you specifically know," he says. "The root of what you write is your experience and your lived emotions and whatnot, but you have to expand beyond that."
Bryan's most recent project is a series called Snotgirl, a collaboration with artist Leslie Hung. He's also chipping away at a new graphic novel called Worst Worlds.
Though his life has changed drastically, Bryan says he stayed fundamentally the same during his transition from London to Los Angeles. 
"I always just need to get back into drawing comics because I feel like a fish out of water in any other situation," he says.