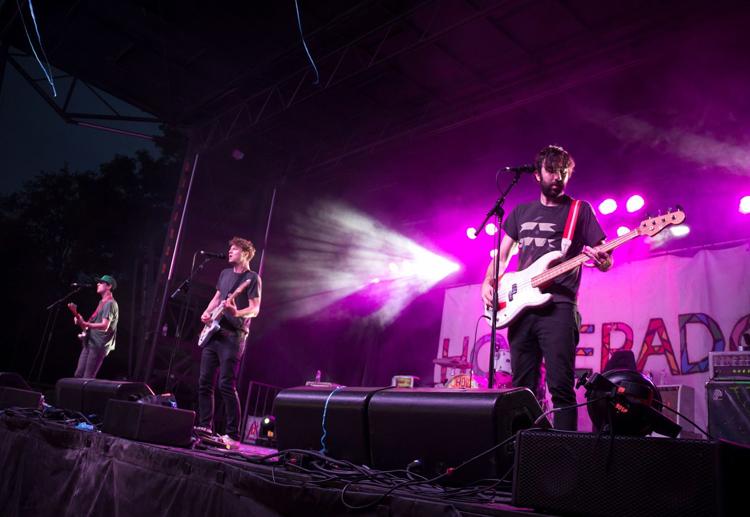 Hollerado, Bad Waitress and Pacific Estate will be performing at the Wave on Nov. 22.
The event, hosted by the University Students' Council and FAM — a partnership of the Faculty of Information and Media Studies Students' Council, the Arts and Humanities Students' Council and the Faculty of Music Students' Council — was announced on Monday morning.
"It's really an opportunity to showcase the FAM faculties on a campus-wide stage. It was a really great opportunity to put FAM in the limelight for once," says fourth-year media and the public interest student and FIMSSC president Ariana Magliocco.
According to Magliocco, the hosts hope to sell about 550 tickets.
"It's going to be a smaller venue, but we wanted that small concert-type atmosphere so it wasn't super overwhelming and could kind of feel like you had an intimate experience with the band," explains Magliocco.
Hollerado is a three-time Juno-nominated Canadian indie rock band from Ottawa. Their most recent album, 2017's energetic Born Yesterday, is packed with retro-style elastic guitar hooks and versatile choruses. 
In 2011, Hollerado scored a viral hit with their "Americanarama" video, which features 24 actors stacked in a grid, posing and dancing with massive cue cards in fluency with the power-pop tune. Hollerado are also well-known for indie singles, including "Juliette," "Fake Drugs" and "So it Goes."
Bad Waitress is a playful, four-piece punk rock band from Toronto. The band incorporates heavy and fast guitar riffs and intensely energetic and punchy drums with a strong sense of inclusive and progressive lyrics.
Their most recent EP Party Bangers Vol. 1 has solidified Bad Waitress as a staple in the punk genre, with characteristically short songs and a timely use of group vocals on songs including "What do I want?" and "Let's Get Fucked Up."
Pacific Estate is a Burlington pop-rock band which formed in 2011. Their most recent EP, Say Hello to Heaven, Vol. 1, is a combination of seraphic and grungy vocals and harmonic guitar melodies. 
The bands vocalist and guitarist, Cameron Hart, is currently in his third-year of media, information and technoculture at Western University. 
"It's a great opportunity for us to play for our friends and a new crowd. We spent the summer recording new music and we're super excited to play it," says Hart.
Currently, early bird tickets are being sold for the price of $15.00, and ticket prices will go up to $20.00 starting Nov. 13. They can be bought online or at The Purple Store. You must be at least 17 years old to attend.
"It's a really great opportunity to have a big name performer in a small-scale venue, when you oftentimes don't get [that]," says Magliocco.
If you're looking to hop into the mosh pit or have a beer and a heartfelt sing-a-long, this is the perfect event.
Follow the Facebook event page for more information.