Title: Falstaff
Director: Michael Cavanagh
Venue: Paul Davenport Theatre, Western University
Showtimes: Feb. 5, 8 p.m.; Feb. 6, 8 p.m.; Feb 7, 2 p.m.
Rating: 5/5
Sometimes, it pays to go back to basics.
Director Michael Cavanagh and UWOpera have put together a masterful rendition of Verdi's timeless comedy and final opera, Falstaff. Rather than changing the setting or time period in an effort to be edgy or current, Cavanagh's production indulges in the visual opulence of the original late-medieval staging, matched only by the energy and verve of the UWOpera cast.
The opera is based mainly around the antics of a fascinating character borrowed from Shakespeare, Sir John Falstaff. Short on money, the knight decides to play the odds and woo two rich, married women, Alice Ford and Meg Page. When they discover his scheme, they — with the help of their friends — concoct an elaborate prank to teach him a lesson. Subplots of romance and intrigue run parallel to the main story and the result is a good two and a half hours of comedic entertainment.
The cast fit their roles admirably, both vocally and in terms of character. Jessica Clark, a master's student at Western, stood out in particular for her vocal skills in the soprano role of Nannetta. Her rendition of the character's arias are sure to be memorable and she meshes well with James Smith's Fenton in playing the sickeningly lovelorn couple. Cristina Pisani is a wonderful and mischievous Alice Ford, relishing the prank to an almost deranged degree. Simona Genga skilfully portrays Mistress Quickly's domineering presence, sweeping imperiously about the stage with a rich mezzo-soprano.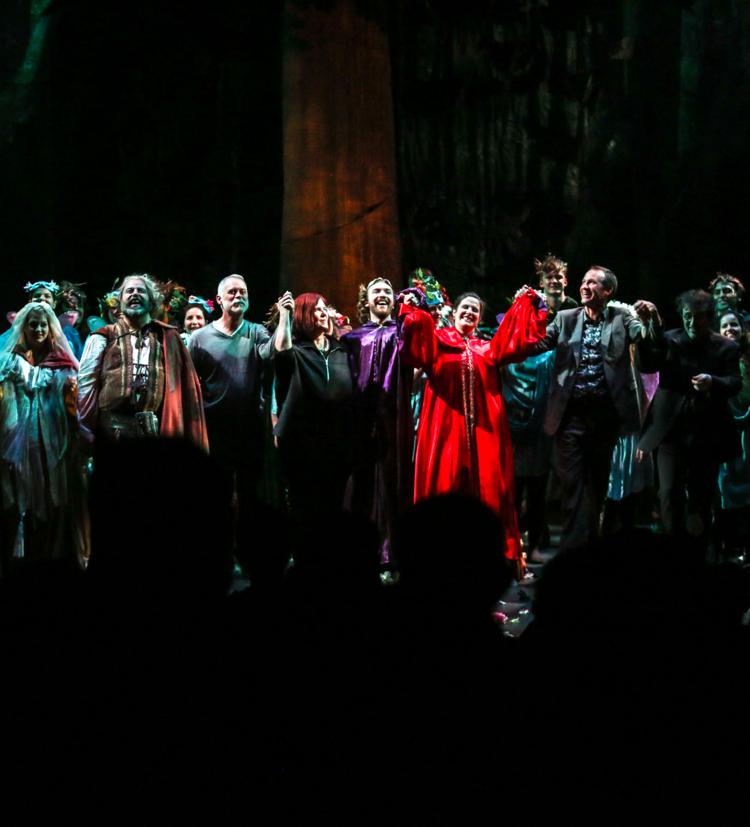 But a good Falstaff, of course, ultimately needs a good Falstaff and bass-baritone Chad Louwerse gives an absolutely brilliant performance. Louwerse is clearly in his element playing the lecherous drunkard; he has considerable experience already with comic roles, such as Sirocco in The Montreal Opera's production of L'Etoile. He lumbers around on stage, clutching at bottles, purses and bottoms, unwashed and unscrupulous, like an elephant seal mixed with Donald Trump. At the same time, there's an undeniable charm to his character and Louwerse's rich, powerful voice gets that across. It's a pleasure to see him act and a delight to hear him sing.
Cavanagh's production is a feast for the senses. The orchestra, directed by Alain Trudel, is a masterful emotional mouthpiece for the play — it swells and fades in perfect time with the on-stage action and it is a striking performance even by itself. The costumes of the aristocratic ladies are dazzling and opulent, and Falstaff is appropriately begrimed for much of the play. The set, too, is visually detailed and colourful, especially the final scene, a beautiful, misty forest with shafts of "sunlight" lancing the foliage. A minor gripe, however — the fairy costumes are straight out of a third-grade pageant, sparkly wings and all, jarring with the previous costume quality as well the fascinating, mystical surroundings.
You might think of opera as highbrow or inaccessible, but the truth is productions like these are as entertaining as any night at the movies. Take, for example, the scene where Fenton and his mob hunt for Falstaff while the women hide him in a laundry basket: the action reaches a feverish pitch, several things are going on concurrently and there's a general atmosphere of glorious chaos. What's not to love?
Despite being an operatic comedy, Falstaff is by no means shallow. It's a work about keeping in good humour, taking it all in stride; Falstaff himself admits he's been "an ass" in the end and joins in the wedding festivities with his characteristic vigour. In the final act, Louwerse's Falstaff turns to the audience, spreads his arms and bellows tutti gabbati — "all are fools." In our modern climate of hypersensitivity, maybe a work about not taking yourself too seriously is exactly what we need.
The opera with this cast is playing again on Feb. 6 at 8 p.m. The version with a slightly different cast is playing on Feb. 5 at 8 p.m. and Feb. 7 at 2 p.m. Tickets are $30 general admission and $20 children, students and seniors. Buy them at the Grand Theatre website or call 519-672-8800. A limited number will be sold at the door.