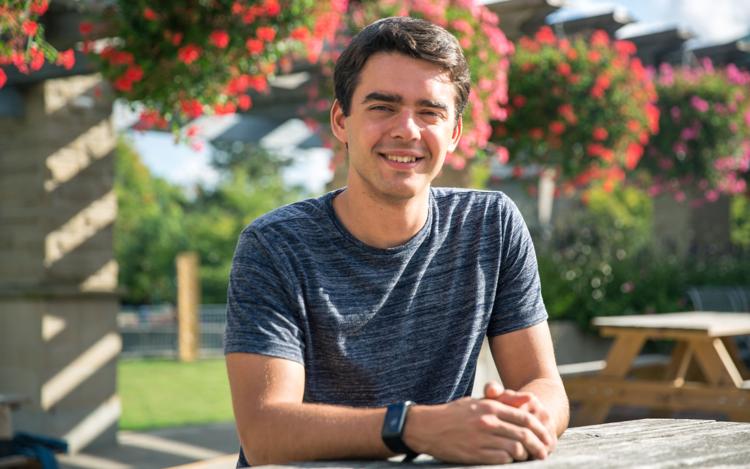 Beneath the looks of an average Western University student, Victor Lal conceals a sense of determination few others possess.
As a 21-year-old, Victor feels very lucky for the many opportunities available to him. At a similar age, Victor's parents were escaping a Communist regime in Poland. Thanks to the sponsorship of a church group, they were able to start a new life in Canada.
Victor is now driven to pay back the kindness shown to his family. In May 2017, he founded Canadians for Syria, an organization that brings people together to sponsor Syrian refugees and collectively address the restraints of time and money they face.
Growing up, Victor participated in endurance sports and triathlons, so he decided to do a challenging endurance event to raise funds to sponsor a refugee family. In June 2017, he set out on a 24-day bike ride from Toronto, Ont. to St. John's N.L., Canada's easternmost point — a trek of over 2,500 kilometres.
Victor describes the event as a "meditative experience" where he was welcomed into the homes of strangers. He called ahead to the communities he passed through, and organizations connected him to local families willing to take him in for the night.
"I'd have a warm meal waiting for me, a warm bed … and a family that only speaks French, but really wants to talk to me," he says. "I had some fun experiences pulling out my high school French."
The bike ride successfully raised $30,000, enough to sponsor a Syrian family of five who are expected to arrive in Canada next month.
The event was so successful that it inspired Victor to do something bigger and more challenging. The day after he finished the bike ride, he started training with a Western University swim coach for a 52-kilometre swim across Lake Ontario in an effort to raise $60,000 — enough for two more Syrian families.
On Aug. 25, after one year of training, Victor completed the swim in 21 hours and five minutes. The experience was a mentally and physically draining process.
"The last three or four hours of the swim were probably the most pain I've ever been in in my life," says Victor. "It really felt like there were knives stuck in the front of my shoulders, and with every stroke, it was just brutal pain. I remember screaming into the water and just trying to let go of that pain and that tension."
Water temperatures drop as low as 15 degrees Celsius near Toronto, but marathon regulations forbade him from wearing a wetsuit. Victor put on 30 pounds to insulate himself against the cold waters, but he says the cold actually helped numb the pain. He also wasn't allowed to touch a boat during the swim, so he could only tread water during his breaks. The pressure difference between the lake and his goggles stopped the blood flow to his eyelids and eyes, resulting in serious inflammation. Despite these obstacles, Victor was determined to finish the swim.
"The main thought I had was that this was a very binary decision where I can either deal with the pain for only three or four more hours or I can quit," he says. "Then I'm going to have to live with the pain of knowing that I didn't fully complete what I set out to do, and that's going to last a much longer time than just three hours."
When Victor finally came out of the water in Toronto, he recalls being overwhelmed with pride, relief and exhaustion. For months he was told that he would not be able to complete the swim.
"The truth is that this was a very scary thing to do," he says. "I was really happy right after I finished, but then as soon as I got home, I just started crying because ... it was such a relief to be able to do it, and all of that fear just melted away."
Despite receiving widespread support for his endeavours, some people told him the swim was a "great effort for a terrible cause." To his surprise, people who themselves were immigrants to Canada decades ago told him that refugees are dangerous and not worth the investment. Victor  explains he views these remarks as a source of motivation.
"When someone tells you right after you do a swim for 21 hours that you did it for a wrong reason, it kind of hurts, but then you remind yourself that these people are wrong," he says. "There needs to be a fight against people who think that immigrants and refugees are dangerous, and that fight needs to be something where you're not quietly whispering behind closed doors, you're shouting it and taking the brunt of whatever hate comes your way."
For Victor, getting people to pay attention and take action in response to the refugee crisis is the largest challenge. As the Syrian war enters its eighth year, he explains the world seems to have accepted the status quo.
"It's no longer something that is newsworthy. It's no longer something that people are speaking about," he says. "There's always people who are willing to listen, but sometimes that listening doesn't translate into action."
After finishing his Ivey business degree at Western, Victor plans to return for a master's degree in refugee and public policy. His future goals are focused on social impact; specifically, facilitating refugee resettlement.