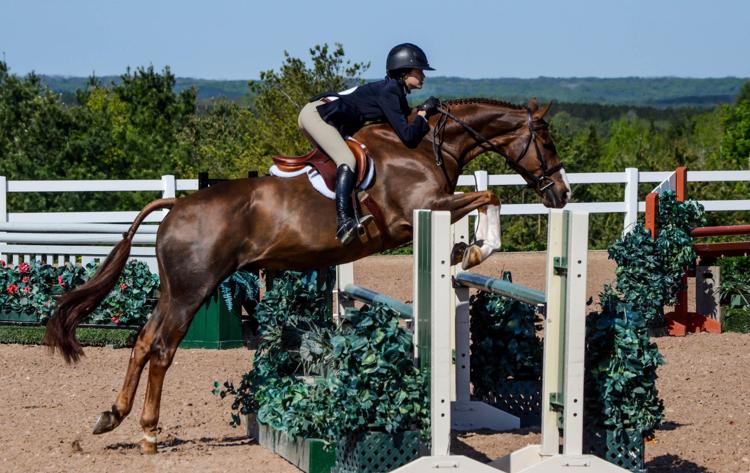 Fourth-year sociology and criminology student Victoria Anderson was one of Western University's most successful athletes last year in a sport you don't hear about often. As a member of the equestrian team, Victoria brought Western to the top of university horseback riding. 
In the 2016–17 season, Victoria was the top rider in the Ontario University Equestrian Association's West Division (which includes the universities in western Ontario). She was also the competition's champion in the open division.
Getting this good at horseback riding took time though. Victoria first rode a horse at summer camp when she was seven, and it took off soon.
Victoria began with weekly lessons, and from there, the hobby blossomed into a passion. She started competing when she was nine. Victoria and her older sister Kristen, who recently graduated from Western, travelled to horse shows all over the province and, occasionally, to the United States. 
"It turned into a whole family thing. My sister and I did it together," she says. "Most kids do soccer when they're younger. We did things like that but put them aside to continue riding." 
At Western, though, Victoria wasn't immediately sure she wanted to join the team. She was competing alone as she always had been, trying to qualify for the national championships, and she hadn't really considered adding a team commitment.
That first year was tough, as it is for anyone new to university. Going home to Toronto most weekends to practice while keeping up with school gave her a crash course in balancing her commitments. 
In second-year, though, Western's equestrian captain approached Victoria and her sister to encourage them to join the team. Victoria agreed and didn't regret a thing, even though the university circuit is a very different experience.
In the OUEA, you don't compete with your own horse. Every rider meets their equine companion at the moment they start competing. 
"You're going in cold: you don't know what to expect," says Victoria. "It's about learning how to adapt to different situations. It's just based on skill." 
Riding with Western's team has given Victoria a new kind of experience that was very different from competing with her family's horse, Max. 
This year, though, Victoria had to make a very difficult decision: she stepped away from the university equestrian team. She's still involved as the team's social media and marketing executive, but she chose not to compete.
In fourth year with school pressure mounting, she found that she wouldn't be able to commit to the team fully as she had in the past two years. She didn't think it would be fair to take up a spot on the team if she couldn't be there as much as she'd like. 
Victoria isn't done with horseback riding by any stretch though. She says she'll continue on with it as a hobby for years.