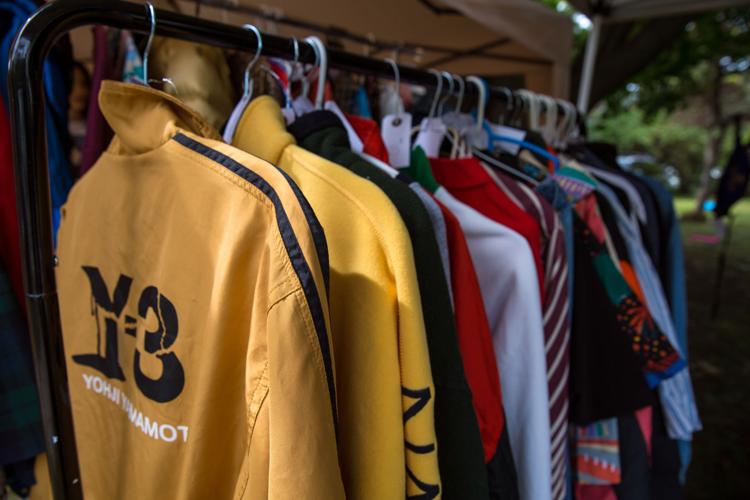 Days before the uproarious rebellion known famously as FOCO, there's one sure thing on everyone's mind: rambunctious foolery. A glorious sea of purple is coming to a party near you. This Saturday, Broughdale Avenue will host London's most notorious event of the year, and people are bound to fumble through their closets to find their purple gear to show off their Western pride.
In this midst of all this chaos, there's incentive to look fresh. But where do you go when The Purple Store is overpriced and the Book Store is sold out of your size? With Us Vintage — founded by Western University fifth-year psychology student Suzie Blainey and Queen's University student Jess Schnabel — is holding their first pop-up shop near campus, selling Western hand-me-downs to ramp up purple pride.
"Nobody wants to look the same on homecoming," says Schnabel, co-founder of the Toronto-based store. "Everybody always wants to stand out, so what better way to do that than a cool vintage Western item or a different purple piece?"
This Thursday and Friday from 11 a.m. to 7 p.m., the booth will be stationed at 222 Epworth Ave. for people to stop by and purchase an item that'll be sure to make them stand out of the rowdy crowd of partiers and day-drinkers dressed from head to toe in purple. 
Blainey and Schnabel aim to encourage awareness about sustainability and reducing harm to the environment.
"We upcycle lightly used clothing and accessories," says Schnabel. "Vintage is just the rage right now. This is just one way for students to get involved in making a change."
Schnabel has always been passionate about fashion and clothing and aims to live a sustainable, eco-conscious lifestyle. This company is a result of her merging these two aspects of her life, allowing her to create a difference while doing something she loves. Even better, she gets to do this along with her best friend.
"[We want to] let the students have a really cool piece that they can hang onto forever and not just throw $40 on bookstore t-shirts," says Schnabel. "Our prices are … definitely student-budget friendly."
At the shop, there will be hundreds of items in stock, ranging from $20 to $50, with an outlier: a sweater from the 1960s, priced at $140. They've got a lot of merchandise in  store, including sunglasses, hats, sneakers, jackets, bodysuits, headbands, scarves, t-shirts and sweaters.
If you're looking to rev up your style for FOCO, visit the pop-up shop to grab some timeless retro accessories and clothing that will give your outfit the perfect purple statement.