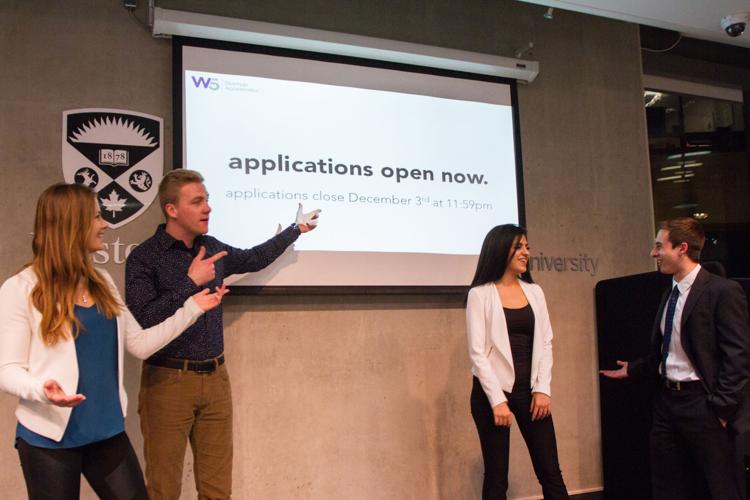 Almost everyone, at one point or another, has an idea pop into their head. One they feel could absolutely, 100 per cent turn into a successful business, but the gap between having an idea and taking the steps to make that idea a reality is huge and intimidating.
That's where W5 comes in. Western University's student entrepreneurial association that exists to help dedicated students bring their ideas to fruition.
W5's accelerator applications are open to any student, regardless of year and program. Accepted applicants are paired with a W5 mentor, who are all entrepreneurs in their own right. 
This year, applicants don't even need an idea to apply.
"It's less about the idea one has coming into an incubator than it is about the person, which is why we focus on the candidate's personal strengths," says Eaton Asher, a recent neuroscience graduate and senior vice-president of internal for W5.  "There are no correct answers: the best way to fill it out is honestly."
According to Asher, the questions consist of several standardized personality questionnaires that will help determine the student's vision. Using this information, W5 tries to match each successful applicant to a mentor they feel would be their best fit. This one-on-one relationship will continue throughout the school year and hopefully even beyond.
Last year they had around 150 applicants with 15 selected for mentorship. This year, the number has whittled down to 10 in order to strengthen the quality of the mentorships and allow for more collaboration between all W5 members.
While it can be difficult to manage a student career with an entrepreneurial one, W5's executives feel that students are actually in an ideal position to begin their startups. 
"Being a student is the best time to do it," says Kirill Kokorin, a fourth-year mechanical engineering student and one of the accelerator's mentors. "You're generally not constrained by bills or a mortgage or things like that." 
In fact, a large part of the initial mentorship involves learning different strategies for coping and self-regulating, which will assist in balancing the demands of academia and business.
The lack of a program bias comes from the executives' idea that entrepreneurship can be a universal learning experience.
"Your marks show you have a good track record, but they're not the endgame for employers," says Asher. "[Entrepreneurship] shows that you're able to create something that otherwise would not have existed."
The W5 Startup Accelerator 2018 Applications can be accessed here and are due on Dec. 3.