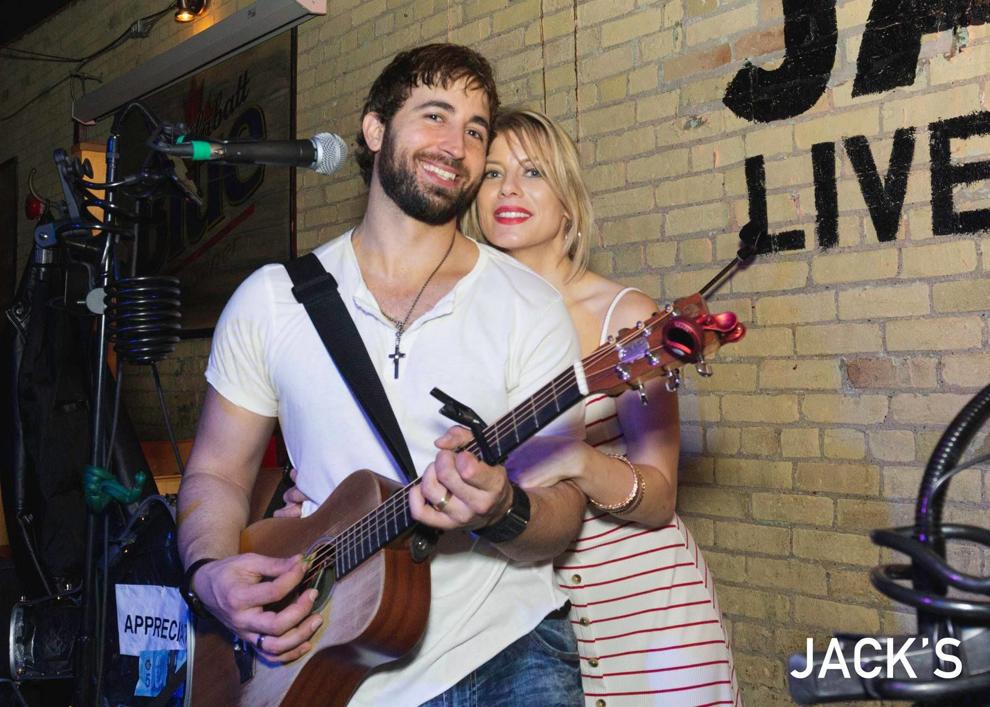 It's 2:13 a.m. Your shoes are soaked. The mirrors are fogged. The place should be closed. Your stomach is sloshing with beer — of the dollar variety, to be exact. How are you still dancing?
You can thank the intoxicating combination of draft beer crafted to the student budget and the energetic couple that plays all of your favourite songs for this. But let's be honest, the beer itself is nothing special. The musicians, Rob and Kelly Sef, however, are what's truly instrumental to the Jack's experience.
Oje Ofulue, fifth-year biology student, says, "[They're] fantastic, they're giving a service to the people every week."
Do we ever stop to think about just who these fine musicians are? They're happy to indulge our 15th request for "Home" by Edward Sharpe and the Magnetic Zeros, to tolerate our demands to play their tambourine and to watch us stomp around in our own beer spillage. It's time we get to know their story.
Rob and Kelly: Love at first open mic
Rob Sef, 33, and his wife, Kelly Sef, 29, say they wouldn't exactly choose to listen to the music we request (here's looking at you, guy who keeps asking for Nickelback's "Photograph"). But, Rob says that "when people go nuts, that's our favourite song."
Music is how the two make their full-time living. They play at various bars in Windsor and at Jack's every Monday (but you already knew that). Tuesday is their only night off. 
"We live together; we're married; we work together. Definitely 100 per cent a team," Kelly says.
Quite befittingly, they found each other at an open mic night in Windsor in 2014. It was love at first sight, says Rob. He was hosting the evening when Kelly came on stage to sing Jewel's "You Were Meant For Me." 
"She's a natural," says Rob. "That night, as soon as she came up to sing, jaws were dropped. She didn't even know [she could sing]."
Rob has always been musically inclined. He even taught piano lessons to kids despite having never played. Kelly, on the other hand, comes from a musical family but never thought she'd be a singer. She was a support worker for adults with disabilities for four years and just recently decided to join Rob in making music her full-time job.
Around the time of their wedding in 2015, the manager of Jack's approached them to play a Monday Dollar Beers. Due to the Monday night time slot, they expected it to be a low-key gig. Four years later, their weekly appearance has become famous among Western University students and alumni.
Always committed to their fans, Rob and Kelly said they would definitely play a Western wedding. No pressure to all you commitment-phobes who are just "wheeling."
In the meantime, they show their appreciation for students in other ways.
"Every week, we actually buy shakers and tambourines for you guys so that you can join the band," Kelly says.
Harit Sohal, a third-year Ivey business student, was the lucky recipient of the highly coveted tambourine on the March 25 edition of Dollar Beers.
"I honestly feel like I'm on top of the world. Jack's Monday is probably the best night," Sohal says.
Though the Sefs are sober when looking out at the crowd of rowdy students, Rob says the experience is a blast. He and Kelly do, however, take liberties with our short attention spans — they often omit verses from songs that nobody knows. Don't feel duped though; it's so that we can sing along to the parts we know as much as possible. "We just do all the bangers you like," Kelly explains.
The Dollar Beers family
Kelly says her favourite part about Jack's is seeing everybody get along. "There's very rarely any fights. I like that everybody is like a family,… dancing and hanging and not, like, cliquey," she says.
It seems their live music brings us all together. And now, as the school year comes to a close, it's time to look back on all the memories you've made — whether at Jack's or elsewhere.
And for all you graduating students, Rob and Kelly say they love when fourth-years tell them how much they've enjoyed their live music while at Western. "It's really nice when they tell us that. We just smile," Rob says.
Both Rob and Kelly agree that they have the best job in the world.
So there you have it: strangers no more. And to the guy who is still planning to request Nickelback: maybe try dropping a little something in their tip jar first?