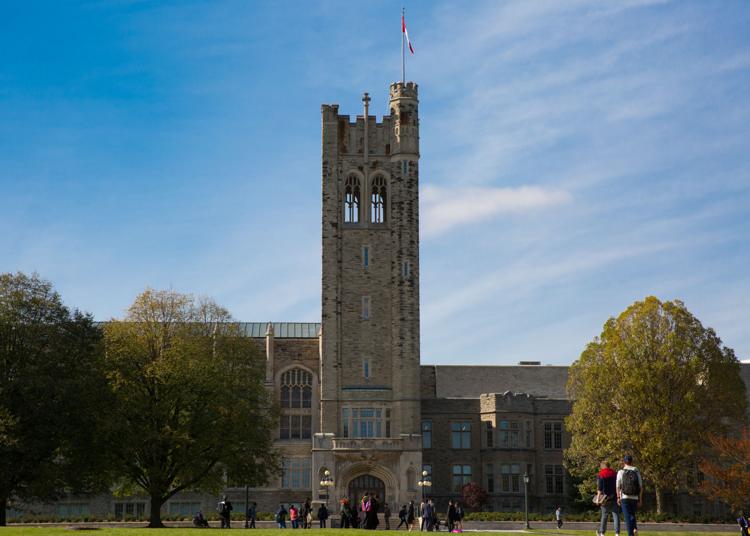 The streets of Broughdale crawling with students, plastered and painted in purple. Hands forming that iconic "W" that screams "We are Western." Purple and white school pride, blackout football games and midnight grinding at D.B. Weldon Library during midterms. As Mustangs, we know what Western is all about. But what does the rest of Ontario think?
Wilfrid Laurier University
Emma Durst, second-year Wilfrid Laurier University student, compares Western University to Queen's University.
"I heard it was a big school and had a huge Greek life.… Western girls [and guys] are really attractive and have a huge social media following, just like Queen's. The two [universities] honestly go hand-in-hand."  - Durst.
Brock University
"There is this idea that they are better than other schools," says Colleen Bush, a second year Brock University student. "Not everyone that goes there believes that, but some of them do.… [It's] a superiority complex, kind of. 'It's better here, therefore, I'm better than you.' It's a Queen's/Western thing." 
While smaller universities seemed to either idolize or denounce the people, larger universities took a more objective stance. 
University of Toronto
"I've heard [Western] parties a lot.… My weekend [in London] wasn't representative, but it seemed quiet," notes second-year life science student from University of Toronto Gina Yang. "It's kind of boring on campus. [The University of Toronto] is busy 24-7. London is just not." 
Words on what one might deem the overhyped party and hookup culture overshadowed any sentiments of Western's academics, clubs and initiatives.
University of Toronto Mississauga
"It doesn't matter what day it is, something always seems to be happening. It seems like a fun school where I could have a social life, go out and party," says second-year University of Toronto Mississauga student Samie Rizvi.
McMaster University
"All I hear is that there is a huge hookup culture. If your girl goes to Western, she's not your girl. I think it's over-exaggerated," says second-year computer engineering student Phahad Bandali from McMaster University. "They just joke at the end of the day," 
Bush agrees. "A lot of what people told me was 'Girls who go there, I wouldn't pin you as one of those,' but I've realized it doesn't necessarily hold true for everyone," says Bush. "It kind of just depends on your friend group."
The FOCO school
And of course, on finally top it all off, there's FOCO, as Yang deadpans.
"FOCO was a smart idea. They made their own thing. It was rebellious; now it's a tradition," says Durst.
"I don't know much about it, but I've seen pictures," admits Bush. "It definitely seems crazier than anything I've seen at Brock." 
Bandali goes further to say, "FOCO is very fun, and [Western students] will do anything to celebrate it."
An integral part of Western's culture as explained in the Foco-Hoco controversy, these universities see it as an easy tie-in to our party persona. While true, it's more than that — it's Mustangs banding together in the streets with doors and backyards open to anyone looking for a good time, before we have to work as hard as we play despite the backlash from officials.
Of course, with every university, there's the good and the bad. While loved by some and hated by others, Western can pride itself in being thought of. From the stereotyped party school perception to the surprising idea that it's small and quiet, at least Mustangs know what the rest of Ontario has to say.