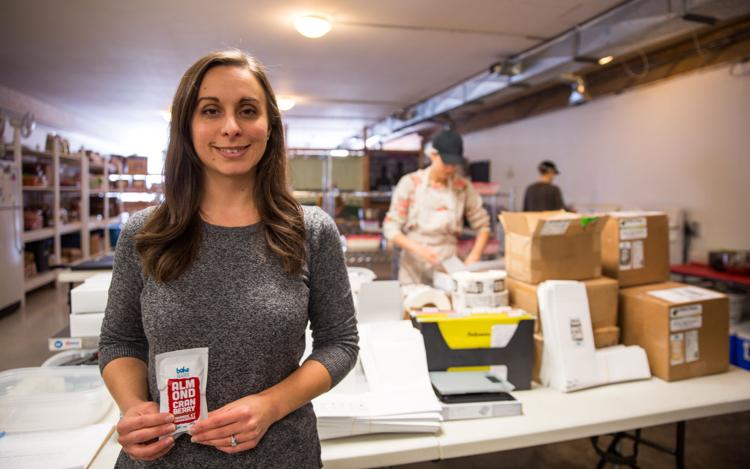 Take one look at the packaging on your protein bar and you may find a daunting laundry-list of ingredients, revealing an excess amount of sugar and saturated fat. To top it all off, many brands don't even offer tasty products.
This was a problem that Western alumna and founder of Boho Bars, Nicole Haney, ran into when she was looking for a delicious snack to bring on a business trip years ago. 
"I had gone to the grocery store and looked up and down the energy bar aisle, which was ridiculously huge," says Haney. "I couldn't find anything that just had clean ingredients and that I knew would taste good."
Instead of opting for a product that Haney knew she wouldn't enjoy, she made her own protein bars — a decadent almond cranberry bar — using simple ingredients, threw them in a Ziploc bag and went on her business trip. Her colleagues, intrigued by the items, asked Haney if they could try a piece. After they took their first bite, they were blown away. 
"That's when I knew that was what my passion was. This is what I had been looking for," says Haney, who quit her full-time job in the career management department at Ivey Business School in 2015 to make the bars a full-time gig, despite lacking experience in the food industry and formal business training. 
"I had a really good job. I had stability, pension benefits, salary — the whole bit — but I wasn't feeling super driven and fulfilled with what I was doing," says Haney, who wanted to carve her own path in the business world.  
Now, the bars have taken a life of their own — selling all across Ontario and Prince Edward Island and making waves in the health-food industry.
What sets Boho Bars apart from most other protein bars is that they're gluten-free, dairy-free and made without any artificial ingredients, like additives — substances added to food to preserve flavour or enhance its taste and appearance — or preservatives.
According to Haney, the bars are made with a strict adherence to just using real food: starting with a base of gluten-free oats, adding a nut or seed butter as the protein source, and sweetening with maple syrup or pure honey. 
"So we're never using a protein powder because often times those are overly-processed and have added, hidden things in them," says Haney. "When you read [our] ingredient list, you're literally just going to see food."
Now, her homemade almond cranberry bars can be found in over 100 retailers alongside five other unique flavours that Haney has handcrafted: apricot coconut, chocolate coconut, mocha, seedy tahini, and peanut butter. 
Just last month, the budding entrepreneur and Western alumna signed a deal that will bring her bars to Sobeys and Foodland stores across Ontario, and she's hoping to expand even further. 
"It's a time for humongous growth and expansion for us because, as we continue to take on these clients, we're going to continue to further our reach across Ontario, and we're probably going to be across Canada within the next year or so," says Haney, who took advantage of Western's Propel Entrepreneurship and Western Accelerator to learn how to drive sales and make meaningful relationships.
These days, the London-native spends most of her time working with her team of just under 10 staff members in a 1,700-square-foot facility in Old East Village, cooking up the delicious treats for health buffs far and wide. 
Now she's cooking up a brand of her own, one bar at a time.
Students can find Boho Bars at Grocery Checkout in the University Community Centre and in residence buildings.