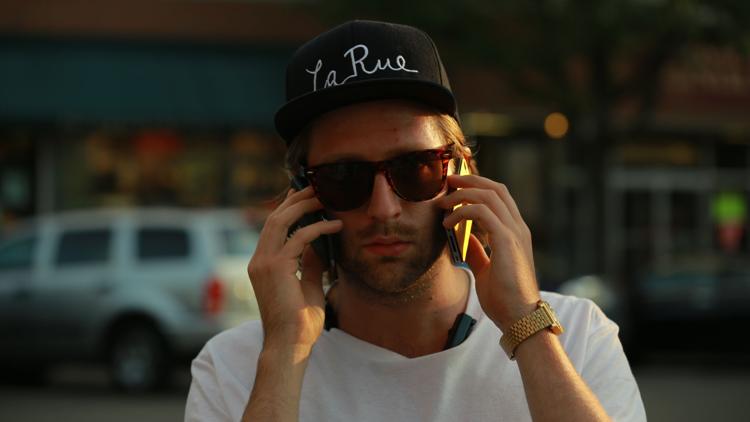 Want an honest take on what chasing your dream job after university is like? Listen to what Matt King, president and producer of LaRue Entertainment, has to say.
The Western University grad is based out of Toronto and has produced music videos alongside Feist and Kevin Drew as well as award-winning comedy series including The Amazing Gayle Pile, Filth City and I Thought I Told You To Shut Up! 
Today, he and best friend Andrew Ferguson have partnered to create the digital media production and distribution company: LaRue Entertainment. 
"I slowly sort of coerced him into joining and being my business partner, so we both co-own the company now," Matt jokes.
He adds that The Amazing Gayle Pile "put them on the map," winning 10 awards to date, including Best Original Program or Series Produced for Digital Media — Fiction and Best Direction in a Program or Series Produced for Digital Media at the 2017 Canadian Screen Award.
Matt graduated with a bachelor of management and organizational studies in 2006, but decided to see where his love of comedy and entertainment could take him. 
He remembers spending his time at Western volunteering for CHRW, DJing downtown on Richmond Row, partying in Saugeen and ordering burgers at the Spoke. Though a trip down memory lane isn't something he's done in a while.
"I honestly haven't even thought about Western for so long," he says. "I'm just one of those people who's not an academic, and I learn by doing. So much of what I learned at university is great, but it's just not really applicable."
Matt wishes he could tell his university self not to sweat the small stuff. He adds, "have fun and don't really worry about your grades. At the end of the day, university is just an experience." 
Matt doesn't sugar coat his career either; he says the only way to really make it is to be successful outside of Canada. His advice to students hoping to pursue a career in the entertainment industry is to pursue banking instead.
"If they wanna make money, it's really tough. It's a really hard business," he says.
While his attitude may seem disparaging, he recalls there were still moments at the beginning of his career that made it worthwhile, hanging out on the set of Kenny vs. Spenny and Howie Do It, to name a few.
Much of Matt's early experience in comedy and production, though, is thanks to his brother Andy King.
"My brother is a comedy writer, and he's been in the comedy scene forever," Matt says. "He's been making comedy shorts since I was a kid, so basically he'd put me in a bunch of his videos, and I got to work with him and his friends."
Matt thanks his passion for comedy for some of his international success. In his opinion, it's a genre that can easily spread online and reach a larger audience.
"Comedy works really well on the internet. It's a lot easier to break in and make a show as a comedy show than it is to make a dramatic show where you need a huge budget and a big star," he says.
Previous bitterness aside, Matt encourages other students interested in production to heed the advice Kenny Hotz gave him on the set of Kenny vs Spenny: just go make stuff.
"It's so easy now," he says. "With an iPhone, everyone can make a movie basically. So just go through the motions of that, and then every time you do it, you'll just get better at doing it; you'll refine your method and find your voice."
Matt is unapologetically honest about the working world but has a simple outlook:
"At the end of the day, work sucks, and I like to laugh."
To learn more about Matt King's current projects, visit laruedigital.com.