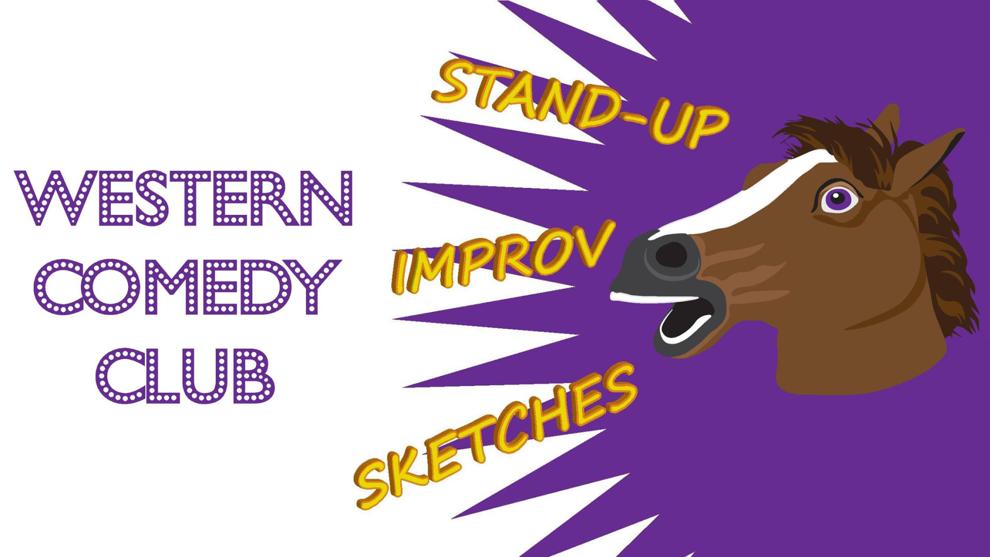 If laughter is the best medicine, Western Comedy Club's annual sketch show is a bona fide cure. These student written, directed and produced sketches wield the power to relieve stress and lift spirits in the wake of final exam season.
The club's sixth annual show, Are You Still There, God? It's me, Netflix, shines a spotlight on the comedic genius of Western University students. Ten undergraduate students and two volunteers worked tirelessly to polish, rehearse and compile 16 sketches for over a year in preparation for the event.
"A lot of what Comedy Club does is in the shadows. The sketch show is the one time where we pull back the curtains.... This is our time to show you the weird things we do in Comedy Club," says Thomas Valade, third-year Ivey student and vice-president of Write Club.
Every Thursday night, Comedy Club hosts Write Club workshops for budding comedians to learn about the stand-up and sketch writing process, test new material and improve their technique. 
Over the span of two days, a basement classroom in the Biological and Geological Sciences Building transforms into a small theatre. Black velvet curtains and two small spotlights lend a professional yet intimate feel to the show.
The show explores the hilarious alternate realities of otherwise mundane, everyday scenes.
In "Horny Car," Comedy Club president and fourth-year double major micro-immunology and biology student, Wyatt Anderson, is seduced by a 2017 Toyota Camry while browsing a car dealership. The audience giggles at sexually explicit car-related puns, as delivered by fourth-year management and organizational studies student, Callie Chang-Powless, in her role as Toyota Camry.
Readings of failed sketch attempts and funny behind-the-scene conversations entertain the crowd between sketches. Performers maneuver costume changes between each seven-minute sketch in preparation for an entirely different plot and punchline.
In "Memories," the audience laughs as Chang-Powless affectionately recalls her disastrous affair, among other morbid memories, to her son's girlfriend, played by Faculty of Information and Media Studies graduate, Gunner Gunn.
While each sketch is hilarious and fresh, it's difficult to find a common theme between all sixteen sketches. Third-year media, theory and production student and vice-president of design, Jodie Roach, attributes the lack of a theme to the variety of student contributors.
"It's hard to pick a theme out of a sketch show because everything is supposed to be so disconnected. We never really apply a solid theme to our sketch shows because it is a showcase of a bunch of random pieces that we put together," says Roach.
Nevertheless, Western Comedy's annual sketch show serves its purpose: to make people laugh.
"Being in university can be rough sometimes. People really need a good laugh, friends and to enjoy themselves," says Anderson. "It's often overlooked how healthy it is to laugh and have a good time. That's what Comedy Club supplies to Western: a good time."
The Western Comedy Club will perform a stand-up show at The Ceeps at 7 p.m. on March 23, 2018.  Students may purchase wristbands from the Western Comedy Facebook page for $5.