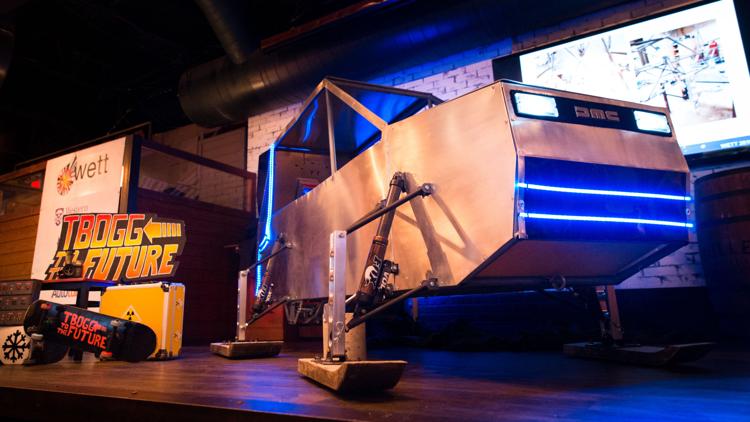 For Alex Woodcroft and Ben Morrish, tobogganing is more than just a winter pastime. Both in their fifth year of mechanical engineering, the two co-captains of the Western Engineering Toboggan Team have been putting in around 40 hours of work each week designing, manufacturing, welding and casting their 300-pound concrete toboggan with their team of roughly 130 engineers.
And no, this isn't another engineering prank. The team has been working on the sled since August, and their design will take flight at the 44th annual Great Northern Concrete Toboggan Race on Feb. 2 in Edmonton, competing against dozens of other universities' designs in an attempt to come out on top.
"It's really nice to see the things you do — your design, your theory — actually come to life and have a tangible product at the end that functions properly," says Morrish. "I think it's a huge point of pride for engineers to create something like that."
The guidelines for the competition are straightforward: each toboggan must be constructed on a metal frame, with a surface which touches the ground made entirely out of concrete; contain a fully functional steering and braking system; and handle an impact at 65 km/h. And because there is a 300-pound (136.08 kg) weight limit, members of WETT have been scaling everything — from the high-end steel tubes to the paint — down to the gram.
Dating back to 1975, the GNCTR is one of the largest student-based engineering competitions in Canada. During each race, five lucky club members from each team will descend in the toboggan and attempt to steer their way to victory. 
"You want to be heavy enough that gravity will accelerate you quickly, but not too heavy that you're digging into the snow," says Morrish. "It's a bit of a balance. Whatever works best."
There are three main races of the event: fastest run time, steering slalom and the king of the hill race, which finds each toboggan competing head on until there is a champion. During the competition, trophies are awarded for a variety of categories, including best concrete mix, shortest braking distance and best steering system. Points from each category are then tallied up by judges to determine the year's winner. 
In addition, each team must come up with an inventive theme for their design. Woodcroft and Morrish decided to create a replica of the DeLorean, modelled after the time-travelling car used in the 1985 film Back to the Future. The team's design even includes a replica flux capacitor, the key component that gave Marty McFly and Dr. Emmett Brown the ability to travel through time.
After testing the DeLorean on a slope at Boler Mountain on Jan. 7, WETT is feeling confident that they can take a victory home. The team endured technical and  weather-related issues last year, with rainy, slushy conditions and a subpar ski profile leaving them with a fifth place overall finish. The team placed second overall in 2017 and championed a first place in 2016.
Thirty members of WETT will travel to Alberta for the competition, which will run from Jan. 30 to Feb. 3.
Not only does the competition offer a great opportunity to put practical skills to use, but it is also a great networking opportunity for students.
"You end up networking with kids from other schools that you would never run into other than [at] these competitions," says Morrish. "There's recurring people that you recognize, and it's a good time to see everyone."
And while there may be a friendly side to this competition, the team is still striving for another championship.
Who knows, maybe their great design and flux capacitor will take the team to new heights this year.