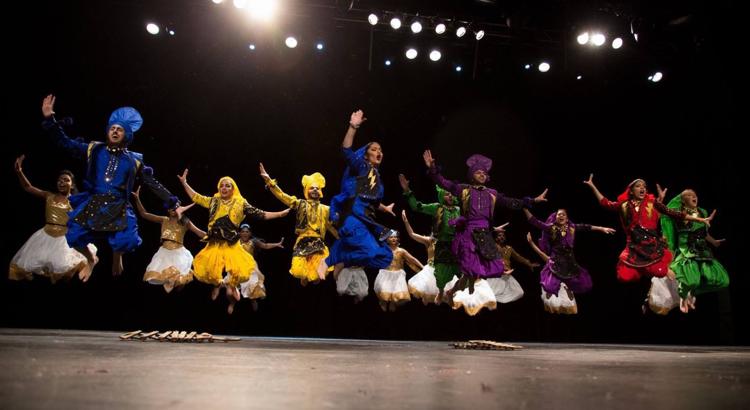 On a Sunday afternoon, students are typically recovering from a long night out or tirelessly catching up on readings. But Western University's North American Culture Show team spends their Sundays practicing for their annual inter-university dance competition.
After months of late-night practices, the team is competing tonight at 7 p.m. in the Rose Theatre of Brampton, Ontario against eight other competitive dance teams, representing 15 universities and colleges.
Rayaan Kamal, third-year medical science student and co-president of the Western NACS team, is ready for the team to hit the stage for their 10-minute performance.
"When we perform in the gym, the atrium, in front of the foot patrol or the UCC, that is just a mock stage," says Kamal. "When you actually have people up there, the adrenaline rush is amazing and you won't know that 10 minutes have passed. It's the most exhilarating time."
The competition is theme-based and teams typically try to keep their motif as secretive as possible since they have full autonomy over the originality of their own storyboard and choreography.
This year, the Western NACS team embraces their inner warrior by basing their dance on Disney's Mulan.
"We like to follow a storyline so that we have a clear protagonist or antagonist, clear climax and [ending], so that it is easier for the audience to follow the theme," said Kamal.
Even though the competition requires members to put in a lot of time and hard work, the team also provides members with a sense of community.
"We won last year, not because of our talent, but more because of our teamwork," says Kamal. "We are all unified and there is no aggression in our team."
Kamal sights cohesiveness and a sense of belonging as a couple of the main reasons he joined NACS team in the first place.
Second-year science student Shara Thomas is a returning member of Western NACS and also thinks of the team as a second family. 
"NACS was a memorable experience in my first year. I love the people I've met," said Thomas. "In the short time we've known each other, we've become like family; united together mainly because of dance and because of the school that we represent at the competition."
The team is hopeful they will take home this year's first-place title, the trophy and the $5,000 prize, and also leave a favourable impression on the crowd of over 800 people.