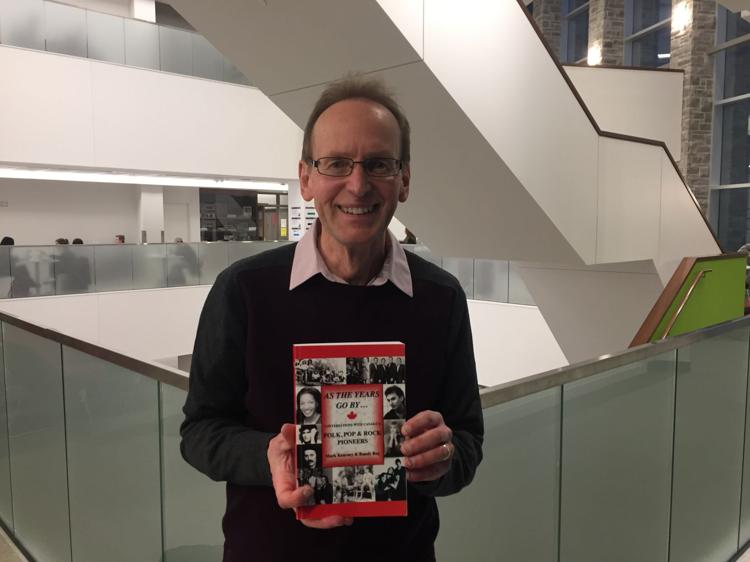 Before the likes of Drake, The Weeknd and Justin Bieber, there was Steppenwolf, the Diamonds and Lighthouse. 
Even though these iconic names may sound bizarre to some students, during the '50s, '60s and '70s these musicians swept Canadian charts and created a buzz in the music scene.  
"Lighthouse was big in Canada. They turned down a chance to play Woodstock in 1969 because somebody said they we're going to spike the water with drugs," says Mark Kearney, writing and journalism professor at Western University and co-author of As The Years Go By… Conversations With Canada's Folk, Pop & Rock Pioneers. 
The book, which uses informative anecdotes and historical narrative to highlight the careers of more than 100 of Canada's greatest talent from the '50s to the '70s, was co-authored by Kearney and his long-time writing collaborator Randy Ray. The duo is better known as the "Trivia Guys" for their series of critically-acclaimed Canadian trivia books. 
The idea initially started during one summer day at Ray's Ontario cottage in 1985. The duo were inspired by a where-are-they-now column in Rolling Stone, and so they came up with the idea of creating something similar for the Canadian music scene.
"Over the years we've published the column in the London Free Press, the Toronto Sun, the Oshawa Times, Moncton Times & Transcript and the Saskatoon StarPhoenix," says Kearney. 
"In the back of our mind, we kept coming back and saying we should take what we did in those columns and put it into book form, and we finally did that last year, going along with the idea that it's Canada's 150th birthday, why don't we bring all this stuff back?"
Kearney and Ray offer readers an inside look at the trials and triumphs of performers, managers and producers who made it big time internationally or just struck fame in Canada several decades ago.
Artists in the book including rhythm and blues star, Jay Jackson; dance-rockers, the Comic Opera Rock Show; and soft rock duo, Gary and Dave, all cite Western University as the place that jumpstarted their musical careers and allowed them to pursue cross-country tours and create chart-topping hit singles. 
Kearney also holds Western close to his heart, as the best-selling author graduated from the journalism program Western offered in the mid-70s and also wrote for the Western Gazette.
"There's some days when I'm walking on campus, and I'll look at Middlesex College and think, jeez, 40 years ago I was walking here and I'm still walking here. It's a good feeling, but it's a little strange," says Kearney. 
Kearney encourages students to pick up the book for their parents (or grandparents) for Christmas, since "They would know a lot of the musicians, and even if they didn't quite remember everything about them, they'll remember some of the songs."
Ultimately, nostalgia is what has solidified the book as a best-selling music reference novel on Amazon over the last month.
But As The Years Go By is much more than just a reference book; it is a historical continuum with heartfelt stories. When Kearney and Ray originally tracked down their subjects in the '80s, the musicians had moved on from their cryptic past for the most part, and taken on new lives, ultimately adding a layer of poignancy and legacy to the book. 
"I grew up listening to old school rock and classical rock because of my parents. The book would be a great Christmas gift for my dad," said Andrew White, second year media, information and technoculture student. 
Students can pick up As The Years Go By… Conversations With Canada's Folk, Pop & Rock Pioneers at The Book Store at Western or buy it on Amazon.