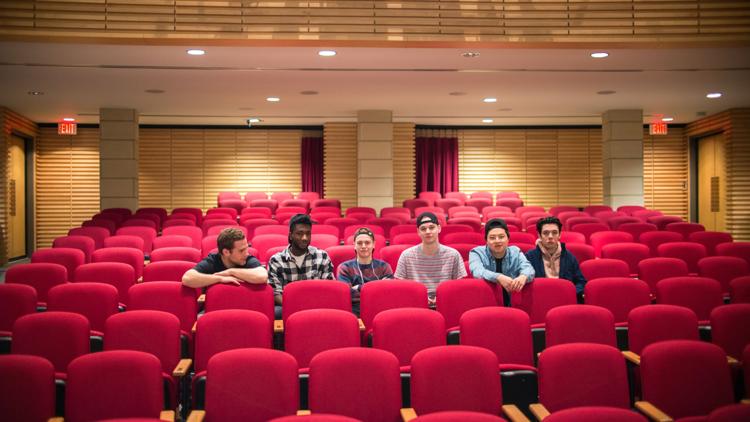 In four years of an undergraduate degree at Western University, many musically-inclined students manage to find like-minded friends to form groups. They perform shows on campus, usually at The Wave or The Spoke, and grow in local prominence until they leave London, Ont. for Western's B-Club.
With three founding members graduating, B-Club plans to continue well beyond their slapdash origins. 
All bandmates, both those leaving and remaining, are passionate about continuing The B-Club. Dominic Toccacelli, a second-year music administrative studies student and one of the founders, says that it will be difficult to replace the departed. He also says they're looking to grow the band. This doesn't mean a strict audition format either, as they don't necessarily have a list of spots they need to fill. According to Toccacelli, they aren't fans of the head-to-head format that is the audition. Instead, they simply know with whom they click with.
"As long as everyone that's in the band keeps the spirit of that community," says Martin Arthur, a second-year music administrative studies student. "The cool part of The B-Club is that it has that sense of being a club where people can join and come and go as they please."
The multi-instrumented, hip hop and jazz-style band owes its creation to a student who didn't even join the band. Back in September 2016, Toccacelli, Harrison Song and Nate Clapinson were excited to jam together at the urging of another student, Aladdin Abdellatief. Only, he was a no-show. After another aborted meeting, the trio came up with the idea of a jam band.
All three wanted to get together once a week and play. Toccacelli says the focus was on jazz, and their creation reflects the improvisatory nature of the genre. The trio made a Facebook group inviting 17 friends and acquaintances they thought would be interested and tried to organize jam sessions. Over time, the band whittled down to 10 members.
"People came, people left and whoever stayed is basically the people in The B-Club now," says Song, a fourth-year music recording arts student. 
Their first test as a changed group will come next Thursday at Perth Hall during "Exam Jam" in which they open for Rick McGhie. With some members unable to attend, The B-Club hopes the show goes as well as their others despite the depleted roster.
Martin Arthur, who is one of the band's rappers, and Emma Phillips, who is The B-Club's singer, came into the band in a similarly haphazard fashion. Arthur was contacted by his friend Bradley Bodanis, who at that time was playing guitar for the band, on the basis that he knew all the lyrics to "King Kunta" by Kendrick Lamar. Bodanis stopped playing soon after.
Phillips, now a fourth-year popular music and film student, had just come back from O-Week training on the night of a show, and Toccacelli, who was her frosh, called asking if she would sing as they had no singer.
This school year, the band made some notable changes to their approach, opting away from the informal jams and towards a more traditional attempt at becoming popular. This included more high-profile shows, as well as and an extended play. This new ethos culminated in their March 30 show at Rum Runners, alongside Fun Fact, opening for KC Roberts and the Live Revolution. All remaining members hope to continue moves like this in the years to come, hopefully being able to build on their established foundation in the London community.
The remaining B-Clubbers aren't hesitant about the changes; instead they're embracing the necessary adaptation.
"The original idea was making sure this was something that was sustainable that people would enjoy and be inspired by, and it would be sad to see it go away," says Tocacelli.
Phillips, who will be attending teacher's college away from Western next year, says that ending at a venue like Rum Runners was very bittersweet because it may very well be her last performance. She describes a standout moment during the performance of "1095," an original song: 
"I started singing, and I closed my eyes because I'm a performative asshole that just has to," she says with a laugh. "And I hear, like, 25 voices singing it back, and I will never forget that moment."