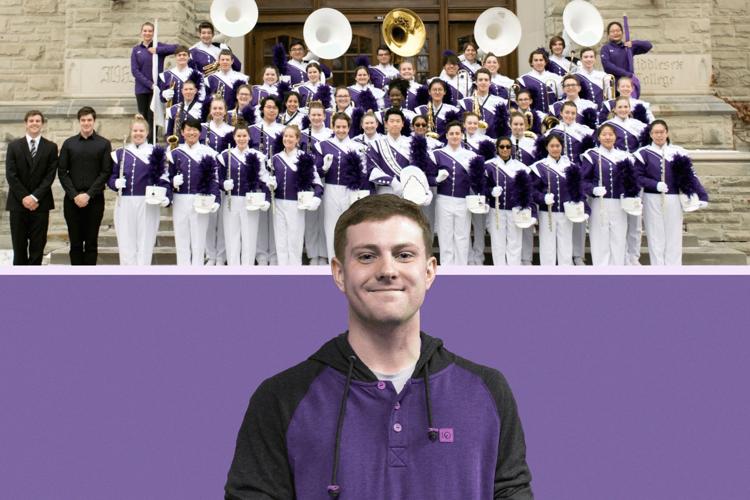 Most students are proud of having a myriad of hobbies, but for first-year teacher's college student Quinn Fleming, there is only one: band, band and more band.
"Band members ask me, 'what do you do outside band?' and I just say, 'more band," Quinn said.
Quinn is the director of Western University's marching band. If you have been to any sporting events, you know how much the band loves engaging fans through their music and energy. From hockey games to football's Vanier Cup, if you're ready to cheer on your Western Mustangs, you know the band will be there with you.
Quinn said his favourite part of band is the football games.
"There's so much energy in the air already," he said. "Every time it's game day, there's a little spark in the air that makes all the work worth it."
Music has been a part of Quinn's life for as long as he can remember. Growing up, his father always played records in the house. Throughout the years, Quinn picked up multiple instruments including piano, trombone and percussion, but it wasn't until Grade 11 when Quinn truly found his place in the city of Windsor's marching band.
"As soon as the first note happened, it shook me, and I was like, 'Oh snap, this is what I'm doing for the rest of my life.' I was just hooked from the very first note," Quinn said.
In Grade 12, after hearing his musician friends saying that Western was the place to be, Quinn decided to pursue a music education degree for his undergrad. Despite his musical talents, Quinn still had a daunting task in front of him, the audition. As a risk-taker, Quinn didn't just play an instrument he was comfortable with, he planned to play the double bass, an instrument he never played before.
"So I picked up the double bass in Grade 12. I had a very, very strenuous six months getting ready for the audition … and I was thrilled to receive my offer," said Quinn.
Aside from just Western, Quinn's experience with bands has been nothing short of extensive. He was part of drum and bugle corps for two years, an experience Quinn described as marching band on steroids. Just last year, Quinn's team, the Boston Crusaders, placed sixth in the Drum Corps International World Championships.
Quinn is always looking to apply the skills he learned from drum and bugle corps to develop Western's marching band. So far, he is extremely proud of the progress they've made over the past few years.
"In the beginning, we did a lot of parades in the community outside of London," said Quinn. "A lot of the focus this year is making sure that we are more so centred around giving back to the Western community."
So far Quinn says that the results have been phenomenal, and that he owes it largely to Dan Durack, events and video coordinator for Mustangs Athletics, and Reid Schneider, the band librarian, for making a lot of it possible.
"The Western students have been really responsive; they've given back as much energy as we've been giving to them," said Quinn.
However, for Quinn, becoming a marching band director definitely had it's challenges, some of which many students can relate with.
"Having to balance my classes with my passion led to me struggling in school during fourth year," said Quinn. "I wouldn't change a thing, though."
Quinn is looking to become a substitute music teacher after graduation but hopes to continue with the Western Mustang Band.
"I'm thinking, if I can, I would love to stick with the band indefinitely, or at least until it can hold its own," said Quinn. "I'm not going to leave until I am 100 per cent confident that it will be successful, not matter what."