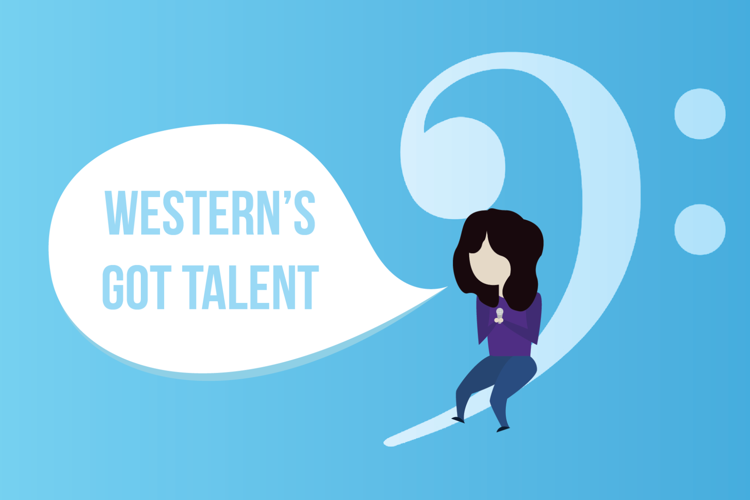 With a population of over 30,000 undergraduate students, Western University is bound to have some hidden talent in its ranks. At least, that's the thinking behind the upcoming show Western's Got Talent.
The Annual Charity Talent Show, which was the show's original name, has been put on by Western's Friends of Médecins Sans Frontière (also known in English as Doctors Without Borders) for the past five years. All proceeds go to the organization's namesake.
Jasmine Huang, a fourth-year Ivey student and president of Friends of MSF, says the name change started as a desire to bring in students from other faculties because previous iterations saw mostly science students attending.
"[The club] was never restricted. Just the nature of it meant most of us were in science," says Huang. "We know it's a cause that not just science students care about, so we wanted to get the word out more."
Amber Taylor, a second-year health sciences student and the executive director of Western's Got Talent, set up social media accounts for the talent show. This is in step with their plan to reach out to all faculties for this year's edition which resulted in 11 contestants chosen from a pool of 40 to 50 this past November. Most of the contestants specialize in music, song, or dance. However, they say there's many different genres and styles portrayed, and the students are from different faculties. Purple Fest 2017 performers Fat Chance are also expected to participate.
The biggest surprise contestant, according to Huang and Taylor, is Thompson Clarke, a Rubik's cube solver whose audition had him solving the puzzle blindfolded or while juggling. That sort of unique talent is something that Huang and Taylor feel encapsulates the spirit of shows like America's Got Talent.
Taylor and Huang wanted their judges panel to reflect the same diversity in the faculty as the contestants themselves. Where before it was largely based in the science faculties, this year, four professors from four different faculties will comprise the panel of judges: Ivey's Raza Khan, health studies' Jennifer Irwin, music's Barbara Sarma and medical sciences' Michael Boffa.
Each member of the audience will be able to vote for the winner. Audience members are entered into a raffle for a list of as-yet undisclosed prizes. Each judge's vote will be worth 50 votes. The performer with the most votes will win a grand prize of $500. 
Aside from the Western University Health and Research Conference, which happens once per semester, Western's Got Talent is the biggest event put on by Friends of MSF. With the expanded reach this year, the Friends of MSF is hopeful it will be a success for the club and the cause.
Tickets are available for $10 until the show on Jan. 19, as well as at the doors at 5:30 p.m. Contact for tickets and inquiries can be found here.