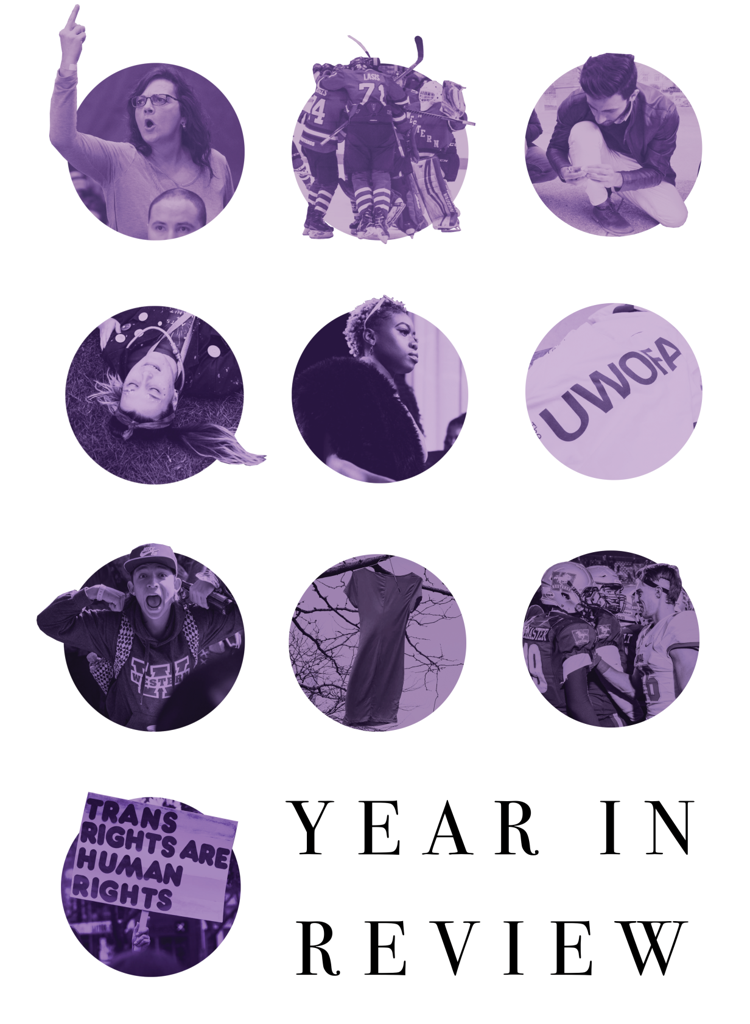 Last year was a challenging one for journalism. In America alone, 11 journalists were arrested, 42 were attacked, 21 were subpoenaed and five were killed. Across the world, journalists faced verbal harassment, physical assault, arrest, seizures and searches of their equipment, threats to their credibility and employment, and death — simply for doing their jobs. Yes, 2018 was a challenging year.
But through it all, journalists persisted. They continued to pursue truth, hold those in power accountable and provide information to the public no matter the obstacles they faced. They did their jobs, day after day, and served as role models for the thousands of student journalists across the globe.
We are proud of the work journalists did in 2018. We are proud of the stories they broke and the tales they told, the voiceless that they gave voice to and the truth they shone light on.
And we are proud of the work we did here at the Gazette in 2018. We are proud that you chose to read us and support us. We thank those who engaged with us, whether positively or negatively. And we hope that, in 2019, we continue to do our jobs with honour and integrity to provide you with the information you deserve to access.
Here are some of the words we gathered that offer a glimpse into the year that was for Western's community:
"I don't know if it's a mix of excitement, happiness or lack of sleep, but I feel like I'm on cloud nine. There are so many people who feel separate from the USC, and that's a big demographic we wanted to talk to. I guess we've been successful, and it's an awesome feeling."
- Danny Chang, vice-president of the University Student's Council, on his and president Mitchell Pratt's victory in the 2018 USC election, Feb. 27, 2018.
"My intention as of right now is not to de-ratify the club or to not allow them to protest peacefully or have their freedom of speech: it's to consider the appropriateness of their location and the impact [the displays] have on the general Western population."
- Kathryn Slack, fourth-year criminology student, on her petition to ban anti-abortion protests inside buildings on campus, Apr. 2, 2018.
"We're just excited that there's actually policy. Something that we can use to move forward with our inclusive sports approach. That our trans athletes can participate in whatever [sport] in the gender they identify with."
- Christine Stapleton, Western University's director of sports and recreation, on U Sports' new inclusive policy for trans athletes, Sept. 27, 2018.
"Just being able to come back after everything that's happened — after everything that we were doing and all of our travelling — to play to this type of crowd, makes this one of our most important shows."
- Joe Depace, one half of Loud Luxury, on playing Western's Purple Fest, Sept. 29, 2018.
"I see Fire at the table, I see EMS at the table, I see Police, by-law officers — I even see the student government at the table developing strategies to deal with this. There is someone missing from the table. If we don't do something differently, someone is going to die."
- Matt Brown, mayor of London, on Western's responsibility  in responding to fake Homecoming, Nov. 19, 2018.
"Sometime down the road, something way worse than losing a football game is going to happen, and you still have to get out of bed and go to work, and you still have to get out of bed and be a dad. But I am so proud of this team.
- Greg Marshall, head coach of the Western Mustangs football program, on Western's Vanier Cup loss to the Laval Rouge et Or, Nov. 27, 2018.
"We are pleased to have ratified a new contract with UWOFA, and I commend the commitment and collegiality demonstrated by both negotiators for both sides throughout several months of bargaining and discussions."
- Andrew Hrymak, Western University's provost and vice-president (academic), on the ratification of a labour deal between UWOFA and Western, Nov. 29, 2018.
"In Dr. Shepard, we found someone who is a clear, innovative, forward-looking thinker, someone who is up to not only meeting these challenges, but moving Western forward in the direction that we all wish to see this great university proceed in."
- Paul Jenkins, Board of Governors' chair and head of the Presidential Selection Committee, on the appointment of Alan Shepard as the 11th president in Western's history, Nov. 29, 2018.