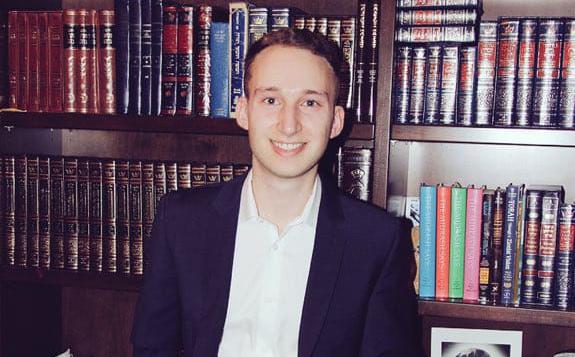 Josh Eisen wasn't particularly politically conscious as a high school student at the North York campus of the Tanenbaum Community Hebrew Academy of Toronto.
"I just always questioned what was commonly accepted by people around me," Josh says. "This allowed me to think for myself."
But then a trip to California for a cousin's bat mitzvah provided him the opportunity to attend a speech by Ben Shapiro, a well-known U.S. conservative pundit. If there was ever an "aha" moment in his political life, it was seeing and hearing the man who would eventually become one of his idols.
"Obviously, Ben was really smart, but when I listened to him speak, I realized, 'you know what?' I can do that too," Josh says.
He then spent the summer of 2015 in Israel, interning at an equity outsourcing platform called OutCrowd. He spent hours researching and reading, forming his own political philosophy.
It became his dream to join the ranks of Shapiro, Dennis Prager and other prominent right-of-centre minds.
Josh enrolled in philosophy at Huron University College, learning the fundamentals of debating and studying John Locke, John Stuart Mill and the other founders of liberalism. 
Josh began writing for small conservative blogs before catching a break at Shapiro's website, The Daily Wire. He's written widely read think pieces on everything from the Ontario Liberal government's minimum wage hike to free speech on university campuses. 
He also introduced controversial University of Toronto professor Jordan Peterson during his visit to Western University last year.
Josh has a heavy presence on social media, establishing himself as a humorous and thought-provoking member of Twitter's conservative space. However, he admits that social media is not the ideal platform for thoughtful discourse.
"Twitter is terrible for discourse and is probably one of the major factors of our current political climate," Josh says.
But Josh could never be mistaken for one of the Kool-Aid drinking "conservative" trolls who have established themselves as one of the more vocal factions of the right-wing movement.
Josh is quick to criticize Donald Trump and his bad policies. Josh is a capable and willing adversary of the alt-right movement that has used the guise of conservatism to spread their hatred into the mainstream.
And perhaps, more than anything, he longs for a day when conservatives move past groupthink and confirmation bias.
"If you want to be able to effectively argue against the left, the best thing to do is to learn how to argue their side better than they can and then defeat it on those grounds, instead of going for the low hanging fruit," Josh says.
It's a daunting task, taking on the left side of the political spectrum while also attempting to safeguard conservatism from infiltration by legitimate bigots, racists and anti-semites. But that's what Josh hopes to do with his life.
Since he realizes there is a lack of respectable conservative media punditry in Canada, his goal is to move to the United States and become his own version of Shapiro and Prager and the other famous (or infamous, depending on who you ask) conservatives in the pundit sphere.