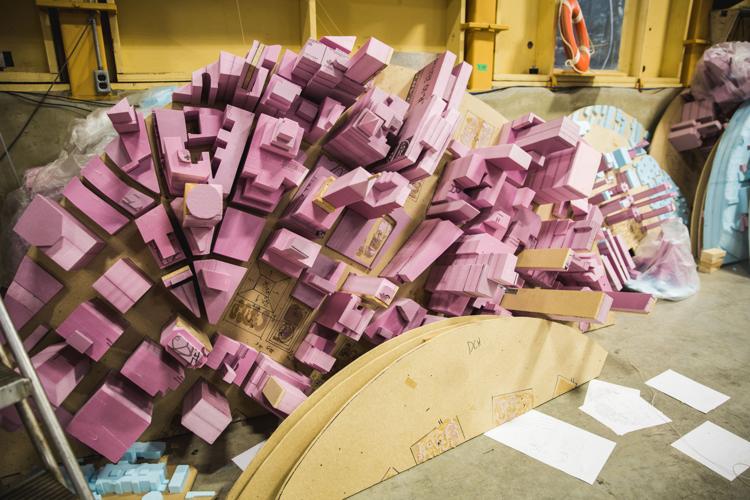 The CN Tower, the World Trade Center, and Dubai's Burj Khalifa stand tall in the basement of a Western University engineering building. The miniature figures, 400 times smaller than their real size, are surrounded by other models of international skyscrapers, bridges and foam models of entire cities.
These tiny structures are integral to the research carried out at Western's Boundary Layer Wind Tunnel Laboratory, a state-of-the-art facility that tests how structures respond to strong winds.
Made up of five wind tunnel test areas, the massive corridors have fans at each ends, which creates strong, straight winds. The researchers craft perfectly scaled models of buildings, bridges and other structures and place them on a rotating plate. The models, which are dotted with tiny pressure sensors, record the wind's effects on the structure. This information is then relayed to designers, architects and civil engineers outside of Western, who use the data to create safer, stronger buildings.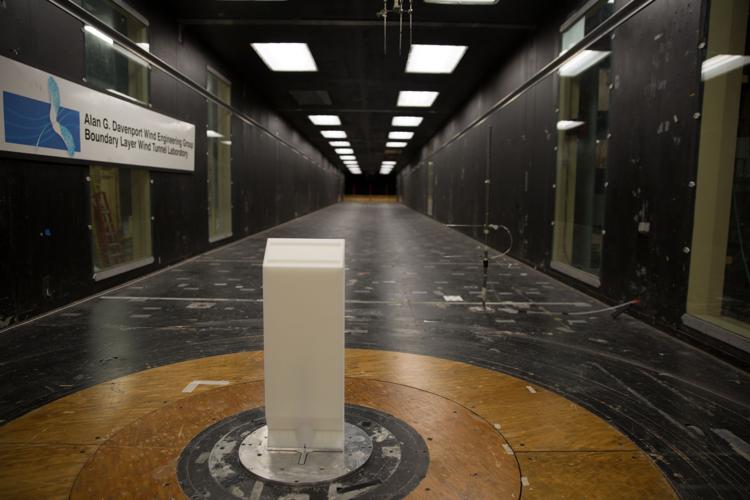 While students outside of Western's engineering faculty might not know that these campus wind tunnels exist, they have an international reputation and a rich history. Connell Miller, a PhD candidate in the wind engineering program, explains that Western's research on the CN Tower's model pioneered the use of wind tunnels in building design.
"The CN Tower was one of the first buildings tested in the wind tunnel and one of the first buildings to be tested for wind," Miller states. "Now, pretty much any tall building is being thrown into a wind tunnel."
Since the CN Tower, the facility has been used to help design everything from the Confederation Bridge in PEI to the Hong Kong Convention and Exhibition Centre. Before building a wind-sensitive structure, contractors send detailed information about it to engineers at Western, who build precise models.
Peter Case, the acting director of the BLWTL, explains that while this work is largely commercial-based, the wind tunnels also serve as a research ground for graduate students and faculty members.
"Of course we're working as part of the university, so we work closely with the faculty [of engineering] by having grad students and faculty use the wind tunnel," he states. "Probably 20 or 25 per cent of the usage of the wind tunnels is by faculty and for academic purposes. The rest of that time is really geared towards and focused on commercial work."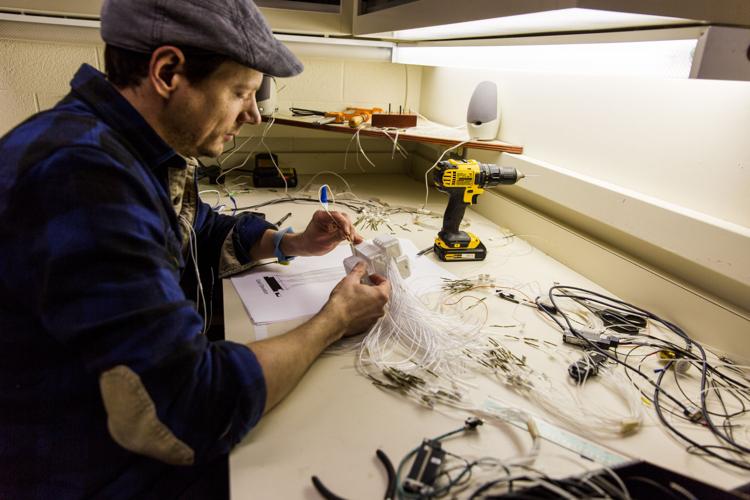 The BLWTL isn't Western's only laboratory spearheading wind engineering research. Twenty minutes away from Western's main campus is the Wind Engineering, Energy and Environment Research Institute (WindEEE) Dome — a building that can create tornadoes. Research in the WindEEE Dome mainly surrounds testing buildings against wind events like tornadoes and hurricanes, as well as researching renewable wind energy.
"The WindEEE dome is actually the first wind facility worldwide that can simulate tornado winds," explains Aaron Jaffe, a master's student in wind engineering. "Before that, all wind tunnels were just straight-line winds, so you'd just have a fan on one side followed by a tunnel that's blowing the wind straight. The WindEEE dome is hexagonal in shape, so it has fans on every side in a circular formation so it can actually simulate tornadoes."
Sarah Stevenson, a structural engineering PhD candidate, explains that Western's wind research has practical applications beyond building skyscrapers and bridges. Her research surrounds how wind storms impact houses, with the goal of making homes more structurally sound. 
Through damage surveys conducted after storms, researchers can figure out what parts of a house are the weakest. Stevenson did this type of field research when she travelled to Florida after Hurricane Irma to assess houses that were destroyed by the storm.
"It's kind of like a little mystery game where you have to pick up the pieces of the building and figure out how they were connected so we can pick out where the weak link was," she says. "The question we notice is that the roofs usually come off first, and the nails pull out. So researchers in wind engineering developed straps that can be used to tie the roof down."
In the fall, Stevenson will travel to Cuba to apply the knowledge from Western's field research to houses there as well. She hopes to create roof straps that can be developed locally to protect houses during strong storms.
Another research PROJECT that explores both structural and wind engineering is Western's Three Little Pigs Research Project, which lives up to its namesake; it tests what types of forces can huff and puff and blow houses down.
The lab applies pressure to different parts of a full-sized house to see what forces can break or crack it. Results from the research is provided to insurance and housing industries to build safer homes.
"With the Three Little Pigs lab specifically, we are testing for failure, so we are trying to rip the vinyl siding off the walls, we're trying to rip the roof off the house, we're trying to knock down the walls. It's a real eye-opener for both industry and researchers to see, 'okay, this is how typical residential buildings are going to fail,' " Miller states. "It's an interesting way to see how a structure breaks."
Miller explains that, while Western's various wind engineering initiatives aren't well-known on campus, they're making waves globally.
"Western's wind engineering program is world-class. I could only probably name on one hand the amount of schools in the world that even offer anything close to a wind engineering program, let alone a whole graduate program that … has about 100 students in it," he says.
The research and testing done at Western's facilities are, all in all, enough to blow you away.