February was a slippery month for Mustangs, with a number of ice storms and frigid weather warnings. On Feb. 6, Western made the bold decision to cancel classes at noon, arguably one of the most heavily populated times on campus. Students took to social media, filming their escapades while they fought to hop on packed buses in bottleneck traffic and make their way off campus without slipping on ice.
Some weren't so lucky.
"It was icy, and that was the main talk for students because school was closed for the first time in a long time," says Western Savages owner Alex Metaxas, who received a number of videos from students who were falling down staircases, skiing on roads and shoving their heads through iced-over car windows during the storm. The fourth-year management and organizational studies student was also left to fend for himself, having an exam that morning. But it was a great opportunity for WS to take something relatable (and obnoxious) and make it entertaining.
"It's relevant because a lot of people actually ate shit that day," says the 21-year-old. "If I can hop on a trend or topic that's being talked about and put it into a visual form, then I know it will do really well."
WS, the unapologetic Instagram account that has garnered over 17,000 followers since its inception, is a student-driven page that encapsulates the side of Western you won't find on any official university accounts, one that puts the microscope on real life in London, documenting different touchstones of campus life through the purest cultural form: memes.
But with the hugely popular entertainment comes backlash and questions over its acceptability. In an era of fast follows and faster likes, orchestrating shenanigan-based celebrity might come with a cost — for poster and sharer alike.
Meme culture thrives
Metaxas wanted to start WS after some of his videos were getting licensed by WorldStar and BuzzFeed. Between him and his friends, the fourth-year had enough belligerent content to start WS a year and a half ago. The page is almost entirely run by Metaxas, with his roommate occasionally helping out with the graphic design elements.
Metaxas saw a gap in bigger party pages like Barstool Sports and Canadian Party Life because they weren't catering to niche audiences, and he knew that if he could get enough students on-board during the page's initial inception, there would be an exponential increase in video submissions and followers.
Whether it be students camping out in D.B. Weldon Library with blow-up beds and George Foreman grills, squealing in an Uber with a goose in-hand or playing Frisbee with London police during fake Homecoming, milestones of Western's outlandish party life can be seen in snapshots on WS.
"Western has their own Instagram page, the University Students' Council has their own Instagram page, but they don't understand that student party life is a huge part of the university experience, and it's not really documented anywhere, which makes sense because Western's not going to post these crazy videos," says Metaxas. "But it still matters to the students."
According to Yimin Chen, a doctorate candidate in the Faculty of Information and Media Studies who studies trolling, fake news and meme culture, comedy requires a level of suffering. This is something that WS understands and capitalized on during the storm.
A pivotal moment in the account, according to Metaxas, was a video showing two women in high heels falling on ice at Richmond Street and Huron Street. After a student sent the video with a feminine voiceover to Metaxas, he saw potential and posted it to what was then 3,000 followers.
"That went viral," he says, noting that it brought hundreds of followers. In addition, the video was being reposted on popular accounts, including 6ixbuzz and Barstool, without any credit, which is the main reason that WS is now private; people must actually engage with the page in order to reap the benefits of local humour, instead of ripping off videos for other pages.
"It has almost 90,000 views. The reach was crazy. That was a setting point," says Metaxas.
Bigger than memes
With such a big audience, it wasn't long before WS became a sought-out brand. Metaxas has helped promote big events, including an appearance by Canadian prank duo Nelk Boys at The Barking Frog. They also had a big hand in marketing Purple Fest.
After Metaxas made the Facebook event page for last September's FOCO under WS and with over 10,000 people RSVP-ing, the University Students' Council reached out for a partnership.
"They knew that all the marketing had already been done. You have everyone going to Broughdale in one place, and you're trying to get people off of Broughdale and go somewhere else," says Metaxas. In one night, WS went from the USC's campus antithesis to its Purple Fest business partner.
There was also monetary value in the partnership, since WS solidified a large portion of compensation based on a ticket commission. The branding aspect reaches well past the memes themselves, with Metaxas planning a number of events — including a McChicken giveaway to an entire class — and edgy merchandise that Metaxas thinks will help generate WS as an all-around component of party life at Western.
He's realized the true impact of the page after students have approached him to study his business in their feasibility reports. Some have even told him that WS is part of the reason they chose to come to the school.
"This one girl was in first year and she found out that I ran Western Savages. She said, 'No way, that's one of the main reasons why I came to Western,' " says Metaxas. "A lot of people got recruited because of this platform, so now I'm wondering where my cut in the tuition is?"
Cloudy content causes backlash
That said, things aren't always sunshine and flowers for him. With such a big platform, Metaxas feels  a sense of responsibility in the things that he posts, learning from slip-ups in the past.
In one case, Metaxas received a video of an individual hitting his head at the gym whilst looking at his phone. He posted the picture with the caption, "When you see your Uber Eats bill from last night." Upon release, he faced outcry, with people commenting that the individual in the video had Tourette syndrome. He immediately took it down.
"Another thing that happens a lot is I'll get a submission that I think is pretty jokes, I'll post it and 20 minutes later they message me saying that I have to take it down. They'll say, 'My friend's in it and they're pissed off,' " says Metaxas.
Chen believes there are a number of consent and privacy concerns when it comes to a page like WS.
"In a way, it's nice for students to be able to have fun with this and build a community because we have all drank too much in the past and puked in the bushes," says Chen. "But do the negative potential downsides of having it [online] essentially forever — does that outweigh the more temporary positive effects of sharing experiences with your peers?"
Toronto-based meme page 6ixbuzz is an example of this balance. The page has been at the centre of controversy for the last year, showcasing videos of individualsparachuting off of a high rise and alleged Uber drivers spanking and kissing passengers, causing public outcry and, in some cases, police investigations. In one extreme instance, Toronto local Marcella Zoia, who was accused of tossing a chair off of a condo balcony in downtown Toronto, was charged with mischief endangering life, mischief damaging property under $5,000 and common nuisance after a video of her actions went viral.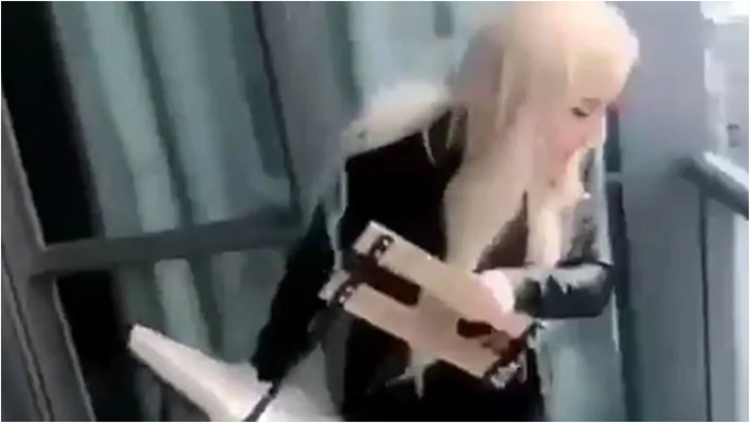 "There's a difference between a self-deprecating joke and filming someone who is literally harming themselves and then putting that out to an audience," says Chen. "I think that when a platform gets to a size comparable to Western Savages, it does come with responsibilities."
Onward
But Metaxas is aware of this social responsibility. He estimates that WS receives about 60 video submissions from students each week, of which only a small portion actually make it onto the page. He refuses to post anything involving nudity and anything he finds personally repulsive, such as people throwing up.
WS will continue wavering on the outskirts of acceptability in an increasingly uptight student community. Ever-evolving trends of acceptance might be too vast for one person to grasp, shown in Metaxas' past controversial run-ins, but with Instagram and other social media platforms mediating ever-growing online communities, it's hard to say what next year — better yet, next week — will look like in the digital stratosphere.
The fourth-year has realized that meme consumption is a valuable currency for our generation. Students' moral quandaries and self-deprecating drinking habits will continue to catch eyes and create a buzz on campus through WS. And as this online language continues to develop, there will undoubtedly be an everlasting amount of enchanting content, but at what cost?
Regardless, through all of the work and pressure university students experience, sometimes it can be nice to see a belligerent frat boy jump headfirst into a folding table.