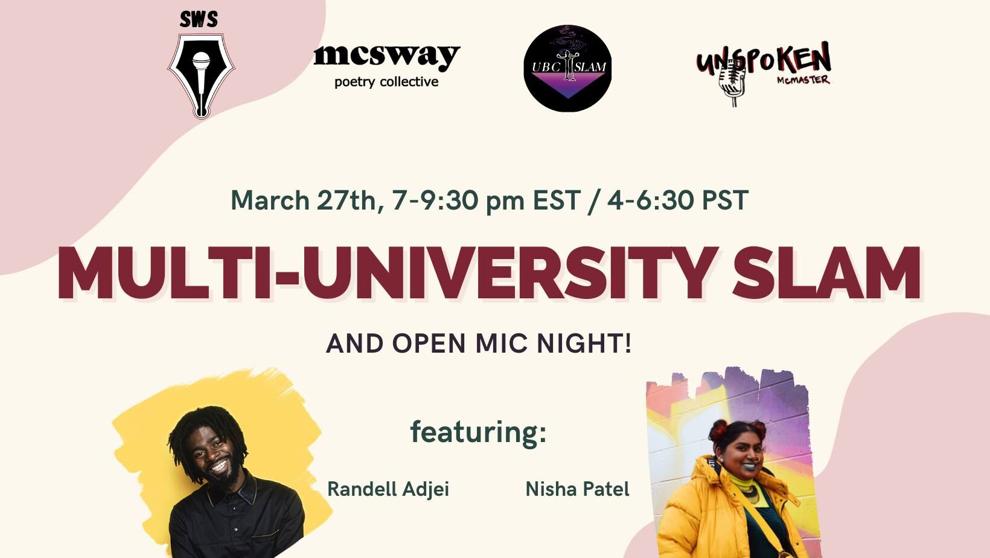 While many creatives are facing barriers amid the coronavirus pandemic, Western's Spoken Word Society has taken the virtual transition as an opportunity to pivot to a virtual poetry slam between Canadian universities.
The event will be hosted Saturday from 7 to 9:30 p.m. on Zoom.
The Multi-University Slam and Open Mic Night is a collaborative effort between Western University's Spoken Word Society, McSway Poetry Collective from McGill University, UBC Slam Poetry and Spoken McMaster. The groups previously collaborated on poetry workshops and are eager to scale up to their first virtual poetry slam.
"We all came together and figured out a structure we wanted to use and how to adapt what they had already done onto Zoom," says Jacob Brickman, fifth-year psychology student and vice-president of events for the Spoken Word Society. "They had all run slams, and we had never run one in person, but they had so we were excited to bring it online."
While the event is novel for the clubs, they've each contributed $25 to a $100 for the night's prize pool. The Poetry Slam will offer cash prizes for first to fifth place, with monetary values ranging from $10 to $40.
While the slam's registration for performances is currently full, Brickman will be emceeing the open mic portion of the night, which aims to be more laid back and welcome for anyone to share their words and works. 
In addition to the slam and open mic, the universities will spotlight prominent guest poets Nisha Patel and Randell Adjei.
"I'm looking most forward to seeing some of the students that we've seen in our weekly workshops feel a bit more confident and work their way up to perform in the slam," Brickman notes. "I'm focused on making sure that people feel confident to perform and I'm excited to see them kind of shine and then also making sure they've got a big crowd."
Interested students can visit the event's Facebook page to sign up for a performance or attendance slot.