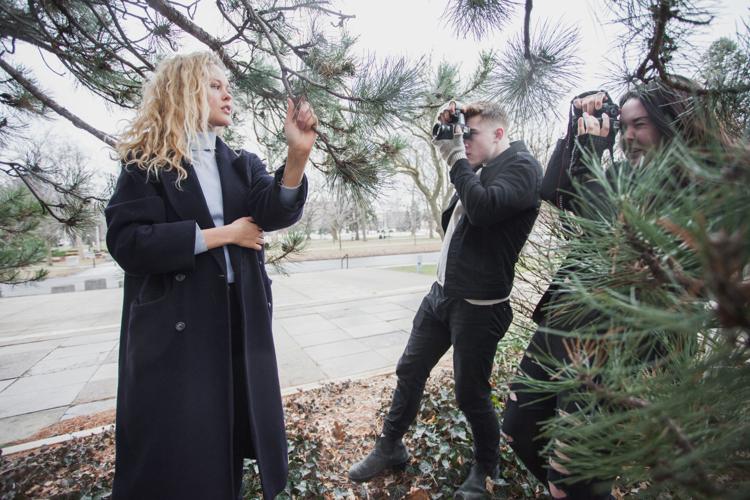 While an "Instameet" might be a foreign concept to many, for others, it's an opportunity to meet like-minded people and be creative together. 
This past weekend, over 40 models and photographers gathered in Victoria Park and made their way through downtown, stopping for photos along the way. 
According to Matthew Want, a model and second-year criminology student, Instameets allow photographers and models to meet up, walk around and take photos together. It's a collaborative effort with a name coined after the app, Instagram.
Want stumbled into London's photography community with the help of a friend and has been modelling at Instameets ever since.
"Going to Instameets is probably the best way to get more into modelling and photography in London," he says. "I meet a lot of people and get a lot of new followers."
Fourth-year media, information and technoculture student, Bryn McCutcheon, gushes about the event's success.
"Lots of very talented people came out to collaborate, and it was very interesting to see how different photographers took photos of the same model in the same pose and have them turn out so differently," she says. "There was lots of meeting new people in such a creative and supportive atmosphere."
A creative and supportive atmosphere is exactly what the event planners were hoping for. Mallory Thompson, a third-year media, information and technoculture student, and Chanelle Barel-Rutherford, a third-year biology student, founded 519 Creatives earlier this year.
Thompson and Barel-Rutherford met in a photography course and weren't ready to leave their love of photography behind as the course drew to an end. They found their students sharing their appreciation for the arts and were quick to set up social media accounts and a Facebook group, which now boasts over 150 members.
"We wanted to create a really collaborative environment between visual arts and photography. I found that there's a lot of exclusivity in the photography group: there's a lot of drama and we're trying to create an environment so that it doesn't happen," says Barel-Rutherford. "Simply joining the collective is a great way to connect to other artists. It's a way to build connections which is incredibly important."
For second-year visual arts student, Jesse Xu, 519 Creatives opened his eyes to a whole other side of Western University, allowing him to escape the "Western Bubble." Through the collective, he's met students in other faculties who share his love of photography.
"Photography is a booster," Xu explains. "It's a powerful tool to capture art. It's not like painting and drawing. It's what's there in front of you."
Although Xu uses a DSLR, he explains that the shots people take with their phones often impress him.
"I've seen people with an iPhone taking incredible photos," says Xu. "You really don't need a good camera to take good photos: Don't be afraid."
McCutcheon sums up perfectly: "I think that with events like Instameets, the creative community is becoming more of just that — a community. Hopefully, as these events continue, the community will grow and people will gravitate towards it, and it will increase interest in photography."
With the success of their last Instameet, 519 Creatives plans to host a meet once a month. To keep up with their events, find them on Facebook.