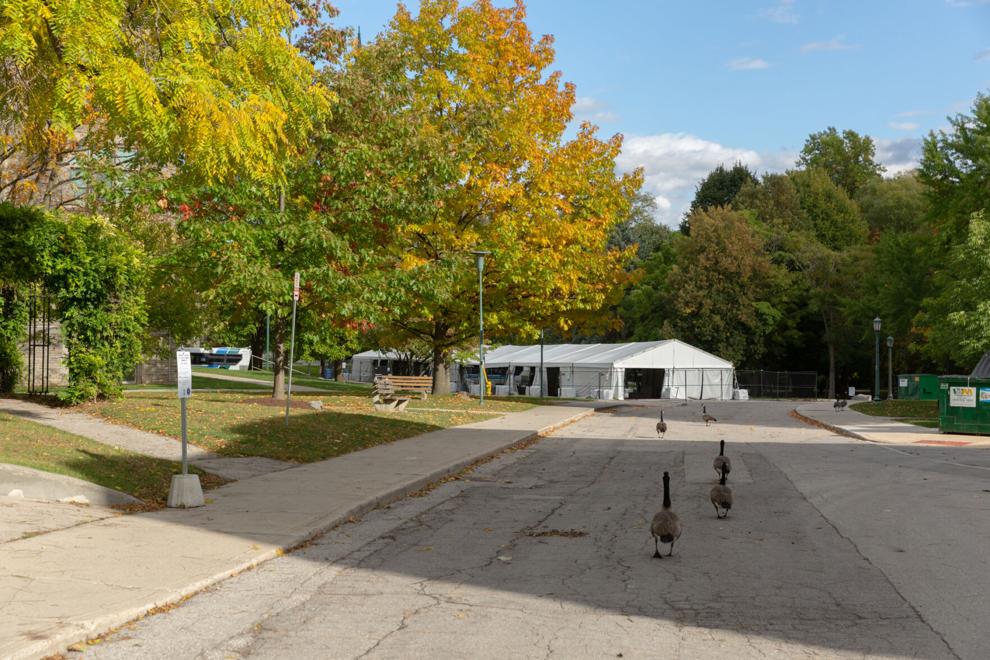 The transition to online classes, social isolation and increased mental health struggles over the past year have been a challenge for university students across the country. And while many students look back at the past year with disdain, many also highlight their own perseverance that helped them get through the difficult year.
As the year of Zoom University comes to a close, many Western University students are reflecting on this far cry from normal.
"When I first applied to university and went to those fairs where everyone was advertising their university experience, I always thought it was bullshit and I think what this year really taught me was how much more I was getting from uni outside of academics," says Neha Khoral, a fourth-year English student and creative managing editor of the Arts and Humanities Students' Council publications.
"[Things] like getting to know your campus, getting to know people … it really becomes a small city that you know the ins and outs and there's a comfort and solidarity in that, and the coronavirus pandemic completely got rid of that component."
"I think one of the most important things I've taken away from this year is the importance of community," adds Cobourn Sands, fourth-year English and theatre studies student.
As Theatre Western's coordinator for 2020-21, Sands was in charge of running what were once in-person productions during the pandemic. Much of what he did centred on maintaining the sense community he knew others craved.
"I only managed to make it happen [this year] because of the people involved in the community. It was their desire, passion, dedication and hard work that made it possible for me to make live theatre happen," says Sands.
Callista Ryan, fifth-year international relations student and incoming vice-president communications of the University Students' Council, highlights the constant changes thrown at students this year.
"This year has been one of transition — from quarantine, our routines and our classes. These transitions kept coming with changing regulations and the pandemic," she says.
"If there's one thing I've gained from this, it's that I'm much quicker to adjust and accept what I cannot control and do the best that I can to navigate a challenging year. We all still have a few more transitions to go … but I'm ready to adjust again and again — and probably again."
Sara-Emilie Clark, second-year political science and English student, like Ryan, recognizes this year as one for adaptation.
"Prior to 2020, I always had a concrete idea of what my life was gonna be like. For me, I like to plan out every inch of my life, but going with the flow has been very informative for me," says Clark. "The pandemic put into perspective that there's nothing concrete about life, so just bite the bullet! The only certain thing about life is that it's always going to surprise you."
As an Essex soph, Clark also explained sophing posed unique challenges this year — with no soph partners and 70 virtual frosh, it was difficult to connect with all her first-years. However, that didn't stop her from connecting with her frosh, by doing small but genuine gestures such as posting sticky notes of positive encouragement on students' doors.
"I know that it's a tough time for people and it may be harder for those who are introverted as opportunities to socialize aren't as available. I was also introverted during first year so I know what it's like," she says.
While several pandemic experiences are universal, the pandemic posed additional challenges for some communities. Kayla Burt, a second-year medical science student, says she benefited from the goodwill of her peers.
"A really good part about this year is that being in my program — which is highly talked about as a very competitive program with unfriendly students and stuff — was proven to be so untrue," she says. "So many people I was surrounded by had the mindset of 'let's all figure this out together and get through it together.'"
Burt was lucky to find these classmates-turned-friends but was not immune from witnessing the academic flaws of online learning. Burt says while many professors tried their best to accommodate students, for example by giving more time on exams, it is hard to meet each students' needs with the sudden digital switch and some accessibility concerns were left behind.
Although some may have adapted better than others, many students noted the detrimental effects online learning has on the mental health of students who may already be suffering from the stress and isolation caused by the pandemic.
The emphasis on accessibility and mental health also grows as students cope with limited in-person opportunities, a particular area of hardship for those who are accustomed to — or were hoping to be — greatly involved in the university community, by joining clubs and attending events as a way to socialize and make friends.
But between the good and bad impacts of this year, one stands above the rest. 
Lindsey O'Hearn, second-year sociology and French student at Huron University College, speaks the importance of also prioritizing yourself.
"This year I found I really struggled with my mental health and I felt myself declining in so many ways and just did not feel like I recognized myself. I think it was this downfall that led me to realize that I need to be taking better care of myself," explains O'Hearn.
"We need to stop being so hard on ourselves and just slow down to take a second to be proud of how far we have come and just give ourselves a pat on the back instead of being so harsh on ourselves all the time. Without self-care we cannot do anything to the best of our ability."
Sinan Abidi, a third-year statistical sciences student, agrees with this idea.
"Two years ago, I was a couch potato who would just go to work to pay bills and study just enough to pass and had no direction in life. I also had pretty bad anxiety and I found it difficult to spend time alone. When COVID-19 started all of that immediately got worse as I was stuck indoors, I lost my job and I gained a ton of weight," he adds.
"I realized that maybe the world being frozen is the best time for me to start moving, it was an opportunity to catch up with the world and get out of a vicious, draining and self-deprecating cycle."
He explains that making the effort to cut down his screen time, starting his day by exercising and doing thirty-minute sprints of studying, he was able to achieve his goals of getting better grades, saving up and getting in good shape. 
"I look at the pandemic as a gift in the sense that it gave me the one thing I lacked in life which is time. Time for me and time with my family, something which I never truly could appreciate before COVID-19," adds Vanessa Damiani, a third-year biology student. 
"With the adaptation of living back at home and online school, I was able to establish a schedule for myself that took care of my mind, body and soul. Now being able to form a routine that takes care of every aspect of my health, I'm excited to move forward into the new year carrying on the attitude that life is short, sweet and precious."