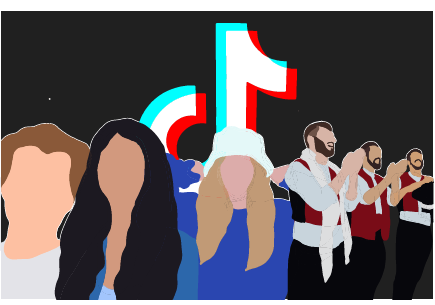 Western students are academics, advocates and partiers — and now some have forged a new title over the quarantine.
Welcome to the stage, Western TikTokers.
Since TikTok's inception in 2017, the app's popularity has increased "astronomically," surpassing 2 billion mobile downloads around the world. Although the app was originally a replacement for Musical.ly, a popular lip syncing app purchased by the same parent company, TikTok content has diversified, becoming a platform for social movements, tutorials, jokes, dancing and more.
"My friend told me to get on TikTok because it was 'vine but crazier,'" comments Shefali Panicker, a fourth-year health science student and TikTok creator with 225,700 followers.
Panicker primarily posts videos of her singing. Her videos can take anywhere from six to nine hours to create, between finding the right music, learning the lyrics, filming and editing footage. 
Her most popular videos are of her singing covers in up to eight different languages. One of her most recent covers was a remix of "Nashe Si Chadh Gayi" and "No Guidance", which was sung in Hindi, French and English. The video garnered 5.1 million views.
"Music has always played a big part of my life. I began learning classical Indian music from the age of six," she explains.
But Panicker isn't the only one who jumped on the TikTok bandwagon because of a friend's recommendation. Brianne Boudreault, a fourth-year MIT student, first started recording Euphoria-inspired make-up transitions after watching her friend use the app.
"I got really into it because I had nothing better to do. It became a hobby for me," she says.
But it's more than that — Boudreault says she also got into TikTok to help cope with mental illness. The platform gave her an outlet to express herself.
"Before TikTok, I didn't really have a passion per se. I went to school, I saw my friends, I worked out, just your regular things. It wasn't until TikTok that I realized something was missing," says Boudreault.
Boudreault attributes her popularity on the app to the "vibe" of her account — people can see the dedication she puts into her content. On bad days, her videos are something they can turn to.
Since posting her first video on TikTok in March, Bourdeault amassed over 171,400 followers.
Individuals and groups alike have monopolized TikTok during the quarantine — just take a look at the growing success of the Al-Asala Dabke Group.
"We joined right when [TikTok] peaked, right when everyone was hopping on the trend — we wanted to get in on the action," says Wasef Yasin, a second-year finance student and member of the group.
Unlike many TikToks, which can take hours to create, Yasin and Omar Barzak, a fourth-year finance student, say their videos are much more candid because they are inspired by real experiences. Their videos are of the group performing cultural dances and singing or lip-syncing, accompanied with personable moments of friendship.
"Our content is a mix of westernized culture with our Arabic culture," Yasin elaborates.
Illustrations are first-year BMOS student, Braedon O'Brien's, niche.
"When quarantine started, I started really getting into [TikTok] because it was something that I could do. I started combining my art with the Disney style and then I was turning celebrities into Disney characters … that's how my platform skyrocketed," says O'Brien.
O'Brien reached a million followers only a day before he moved to Western University.
While Western students flourish on the app, a common theme they've all noticed is the opportunity to educate and be educated on diversity.
"When you're at school … you don't really get the chance to express [Arab] culture," says Yasin. "Then when you open up TikTok you see people living that culture in the Western side of the world, that allows you to unleash it in a way and be closer to your roots."
O'Brien tries to make his account as inclusive and welcoming as possible, in particular, through his diverse Disney princess series, which includes transgender, non-binary and blind characters. Similarly, Panicker says that her TikTok allows people to appreciate different cultures, as she sings in a variety of languages.
Even amid a global pandemic, these Western students are making a name for themselves. Western students are scientists, athletes and artists — but many are also trailblazers online.