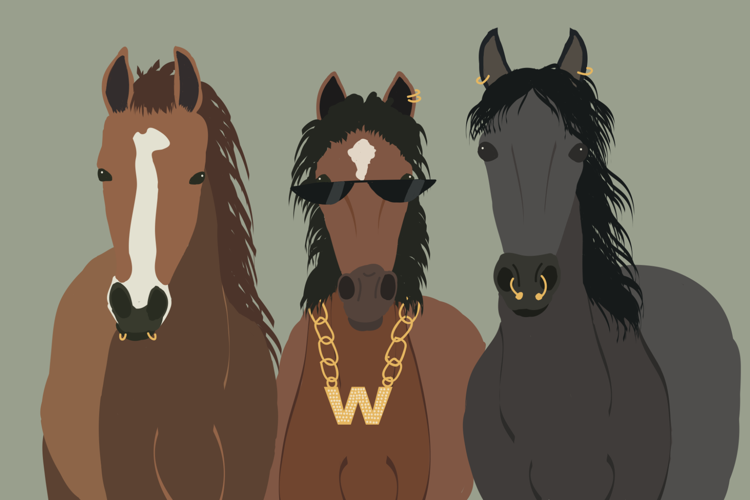 Club Weldon. Western's five-floor library that may be referred to as a club for its exclusive group of students who pretend to study while they read the same sentence in their textbook three times and sip iced coffee, or because of the rowdy second floor consisting of talkative students who seem really dedicated to their group projects.
Tim's line. An excruciatingly and/or disgustingly long line of students waiting to order chicken noodle soup or, most probably, large coffees to alleviate hangovers or dark circles under eyes.
Friend 1: "Hey, wanna grab coffee?"
Friend 2: "Nah, the Tim's line's gonna take a hot minute. I'm going to the Spoke."
UC Hill. This hill might be known as the motherland of the geese. Do not run across it. You will get attacked and you will get green poop on yourself. But, when the geese fly south for the winter, 'traybogganing' is one of students' favourite pastimes. Grab a cafeteria tray when no one's looking and make a run for it (at your own risk).
Purple Pride. If you're a real Westerner, you've got to have Purple Pride. If you're blood isn't purple, you're not a real Westerner. Scientists suspect that eating enough Spoke bagels, and drinking excessive amounts of Starbucks may be the source of the mysterious purple blood.
Western Savages. An Instagram page of real life events, mostly wild ones, sent in by students themselves. This page shows the truth of Western's party reputation. Seriously, get your phone out and see for yourself (Note: the Gazette does not condone underage students having illegal fun). An equivalent to 6ixbuzz, but for savages at Western.
Westurnt. A state of public intoxication within Western's vicinity. Normally used in a loud, chant-like statement: "I'm Westuuuurnt." Under-agers can say, "I'm Westuuuurnt off life."
FOCO/Purple Fest. Previously known as "Homecoming," or "HOCO," this annual debauchery that takes place at the same time at the buttcrack of dawn every year on Broughdale. No one does not wear purple or GPS ankle bracelets.
Quck Fueens. A wise Westerner once said, "Quck Fueens." We Westerners now follow this motto. Say this at least three times a day to alleviate any anger towards Queen's students.
Thames. It's rumoured people will jump into the Thames River without their shirts. No second thoughts. In the winter. For fun. Moral of the story? Don't do that.
OWL. Every student has this course organization website in their bookmarks bar because Googling OWL will literally give you image results and Wikipedia pages of various species of owls.
LTC. Need to get groceries? Take the LTC. Need a ride to the gym? Take the LTC. Gotta get downtown? Take the LTC. Need McDonald's fries at 11:30 p.m. to refuel? Take the LTC. Or honestly, just UberEats it.