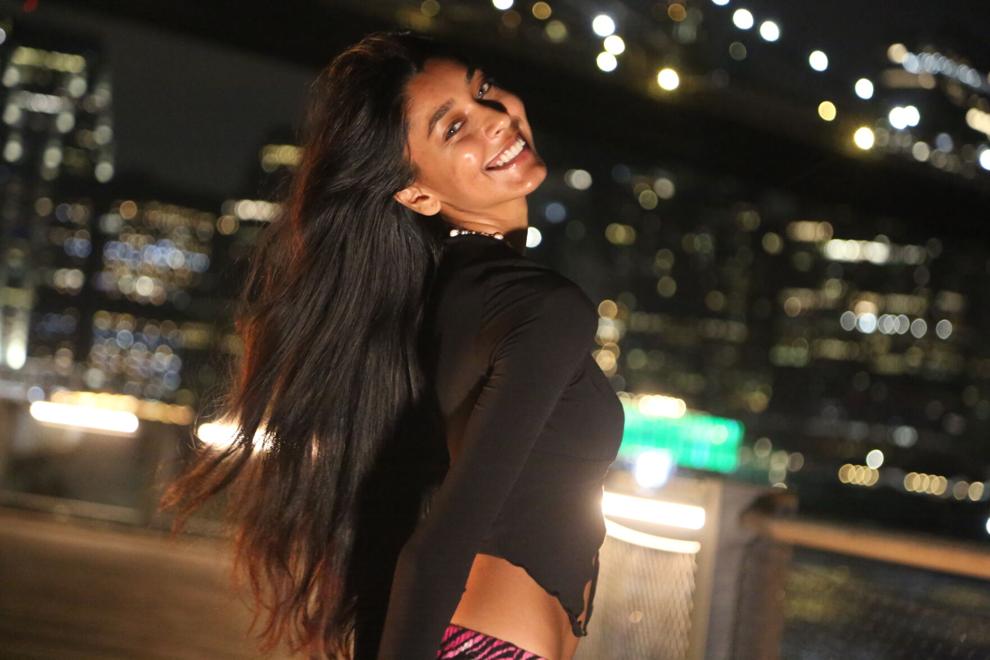 Be you, be confident. 
You may be familiar with this phrase if Megha Thakur's videos have ever been featured on your TikTok For You page.
The third-year Western University computer science student uses this as a mantra — the phrase has been in her social media biographies years before her TikTok videos became popular.  
Megha's content, typically rooted in messages of body positivity and self confidence, has been a massive success. Her TikTok account has reached over 460,000 followers and 14 million likes since she posted her first video in November 2019. 
Megha worked as a Don in Saugeen-Maitland Hall at the time. One of her first videos to go viral was filmed on campus and features her posing outside with Missy Elliot's"Pass That Dutch"playing in the background — a song infamously known for the scene featuring Mean Girls' Regina George walking down the hallway in slow motion. 
"If you're upset that you don't have certain body parts for guys to grab or for people to look at, that is not your problem," Megha's voiceover in the video says. "You need to focus on yourself, focus on loving yourself, focus on feeling yourself and that's it." 
But this attention was never something Megha wanted to be recognized for. She slowly got more comments from users realizing she was in a Saugeen dorm — TikTok's geographical algorithms had taken over. 
"It gave me some street cred with kids in the building," she says. 
Giving herself proper credit is an entirely different story. Her journey with her confidence and identity has required a lot of time and turmoil.  
Growing up with a "completely polar opposite culture" to Canada, Megha refers to her Indian roots as something that significantly contributes to her identity. She says she has always felt like an outsider, not only due to her race but also her personality. 
"I didn't have that many friends growing up, I didn't really fit in anywhere," she explains. "I struggled to find not only my identity, but my voice."
It wasn't until this past year that Megha felt confident enough to express her individuality and speak about things that she is passionate about. 
"If it wasn't for the events that transpired with COVID[-19], I would not be where I am right now," she says. "I had the privilege of making my glass half full rather than half glass empty."
Megha has extended this newfound confidence to her audience, as she continues to upload content that showcases her charisma. Her posts encourage self-empowerment through fashion, physical appearance and mindset. 
"Everyone's initial response was 'how is this girl so confident?'" she says. "I was like, 'oh, you need it?' I know exactly what I did because I just went through this a couple months ago...I'll give it to you." 
Megha advises people to first ask themselves why they're not confident in the first place — to look at yourself in the mirror and genuinely reflect. 
"Who cares about what other people think of you, who cares about changing who you are to fit someone else's idealization of who you should be," she explains. "You should just be yourself and be attuned to what you want and what your values are." 
Authenticity is something Megha takes seriously when she posts videos that receive hundreds of thousands of views. Instead of getting caught up in making the perfect video and maintaining a fake persona, she listens to her intuition and does whatever feels right. 
"I did not post with the intention of blowing up," she says. "But I think without even thinking too hard about the long winded message that I wanted to convey, people saw it within my short, 15 to 30 second videos."
As she has grown up, Megha has accepted her reality and has used it as a means to empower others. Although her journey to confidence has been a long one, her passion shines through. 
"My story is exactly how I say it is — I just needed somewhere to express myself."