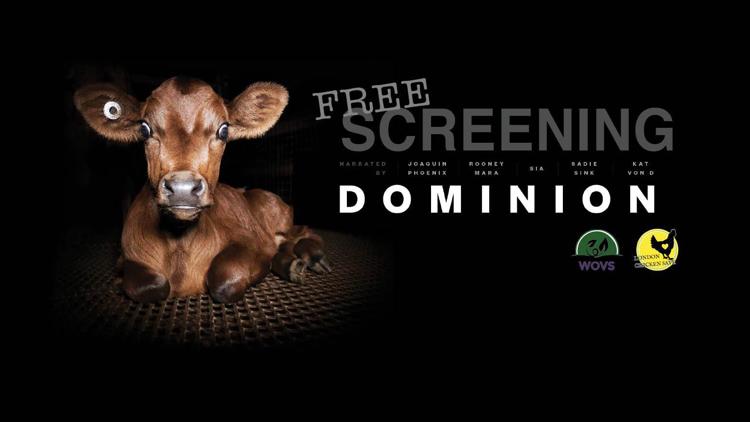 In an effort to increase animal rights awareness and promote a vegan lifestyle on campus, the Western University Vegan Society will pay students to watch a feature-length documentary.
The club will be hosting a film screening of the documentary Dominion on Nov. 7 in the University Community Centre. Students who watch the entire movie will be gifted $10 and a slice of vegan pizza.
The event, open to the public, will provide $10 to up to 100 individuals, according to second-year health sciences student and WUVS media relations coordinator, Jennah Weaver. 
The filmmakers behind Dominion used drones and hidden handheld cameras to expose modern animal agriculture, and the movie questions the morality of humanity's dominance over animals. While the Australian documentary mainly focuses on animals in the food sector, it also explores other forms of animal exploitation within the entertainment and clothing industries. 
"It's a little bit of a graphic documentary, and that's another reason why we're providing a bit of an incentive to try to get people to overcome that barrier, which is looking at what actually happens," says Weaver. 
The event is being held in partnership with London Chicken Save, a local activist group that actively encourages a vegan diet to Londoners. The funding for the event was received by VegFund, an organization that "empowers vegan advocates worldwide through grant funding and supporting effective outreach that inspires people to choose and maintain a vegan lifestyle," according to their website.
Weaver says that most events put together by the WUVS attract an audience of vegans and veg-curious individuals, and they're hoping to bring forth non-vegans to the screening.
"We're hoping that, with the $10 incentive, we'll get people who wouldn't normally view a vegan film in order to attract a different demographic," says Weaver. "It's hard to watch, but it is footage of what happens worldwide in the animal industry. We think that it's important for people to see that and get behind the walls of slaughterhouses and factory farms."
The WUVS and London Chicken Save will also be protesting animal-based food production by hosting a vigil outside of a chicken slaughterhouse in London run by Cargill Inc., which produces chicken products for McDonald's restaurants across Canada. The vigil will take place on Nov. 6 from 8 a.m to 2 p.m. 
"The cool thing about vigils is that not only do they bring awareness to what's happening inside of the slaughterhouses, but it's a really great way to fuel your activism and to light that fire inside of you because sometimes it can dwindle," says Weaver. 
The film screening will take place on Nov. 7 from 6:30 to 9:30 p.m. in the University Community Centre Room 41. For more information, visit the event page here. There will be volunteers who will provide support for those who are disturbed by the graphic imagery.