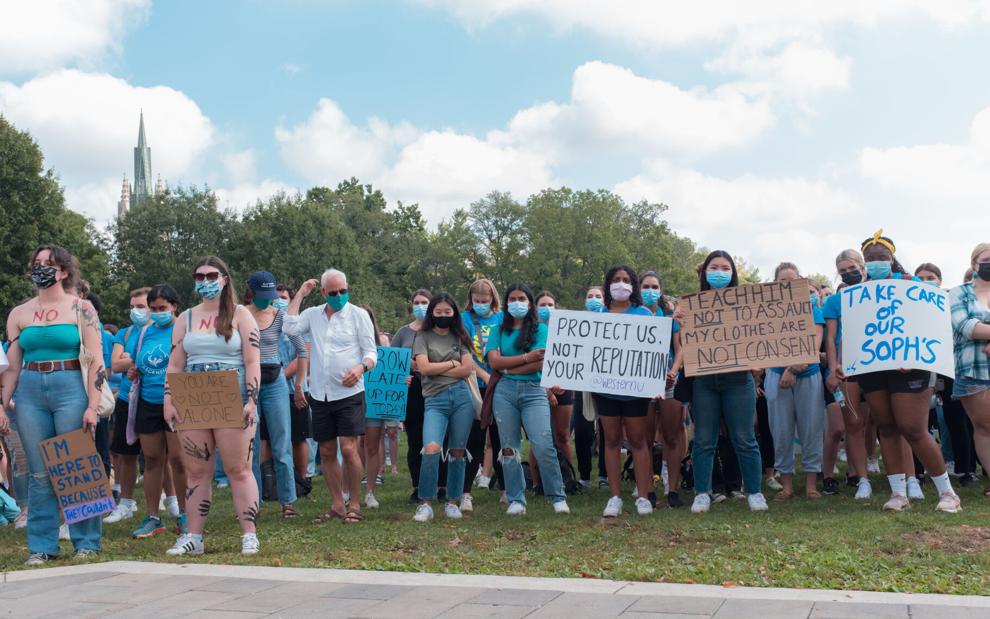 Nov. 1 will mark the first eight weeks of the school year. Statistically, over 50 per cent of all college sexual assaults will have occurred already. 
This period, from the beginning of the school year to the first week of November, is called the Red Zone. At Western University, the Red Zone encompasses orientation week, homecoming, school sanctioned activities, concerts and off-campus parties.
According to Teigan Elliot, co-president and co-founder of The Red Zone research team at King's University College, a change in environment may be part of the reason there is an upsurge in reports of sexual violence during the Red Zone. 
"For first-years coming in, many of them not being familiar with the campus, it's really easy for them to get lost or not know where they're going. And so they have to rely on other people sometimes to help them get where they're going," says Elliot, a third-year psychology student at King's. "Many first years don't have strong social connections with other people that they can stick with. They don't have a set group of friends to stay with, they don't really know who to go to. They don't have a good grasp of resources."
The power imbalance that exists between upperclassmen and first-year students is another factor that makes frosh vulnerable, especially at the beginning of the school year. 
Alongside increased vulnerability, the first six to eight weeks of school are filled with parties both off campus and in residence, and over half of all sexual assaults in that year.
"It's not that drinking is bad. It's not that partying is bad. It's that our rape culture and our party culture at Western has become really entangled with each other," says Elliot. "And so when all of that is happening in this condensed short period of time... it becomes a really messy, dangerous situation for people who are more likely to be targeted by sexual assault."
According to AnnaLise Trudell, manager of education, training and research at Anova women's shelter and sexual assault counselling services, while intoxication is never a reason someone is assaulted, it has a role in perpetration. 
"The research is pretty clear in showing that in terms of men's use of alcohol, when they're inabbreviated we know that they are aroused by deterrence, they are more angered by refusal, and they're more likely to push for sex," says Trudell, who maintains alcohol is not a cop out. "We're not trying to present this, like, oh, [men] have no responsibility, because we know that when you drink and you drive you are very much responsible for your actions in spite of the alcohol."
Trudell notes that, statistically, between 13 and 35 per cent of undergraduate men will commit some form of sexual violence or assault. She also stresses the importance of understanding why perpetrators do what they do in order to understand why sexual violence occurs and how to prevent it. 
"[Men] need to understand that their behavior is going to change [when they drink alcohol], and that it presents a risk to them, to becoming a perpetrator," she explains. "So when we think about those first weeks of the school year, we know that that's often the time when many students who are not overburdened by school requirements are really in a social connection space and for many students that means partying and the use of alcohol."
According to a survey conducted by the Ministry of Colleges and Universities, one in three Western students reported being sexually assaulted during the 2017-18 school year. Seventy per cent of students also reported being sexually harassed. 
Dr. Jordan Fairbairn, a sociology professor at King's who focuses in gender-based violence, adds that it is important to note that alcohol combined with an already present disregard for the bodily rights of others is what may inflate one's chances of perpetrating sexual violence. 
"If there are those underlying beliefs that [men] are entitled to sex or they're entitled to young women's attention in some way, then alcohol can act as kind of a bit of a disinhibitant," says Fairbarin. "It's not that [alcohol] causes sexual violence but it can be used as a tool or be weaponized." 
Fairbairn, who studies how communities respond to sexual violence and work to prevent it, encourages Western to first address the cultural issues affecting its students and subsequently alter their approach to sexual violence prevention.
"We need to think about the community's responsibility to be aware of the Red Zone," says Fairbairn. "We need to think about educating young men about not perpetrating sexual violence and about holding the community and our institutions to task."
According to Sara Ahmed, also co-president and co-founder of the Red Zone Research Team, the university's approach to tackling sexual violence must take a survivor-centric approach. 
"If we go about [addressing sexual violence] in a way that is victim blaming, and does not address the root cause, which is rape culture … we're not really changing much. The main issue still remains."
The third-year King's sociology student affirms the importance of Western students taking it upon themselves to make changes in how they communicate both formally and casually about rape culture in a bottom up approach to changing Western's culture.
"One of the reasons cultural change is slow and it's not an easy feat is because every time you do try to point out somebody's behavior or like how [something] perpetuates rape culture you're kind of thrown aside as a buzzkill," said Ahmed. "People don't want to hang around you anymore, you're not taken seriously. These are reasons why these conversations are difficult to have but if we make it a norm, then I feel like the opposite will happen."