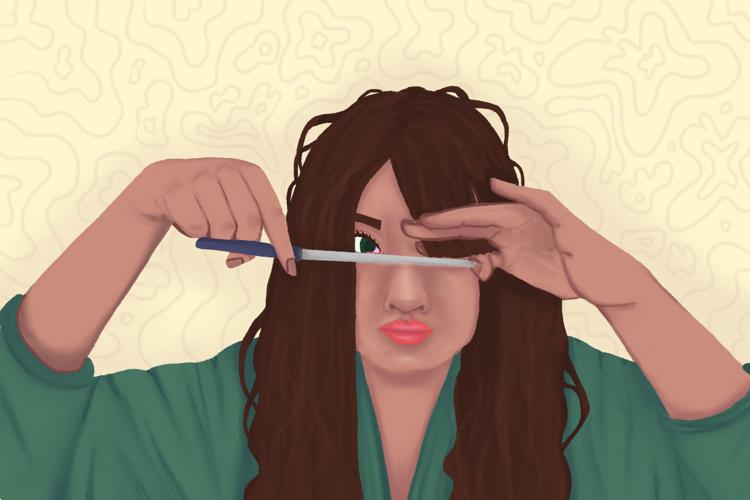 Allison Brealey is no stranger to hair transformations.
The a second-year School for Advanced Studies in the Arts and Humanities and psychology student is one of many young people who decided that a seemingly endless lockdown was reason enough to experiment with her hair. She spontaneously decided to try a split-dye — she bleached one half and dyed the other black.
Brealey says she was inspired by reels she saw on Instagram.
"I just thought 'this is so cool.' I just felt like — why not?"  
Although not always the case, spontaneous and drastic hair changes are often associated with periods of emotional turmoil and upheaval. Hair is an important part of self-image — so when there are major changes in our lives, we may feel like changing our hairstyle as well.
Hair transformations have only been exacerbated in the strange year that is 2020 — a time where feelings of ambiguity and loss of control are ever-present. By dying one's hair — making an active choice — we are able to regain some command in our life.
But, Marnie Wedlake, an assistant Health Sciences professor at Western University and a registered psychotherapist, explains that this feeling is an illusion. In fact, feeling in control at any point in life has always been an illusion.
"If you look at how much control we have in our lives, really we don't have a whole lot — anything could happen at any time that sort of pulls the rug right out from underneath us, and this sense of 'control' is gone," says Wedlake.
"When there's a lack of control, we want to gravitate towards something that's gonna help us feel some sense of control. It's our natural inclination as human beings to make order out of chaos."
Body image is one of the many ways in which people try to gain an illusion of control.
"In an ideal world, our body is ours. It's ours to do with what we will and it is ours to use as a marker of our own identity and expression of ourselves — an expression of ourselves in ways that feel right for us," says Wedlake.
During the lockdown, young people gravitated towards this manifestation of control, as videos of people cutting their own bangs or shaving their heads went viral on platforms like Instagram and TikTok. It became a cultural phenomenon of sorts.
The lack of control was also paired with many people, especially students, having more free time on their hands without regular summer jobs or social activities.
"It might not have been something I would necessarily even have the time to think to do if I wasn't in quarantine," Brealey says.
"I was just feeling so fed up with the mundane everyday that quarantine entails. This was kind of a way of taking back some fun into my life and taking back some control and some joy and some experimenting in a time where you can't really have a lot of experiences."
Brealey describes her experience as "empowering."
"I do something to my hair, and I kind of feel like a new person for a little while," she explains.
While changing your hair won't create a new reality, little changes have the power to make all the difference in the slow-paced lifestyle of quarantine. Go for the green hair dye or shave half your head — after all, hair grows back anyway.