By now, most of the vibrant leaves that epitomize autumn have been blown away by the sharp winds and have left barren branches in their wake. Fourth-year kinesiology student Spencer Raposo reflects the changing seasons through his daily outfit choice.
Raposo stays comfortable in black fitted track pants, which are optimal for getting from class to class and settling down to study at the end of a long day. His shirt has a minimalist graphic and block design that goes well with any colour, which he pairs with a faded green jacket. Rather than blending everything together with another neutral shade, the green helps to create a focal point to the outfit.
His black hat and dark brown boots tie his whole look together. These are great accessories because they can accompany any type of clothing. The tone of the outfit changes with the juxtaposition of the bright inner jacket pocket with the rest of Raposo's outfit, acting as a subtle resistance to the impending somber winter.
Raposo's favourite clothing item is his long black hooded sweater, which he layers between his shirt and jacket.
"I can wear it underneath my other jackets and it adds a longer length look, which is really in right now," Raposo says. 
He says his sweater adds a layer of warmth, which is especially vital with the dropping temperatures.
If you're having difficulty reconstructing your midseason wardrobe, Raposo suggests observing mannequins at the front of your favourite stores to discover some new arrivals. He also recommends adding your own personal touch to create a unique look.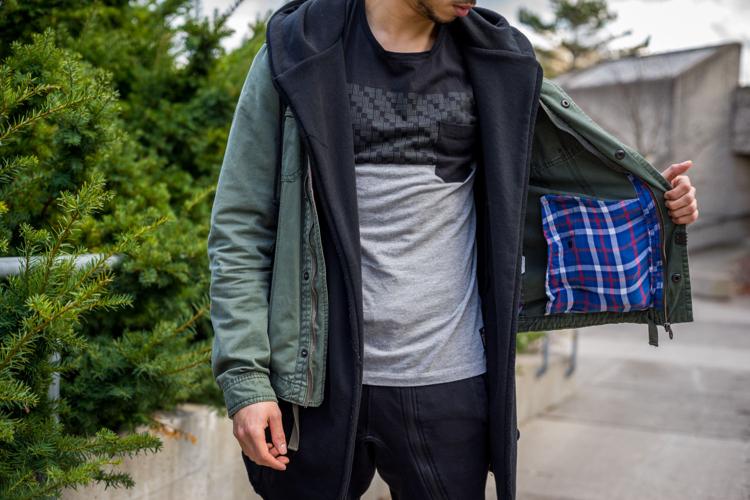 Where to get it
Shirt: Jack & Jones. Their minimalist shirts provide a good foundation for the outfit. You always have the option of making them either the centrepiece or a supplement to your look.
Sweater: Forever 21. Black cardigans are a staple in fashion, but this longer type of sweater is something a bit more unique. It's great to layer with shirts or jackets you may already have.
Jacket: Zara. Army green jackets are found at many stores with varying price points and quality. Make sure to find one with lots of pockets for extra practicality.
Pants: Jack & Jones. Fitted track pants have become a popular trend and with good reason — they are classier than sweatpants but don't compromise comfort.
Hat: Any department store. You can find a range of black hats, but all you need is a simple one to wear every day. Their power is not to be underestimated; black hats maintain balance and are perfect to wear if you're not having the best hair day.
Boots: Browns Shoes. Fall boots come in many different styles and colours, so you're sure to find something to fit your own personal taste. Consider getting thicker boots if you plan on wearing them during the winter.