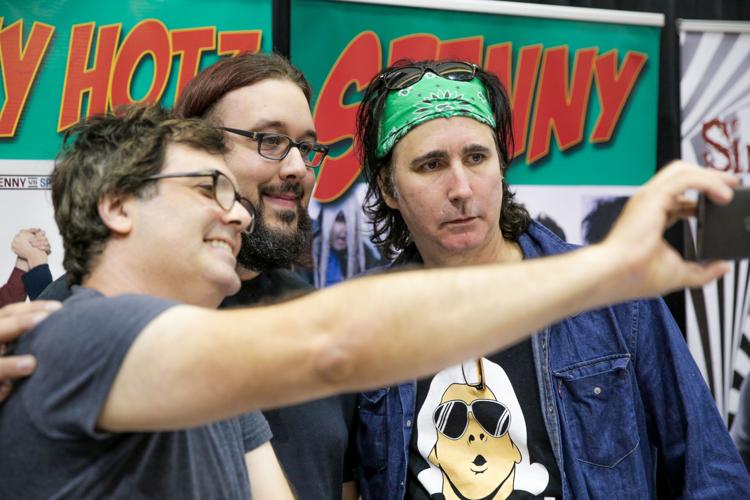 Notorious for their adversarial brand of comedy, Kenny Hotz and Spencer "Spenny" Rice are the only Canadian icons to become famous by dosing each other with LSD and appearing naked on national television.
To understate the case, Kenny vs. Spenny isn't your typical Canadian comedy. The show is based on a simple premise: each episode, the two Toronto natives take part in absurd (and sometimes illegal) competitions, and the loser of each rivalry must suffer a humiliation that is chosen by their opponent. In the past, these have included a burial in cow manure and bobbing for apples in the toilet.
The oddly engaging premise followed Hotz and Rice as they competed in pointless competitions for bragging rights in categories such as who could wear a gorilla suit the longest, who could smoke more weed and who could blow the biggest fart.
"It was a very sadistic show in a sense, especially my end of it," Rice says.
Even though the last episode aired in 2010, the duo have since adapted their love-hate relationship in the form of a cross-Canada live tour. The tour will stop in London, Ont. on March 9 at the London Music Hall.  
"I've always been an easy target for [Kenny] because I'm an only child. I never had a brother teasing me when I was growing up, so I've always been naive," Rice says.
The duo's humour has sparked a "reality sitcom" revolution in Canadian comedy that uses plucky, untamed characters and low-budget network contracts to produce cutting-edge humour.
The outrageous and authentic competitions performed on the television series opened the floodgates for a new, unorthodox form of Canadian comedy: one that favours nocuous stupidity and madcap aspirations. Today, it's been picked up by popular Canadian shows, including Letterkenny and VICELAND's Nirvanna the Band the Show.
Throughout the reality series, Hotz constantly devised schemes that involved cheating, while a fragile Rice was trying to be an honest, respectable competitor.
Rice says he always felt a sense of anxiety when shooting with Hotz, almost leaving the show three or four times because he couldn't handle it. Hotz took unforeseen strides to win each battle against Rice. He forged a government document stating that Rice was HIV-positive, blasted Rice with radiation and laced Rice's orange juice with LSD.
According to Rice, their live show is based on improv. He urges Londoners to come out because it will offer them a glimpse into the dysfunctional relationship between him and Hotz. During the live show, the duo will also show unaired scenes, interact with fans and perform live humiliations.
Whether you love them or hate them, Rice and Hotz have graced the international comedy scene with their low-budget, do-it-yourself series that is steeped in sexual innuendos and frat boy humour.
Rice says he would never say no to revitalizing the show for one more season. To him, comedy is a way of coping with "the grim realities of the world." 
"I would never say never. The older we get, the funnier we are," says Rice.
Kenny vs. Spenny will come to London Music Hall on March 9, 2018. Students can pick up tickets for the show here.