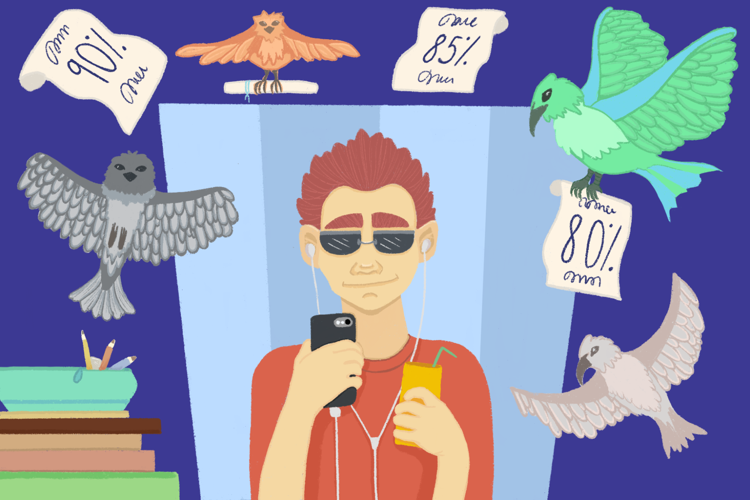 A breadth requirement? Who even knows what that is anyway?
To those who aren't familiar with the confusing jargon that comes with understanding program requirements at Western, it seems that passing an actual course may be just as tricky as picking the right ones in the first place. 
Breadth requirements, which are mandatory for almost all undergraduate degrees, require students take 3.0 credits, including 1.0 from a list of categories: social science and interdisciplinary studies, arts and humanities, and science. 
The idea is to force students to take courses outside of their predominant subject area. However, stepping outside of your program's range, means it can be hard to find courses that are interesting, or at the very least, easy to achieve a good grade in. 
Through this common struggle, students can appeal to the following recommendations. 
Category A
Category A seems a rather daunting category. It includes a long list of subjects, most of which are notorious for their intensive writing aspects. This can be intimidating for science and math students who often prefer equations to words. 
However, with any program or module, another basic requirement for all undergrad students is that before graduation they need to pass at least 2.0 essay courses (suffix F/G/E). Fulfilling the category A requirement by taking an essay course is an efficient way to work on attaining both requirements simultaneously. Sociology 1021E is a full-year essay course that, according to the course description, is designed to "enhance essay-writing skills." Though it will demand some time, it will fulfill dual mandatory requirements. 
If this is something you do not want to tackle in first year, you can always wait until second year to take Basics of Dance 2174A/B or Geography of Tourism 2144A/B. Neither of them are essay courses, but they are definitely more unorthodox ways to suffice the category A requirement. 
Category B
If you happen to be fluent in multiple languages, attaining your category B requirement will be a breeze. All of Western's language courses reside under the category B, so select a class in your most fluent language and you will be well on your way. But if you are not so good with language, attaining category B requirements can be a harder feat to come by. 
That being said, many students who have taken Classics 1000 claim it to be highly interesting and severely underrated. It's a full year course, which will fulfill your entire category B requirement. Every class is like listening to a story especially if you can get into Professor Lamari's section. This class encompasses interesting anecdotes and no writing requirement, for that reason it often makes an attractive prospect to fulfill the category B requirement. 
Category C
Just as science students may be timid of the writing component of Category A and B courses, Liberal arts students could be worried about taking science courses which are mostly numbers and equations.
Both Environmental Science 1021F/G and Computer Science 1033A/B, are courses that curtail the aforementioned outcome. Neither course has science-based pre-requisites that would prohibit someone without a science background from understanding the material. So long as you attend classes and submit assignments on time, these courses can get you that category C requirement. 
But there is more to it. In first year, you must fulfill at least 2.0 of the 3.0 credits needed for your breadth requirements. If you are finding that last 1.0 credit requirement is proving to be quite difficult to fulfill, discovery credits are an option. 
Discovery credits are pass/fail courses, which do not entail the traditional percentage grade. This allows you to fulfill up to a maximum of 1.0 credits without the fear of having a poor mark drag down your overall average. Discovery credits, however, are only available after first year, so they must be done in second year or beyond.
Fulfilling breadth requirements is important to remember when choosing courses because you simply cannot graduate without them. Stepping outside of your area of interest and expertise can be hard to do, so these requirements help students to do so.
But it is important to choose your breadth requirement courses wisely. Whether it's based on your own interest or the recommendations given above, you could end up loving a course that is completely different from what you originally came to study at Western.