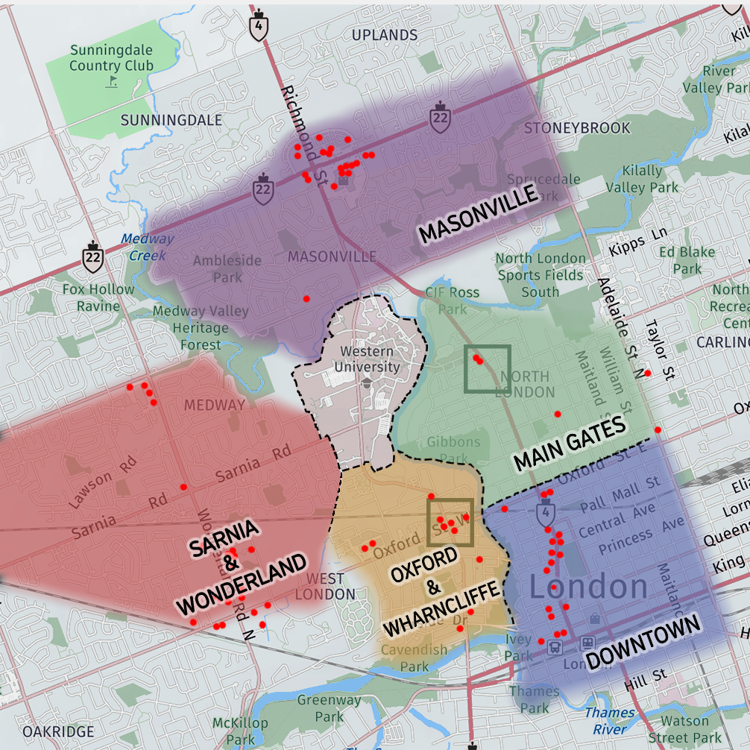 Downtown
All the action happens downtown. If involving yourself with local social events, politics or food exploration is your thing, downtown is where this happens the most. The population is a diverse mix, from students to business people, young to old, and inebriates to hysterical folk.
Although a bit pricier than other student areas like main gates or Oxford and Wharncliffe, you'll feel like you're living at the centre of the party with the audible noise of drunken stumblers, ambulance sirens and the occasional music emanating from the house party next door.
If you want to explore life outside of campus, downtown has a plethora of places to eat, including fine dining or fast food, local bookshops, coffee shops — and of course, you'll have routine run-ins with downtown's nightlife at the bars and clubs. 
Oxford and Wharncliffe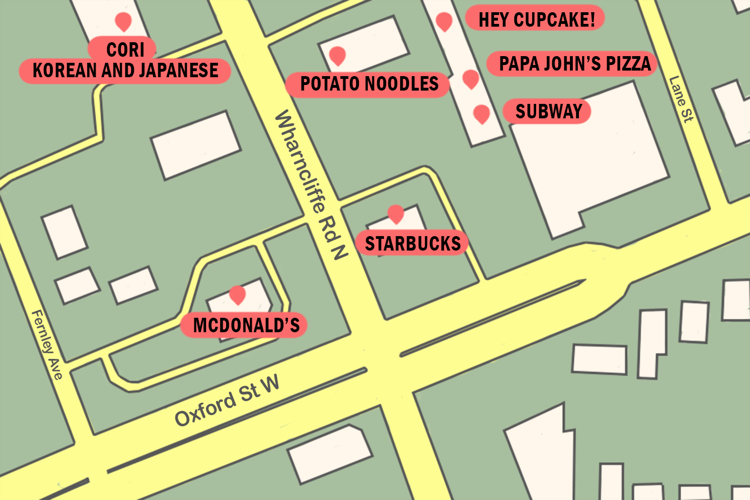 Everywhere you turn, there's something fast and cheap to eat. The plazas at the intersection alone could provide sustenance for your entire undergraduate life. The main attractions? McDonald's and Starbucks, or in other words, the afterparty of the club and an all-nighter, respectively.
Living here places you close to both downtown and campus, so you can be in your books during the week and splurge on the weekend. The area is generally cheaper, and the scenic parks running along the Thames could make you consider living here.
Main gates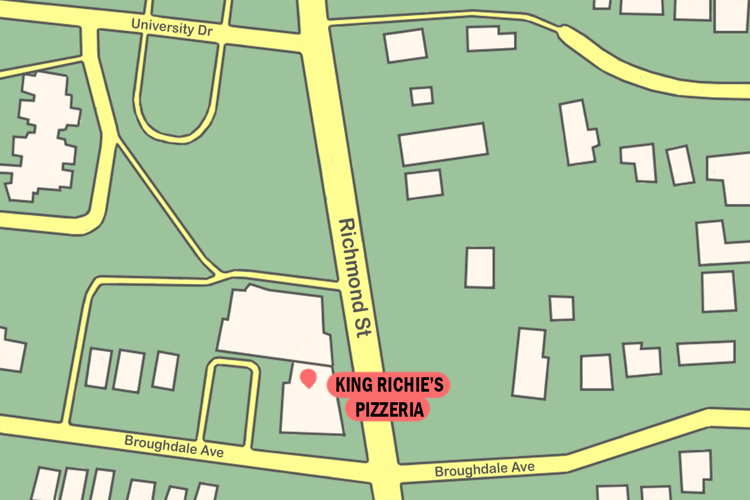 This neighbourhood has housed students for as long as Broughdale Avenue has had its infamous street parties.
Other than a couple times a year on Fake Homecoming and St. Patrick's Day, when your street could look like the aftermath of a zombie apocalypse, you'll be marvelling over the neighbourhood's large yards, and the streets marked with some of the biggest trees in the city. Almost like the neighbourhood was frozen in time, most of the homes have a Victorian appearance with cozy interiors.
This area is one of the closest to campus, and it will also give you the most scenic route when you're walking. There's also major potential for a dispensary to open up in this neighbourhood right beside what's supposedly the best pizza place in town: King Richie's Pizzeria.
Masonville
This area is brimming with chain stores, restaurants and entertainment. You might be into that sort of thing, but this neighbourhood is generally quiet, making for a peaceful environment.
You may consider it an upper-class area, so it's safer than most areas and you don't need to fret about break-ins.
It's typical suburbia: you've got families and seniors living in this expensive neighbourhood, and there's nothing much to see besides rows of cookie-cutter homes. But it's somewhat cleaner, and you can keep yourself amused at the mall, the movie theatre and the Rec Room.
Sarnia and Wonderland
Like the name suggests, this area really is bliss — when it comes to authentic Asian food. Several Japanese, Korean and Chinese restaurants line the streets so you'll have a hard time deciding between all-you-can-eat Japanese sushi, Korean barbecue or Chinese buffets. Hopefully you have an easier time deciding between the bubble tea spots placed around the plazas.
This area is quiet and fairly suburban, with plenty of parks in walking distance — Students, families and seniors live in houses with big yards.
Though, it might require bus transfers to get to other parts of town, and depending on how much you like to leave your house, the Uber receipts could add up quickly.