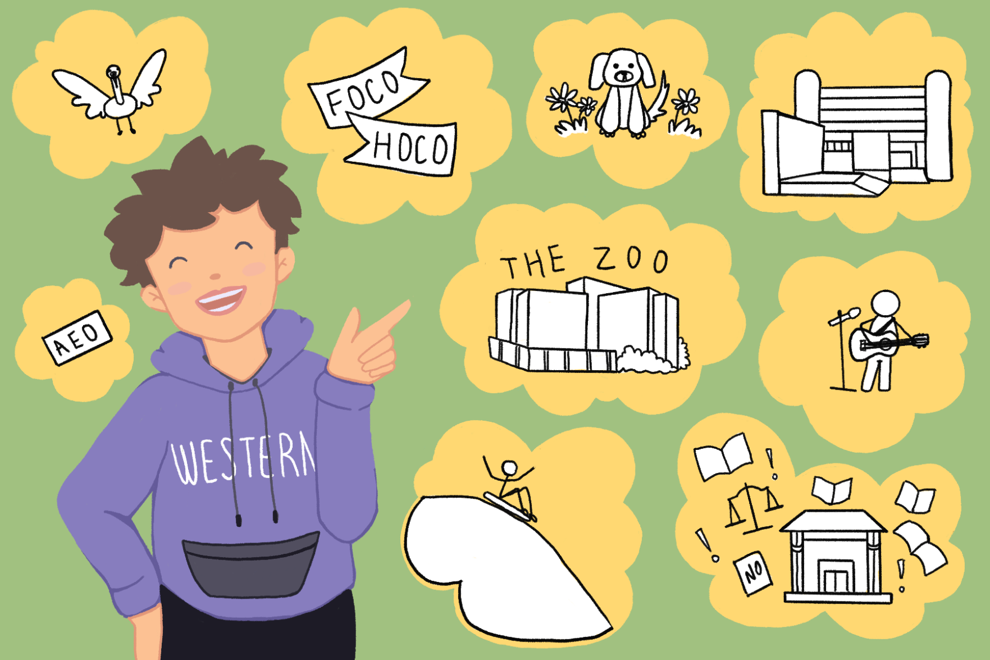 It's hard enough trying to navigate through Toronto slang on campus if you're not from the GTA, and when you throw in Western lingo, even Urban Dictionary can't help you. Good thing we have you covered!
FOCO and HOCO,
event.
Fake Homecoming, FOCO, was the one time of year students actually woke up by 8 a.m. to gather on Broughdale Avenue dressed in purple. As our homecoming game moves back to its original date, students can look forward to the original Homecoming, or HOCO, experience.
Note: The Gazette does not condone illegal student partying activity.
Club Weldon
,
meme.
Weldon is Western University's largest library, open 24 hours during exam season. It seems as if the only way to entice Western's party-hungry crowd into studying is by referring to it as a club during exams. Exclusive shuttles — I mean … party busses — are known to escort students home past midnight during this time. 
Rick's Wednesdays,
event.
You don't know it yet, but Western is home to your soon-to-be favourite celebrity, Rick McGhie or "Uncle Rick." Rick has a cult-like following of students who show up at the Spoke, our favourite bar on campus, every Wednesday night to watch him perform highly acclaimed classic tunes.
AEO
,
academic status.
AEO refers to "Advanced Entry Opportunity," which is a status — NOT a program — allowing students conditional admission to Ivey Business School. Having or maintaining AEO can be a sensitive topic for students aiming to land a spot in Ivey. 
Note: you will get made fun of for pretending to be in Ivey with only AEO status.
Alan Shepard's dog
,
mascot. 
Remember to worship our president's dog, Meisha, who frequently appears in video messages emailed to students. This dog secretly controls Shepard's every move and may even be in charge of our school.
The Law Library, meme.
As students begin to enter midterm and exam season, it can get quite difficult to find places to study on campus. In 2019, a law student wrote an open letter to main campus students, complaining about non-law students using the Law Library to study. A series of memes ensued on the "UWO Must Knows" Facebook page.
Geese on UC Hill
,
extraterrestrial.
Avoid these creatures at all cost, as they are no normal geese. Scared of nothing, and angry at everything, these geese will haunt you in your sleep. 
The Zoo,
building.
"The Zoo," refers to Saugeen Maitland Hall, Western's largest residence building. The building is known for its wild parties and frequent destruction of ceiling tiles. Its cafeteria also has some of the best food, second to Ontario Hall. 
Note: The Gazette does not condone illegal student parties or the destruction of residence property. 
Tray-bogganing,
activity.
Every winter, residence buildings notice a depletion of trays from their dining halls as they are taken out by students to toboggan down UC Hill. It is the one time of year on UC Hill  that tray studiness usurps geese as the biggest threat to students.