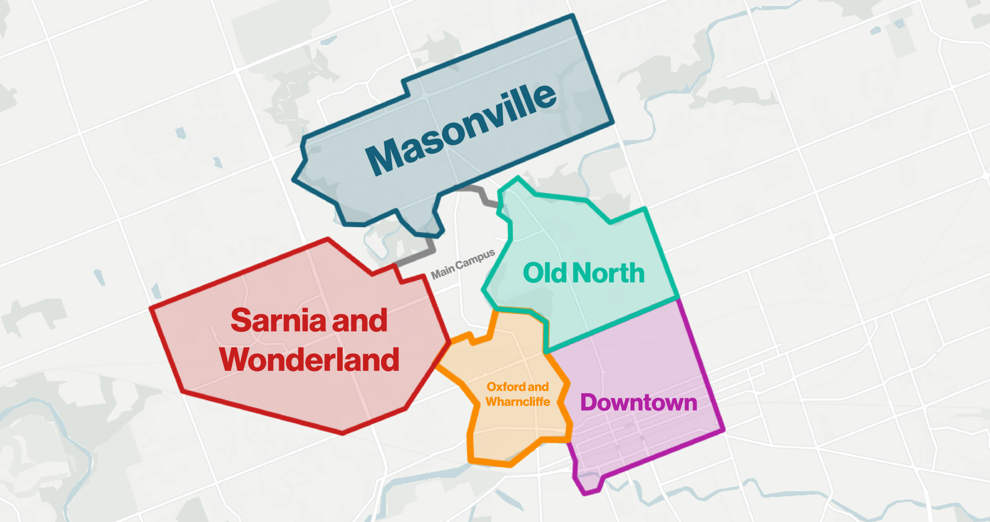 It's the end of first semester, which means it's time for final exams and papers — but just the start of the dreaded house-hunting season.
Western University has six main student neighbourhoods, each with their own perks and quirks. While your dad may be hunting for cockroaches and assessing the structural integrity of the roof, you're dealing with the more important things. Is there a good takeout nearby? Will you be able to make that 8:30 a.m. lecture you're chronically late for? How close are you to the best place to let loose on the weekend — or the weekday, we don't judge.
Whether you're a first-year looking for an off-campus steal or a third-year who hates their roommates, the Gazette has you covered finding the neighbourhood that's right for you.
Old North
Old North is arguably the most sought-after place to live for Western University students — and for a good reason.
The neighbourhood is located right outside of Western's main gates, surrounding King's University College. Students in these areas rarely take the bus to campus, because the walk to class ranges from 10 to 20 minutes. 
Not only is Old North close to campus, it's also conveniently near downtown. After a brief walk to Richmond Street and a five- minute bus ride, you'll be in the centre of Richmond Row.
That being said, grocery stores are not the most readily available, with the closest one a 20-minute walk away. Old North also isn't the greatest for food options around — except King Richies, of course. 
Depending on your opinions on Homecoming and St. Patrick's Day, Old North is either the best place to live or the worst. A few days a year, the streets get packed with large crowds and are filled with commotion. While it's great to have a bed nearby for a mid-day recharge, the mess left on your front lawn might not be. 
Close to campus, close to downtown and close to parties — what's not to love? 
— Danielle Paul, Culture Editor
Oxford and Wharncliffe
Want something that's a little close to everything? Oxford Street and Wharncliffe Road is for you.
Located one bus, or around a 20-minute walk, south of campus, is the student-dominant neighbourhood of Oxford and Wharncliffe. 
No need to UberEats anything here. There's chain restaurants like McDonald's, Papa John's and Starbucks, but also local staples like BTRMLK and Potato Noodles — and downtown is only a 15-minute walk away.
The infamous Cowboy's ranch is also in this area, providing a perfect weekend getaway for those who love country music.
Grocery stores are not particularly close, so unless you have a car, get ready for a not-so-fun trek on the bus. 
One other downside is that break-ins are relatively common. In this neighbourhood, always make sure to lock your doors and windows, don't leave important possessions in your car overnight and keep valuables out of window sightlines. As John Mulaney says, use your street smarts.
Don't let that scare you though — theft can happen in every neighbourhood. Oxford and Wharncliffe has a lot of students nearby, and is equally close to both campus and downtown, a happy middle ground with some of London's better rent prices to match. If you come from a city, you shouldn't have a problem adjusting and making it your home.
— Sarah Wallace, Managing Editor
West of Campus
If you're a foodie, living close to Wonderland Road and Oxford Street is one of the best choices you can make in your undergrad.
Hometown food heals homesickness. In this neighbourhood, you can find everything from  authentic Chinese, Italian, Mediterranean and Japanese restaurants to your favourite fast food joint. There are even three bubble tea shops to choose from within a 15-minute walk. 
For those who love home-cooking,  not having a car will never be a problem in this area. The largest Asian supermarket, Food Island, is a 15-minute walk, as are Sobeys and Farm Boy. 
The area is a bit far from campus — you need to set aside 25 minutes to walk —  and 30 minutes away from downtown.
The neighbourhood is also quiet, with a mix of students and families, making it perfect for those spending their nights cramming for the next exam. For those wanting house parties, good luck finding one.
If you are looking for a place to live in this area, do it early. There's a mix of apartments and houses in different price ranges, but they go fast.
— Estella Ren, News Editor
Masonville 
A 30- minute walk north of campus is the heart of London's Masonville neighbourhood. 
If you don't have a car, the nearby Masonville Mall is a one-stop shop for all your needs. 
There are lots of food options if you're hungry, staples like Tim Hortons, Harvey's and Swiss Chalet adorn the area. But when they get old, you'll have plenty of unique, local eateries to try, from cafes like boxcar donuts and Happiness to Thaifoon and Richie's Family Restaurant diner. Grocery stores like Loblaws and Farm Boy are also within walking distance. 
You won't find the same party scene as Old North or downtown because most students in the area live in apartments or close to residential neighbourhoods. The area is also far from student-frequented bars, though, Masonville's wide array of shops boasts an LCBO and The Beer Store. 
The area is known for being safe, surrounded by family-inhabited residential areas, with the big apartment complexes offering key card access and overnight security. 
Masonville's selling point is convenience. If you want quick, easy access to lots of food and shopping, this is the place for you. Just be mindful that it's not exactly walking distance from London's student nightlife. 
— Miles Bolton, Sports Editor
Downtown
Downtown might showcase the best and the worst of London student life  — it's a long slog to campus, but a 30-second walk to Richmond Row.
Taking the bus to Western's campus is annoying. They come frequently, but most drop you off at Delaware Hall. If you have class at the Social Science Building, Ivey Business School or Huron University College, your 20-minute bus ride has a 10-minute walk tacked onto the end of it. It means waking up earlier, getting home later and lots of hoping the bus comes soon.
But living downtown puts the best of London at your fingertips. It's not just the proximity to bars and clubs, but the cafes and restaurants are there too. From classic nightlife hubs like the Ceeps to hangover brunch favourites like the Campus Hi-Fi diner, Richmond Row will have you set.
If you have a car, living downtown is definitely worth it. Without one, ask yourself: is taking the long bus everyday worth it?
If it is, downtown is the place for you.
— Jordan Bloom, Opinions Editor
On Campus
If you manage to snag one of the remaining on-campus rentals, it has one major advantage — you're right on campus.
No early morning bus ride, no scramble to find parking and no worrying at bus stops. Your classrooms are only steps away. 
Due to being on campus, the area is considered safe, but there aren't many housing choices. From the Red Bricks on the corners of Sarnia Road and Western Road, to the apartment complex behind Saugeen-Maitland Hall or the townhouses at Platt's Lane, the choices are limited and go fast.
The close proximity to campus also means higher rent. The same sized unit at Red Bricks next to Ontario Hall has a higher rent than the Red Bricks at Oxford and Wharncliffe. 
Although living close to campus is convenient for class, it is a long trek to Richmond Row and grocery stores, and the transportation costs add up. You're close enough to Old North, but if you're looking to socialise off campus, be prepared for a long commute and hefty price tag.
— Andy Yang, News Editor