Dangerous by design: Faculty act to improve campus cycling infrastructure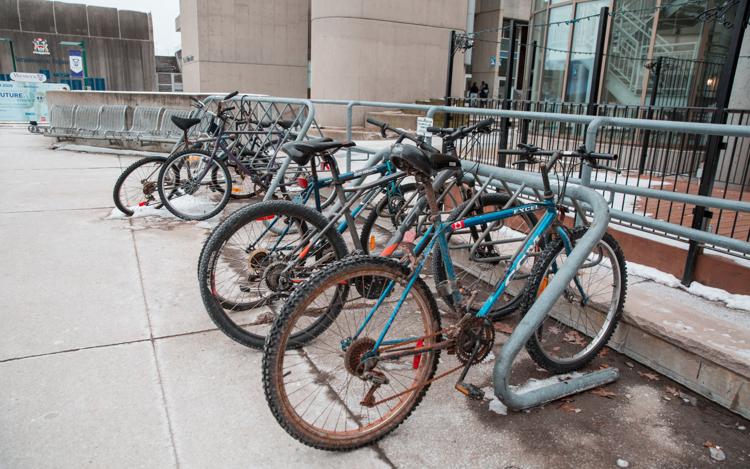 Jörn Diedrichsen bikes from his home in Old North London to Western's campus almost every day, year-round. Along the way, he rides through congested roads with no bike lanes, passes road lights that cannot be triggered by bikes and struggles to share narrow streets with impatient drivers.
When he arrives on campus, his options for bike storage during the workday are mostly limited to open, unsecured bike parking racks that are often ill-maintained in the winter season. The bikes are vulnerable to rusting away in the wet weather and being stolen, but university policy strictly forbids bringing bicycles into any campus buildings, issuing $50 fines for violations.
For Diedrichsen, the commute to campus became slightly easier when the University Drive bridge closed in October, freeing the bridge to pedestrians and cyclists. He tweeted this view in November, garnering significant support and approval from several faculty members. As it turns out, Diedrichsen's experiences with cycling on campus are shared by many. 
A Western University professor of anatomy and cell biology, Marco Prado has been biking to the university during the summer and winter for the past five years.
"[There is] a clear lack of facilities," he said. "One of the major issues that I've had for many years is cars pass me on the University [Drive] bridge."
Diedrichsen and Prado are among many Western faculty and community members who choose this active method of transportation for its recognized health benefits and its role in decreasing their carbon footprint.
"That gentle exercise before going to lectures is good for your brain,… it's good for your body, it's exactly what prevents obesity [and] it's good for the climate," said Diedrichsen. 
To address their shared concerns, members of Western's faculty came together to create the Western Active Transportation Society in December: a group of faculty, staff and students dedicated to promoting safe cycling and walking as means of transportation on campus.
"We decided that it was time to really have a community get together and talk to the university, talk to the city and try to improve the infrastructure," said Prado.
In less than a month, the WATS online community began to thrive with over 100 members on Twitter. The group is in the early stages of a collaborative effort to put in motion several initiatives that aim to improve Western's cycling infrastructure. 
'Infrastructure determines behaviour'
Diedrichsen, a Western professor of computer science and statistics, grew up and completed his undergraduate studies in Germany. He explained it was the norm for up to 40 or 50 per cent of his university campus community to commute by bike.
"There was a sea of bikes in front of the central lecture building, and nobody was driving, because it was just not feasible," he said. "Infrastructure determines behaviour,… and the infrastructure here gets people to drive more.… [It] is laid out very much for cars, and until you start riding your bike or walking to campus, you don't notice that."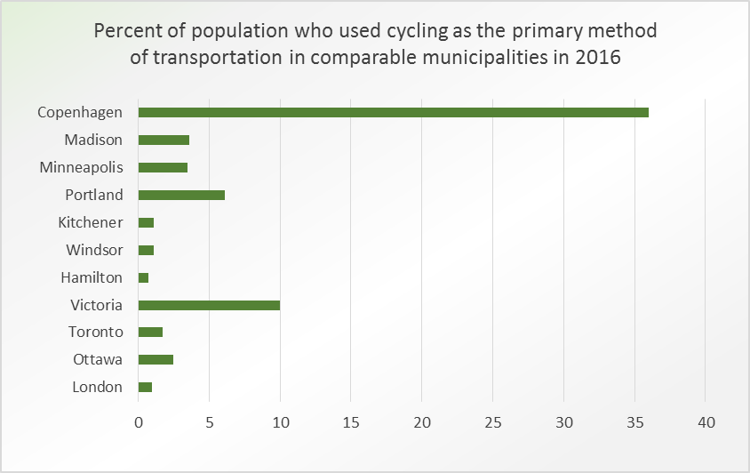 The 2016 London Master Cycling Plan reviewed best practices from 10 comparable municipalities within and outside Canada to help support local improvements to cycling infrastructure.
WATS members emphasized that Western's and London's infrastructure deters, rather than encourages, people from cycling to university due to a number of issues. Only one per cent of London's population cycle to work, compared to 2.5 per cent of Ottawa, 1.7 per cent of Toronto and 10 per cent of Victoria, according to London's campus master cycing plan. Further, comparable municipalities internationally range from 2.6 to 36 per cent. 
For one thing, Diedrichsen pointed out that several roads within and surrounding campus do not have bike lanes, such as Perth Drive, Lambton Drive, Huron Road and University Drive bridge.
"I have always ridden, and I am not scared of taking my full lane, but many people do not feel safe riding their bike," he said.
Further, lights at the intersection of Sunset Drive and University Drive cannot be triggered by bikes, and buses turning in the intersection often cross over the bike lane. Diedrichsen added that the Western Road and Sarnia Road intersection is particularly dangerous for cyclists.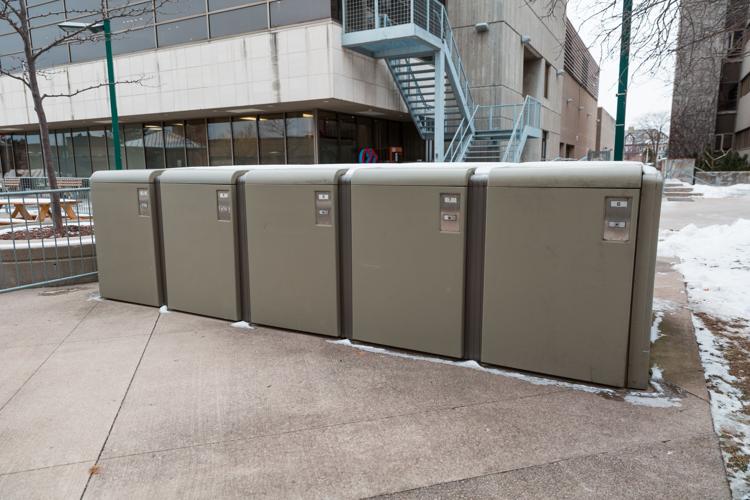 In terms of bike storage, the university provides bike racks throughout campus; most are uncovered. It provides a total of 20 bike lockers located on Concrete Beach, behind the Health Sciences Building and behind the Support Services Building. The lockers are rented at a rate of $100 per 12 months, and all the lockers are currently rented out. Students need to be placed on a waitlist to rent a locker. 
These options pale in comparison to storage options at other universities. On top of bike racks and lockers, McMaster University offers two secure bike storage facilities with video surveillance and swipe-card access, and bike storage within residence buildings.
Queen's University, the University of Ottawa, the University of Calgary and Concordia University offer similar secure bike storage facilities, with fees ranging from $20 to $85 per year.
The present challenges to bike parking at Western have led several faculty members to store their bikes within campus buildings, against university policy.
Providing sheltered and secure bike parking throughout campus is one of the key goals of WATS. "The vision is to have sheltered units in front of each building where there's an open bike parking, and one part of the bike parking that is only accessible with the Western ID," explained Diedrichsen.
Further, members of WATS noted current parking permits provide an 80 per cent discount over daily rates. Therefore, individuals who choose to drive one day per week pay as much as those who have a permit and choose to commute by car on a daily basis.
"There are days that you actually need to come by car, but to come by car, you have to pay $30 to $50 for parking because you don't have a parking permit," said Prado.
This system presents a strong disincentive for exploring active methods of transportation. As an alternative, WATS is proposing a pay-per-use permit that should be the cheaper option when used on fewer than half of working weekdays.
In alignment with Western's Open Space Strategy, WATS hopes to see University Drive bridge permanently closed, provided that plans are made to adjust bus routes and prevent congestions in other areas.
"That's a controversial issue. We feel that the bridge closure has encouraged a lot of people to engage in active transportation, and we would argue that it's ultimately a good step for the university," said Diedrichsen.
Further, WATS members hope to work with Facilities Management to create an improved bicycle network and winter maintenance. They have also partnered with several local cycling organizations to advocate for improvements beyond Western's campus.
"Infrastructure and active transportation are intimately interlinked, and the quality of life at Western's campus could be so much better if we do something," said Diedrichsen.
Improvements in progress
Since the recent initiation of the group, WATS members have had one informal meeting with Facilities Management, who seem to be interested and supportive of the group's initiatives.
"We've looked at the existing cycling network on campus and recognize that there are some gaps. We want to make sure that over time, as we look at upgrades to the open space on campus, we address the cycling network and connect those gaps," said Mike McLean, Western director of facilities planning, design and project administration.
McLean explained the Open Space Strategy contains multipronged improvements to campus open space related to circulation, pedestrian movement and safety. It aims to decrease conflicts between pedestrians, vehicles and cyclists.
The strategy's draft plan briefly addresses the need for improved bicycle circulation and parking on campus. Specifically, McLean highlighted the need for bike racks to be provided in close proximity to all building entrances, transit stops and programmed outdoor spaces, and in highly visible locations to decrease the likelihood of potential bike thefts.
He also explained that stakeholders, such as Campus Police, are being engaged in the process to address this issue. Specifically, the number of bike thefts on campus have steadily decreased over the past four years, from 116 in 2015 to 89 in 2018.
Staff Sgt. J.C. Aubin, Campus Police operations leader, explained the decrease in thefts is due to efforts for improved security, such as increasing patrols in areas with bicycle racks, increase of security guards during high-risk times of the year and emphasis on the use of the more secure U-locks instead of cable or chain locks.
Statistics on number of bike thefts on Western campus for the past four years, as obtained from Campus Police. 
Otherwise, minor improvements to the cycling network have been made since the open space strategy draft plan was published in January 2017, including line-painting and signage. McLean explained progress was partly impeded by the closing of the University Drive bridge and the rerouting of buses. He hopes to carry forward with improvements this year.
In particular, while negotiations between faculty and Facilities Management for indoor bike parking within new campus buildings failed in the past due to university policy, plans for an indoor bike parking space may be in the works.
"There is a large demand for bike storage," said McLean. "It's difficult to have storage in existing buildings for bikes,… but with our Thames Hall project, which is just in design right now, there's an opportunity there to provide some indoor bike storage, [and] we're looking at that possibility right now."
Diedrichsen explained WATS members hope to have a formal meeting with Facilities Management in a few weeks' time to lay out the vision of WATS and discuss details of potential initiatives.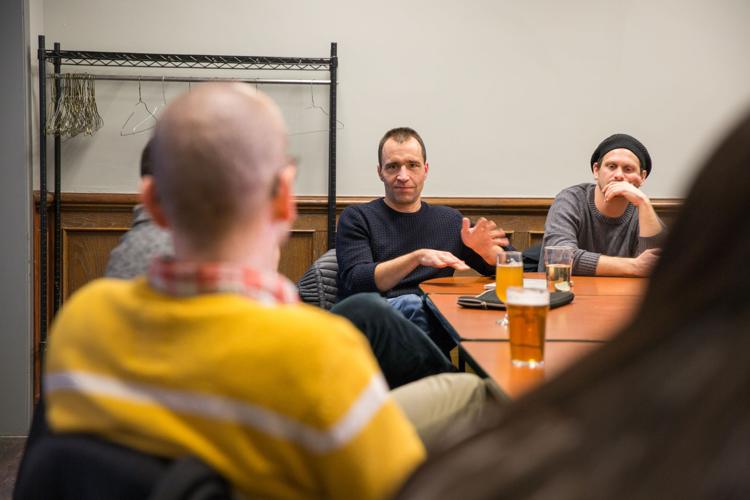 "It's great to have them as a stakeholder group when it comes to active transportation on campus and anything with regard to the open space plan," said Brandon Watson, communications officer of Facilities Management. "We'll continue to work with them as we move forward on improvements to the cycling network on campus."  
Looking ahead, WATS members are planning a survey led by Western computer science professor Dan Lizotte to understand the community's perspectives on cycling, such as how often people bike on campus and the barriers they perceive to doing so. They may also look into technological solutions, such as camera-based bike counting, to collect further data on cycling behaviours.
Further, they are organizing a Winter Bike and Walk to Work Day on Feb. 8, where they will be present at the University Drive bridge during the morning commute with free coffee, hot chocolate and more information on WATS.
Group members currently meet every Thursday from 4 to 5 p.m. in the Grad Club to discuss their next action steps. While core members are mainly faculty members, they hope to see higher involvement from the graduate and undergraduate student communities as they move along.
"If there's no clear advocacy for cycling and biking on campus, things won't change," emphasized Diedrichsen.
Through their united efforts, they hope to effect some significant changes to cycling culture on Western campus.