Students bustle around Western University on a typical day in October. As they filter in and out of the University Community Centre, one of the busiest buildings on campus, they can't miss the hundreds of little blue and pink flags dotting the lawn on Concrete Beach.
In front of the flags is Western Lifeline, a University Students' Council ratified pro-life club.
According to Maria McCann, a fifth-year English literature student and president of Western Lifeline, each flag represents an aborted fetus. She views the number of flags as the number of children whose human rights are violated every year in Canada by abortions. Lifeline's mission is to "make abortion unthinkable on our campus." Besides education, McCann said the group wants to support students who are facing difficulties as a result of a challenging pregnancy or who are struggling after an abortion.
The flags marked the first of four controversial Lifeline displays since September, one more than the previous academic year. McCann said a growing membership has allowed the club to increase the amount of of events they host. McCann said the group has 27 active members this year.
Students' reactions to the group were varied but consistently passionate, tapping into the ongoing debate about free speech on campuses. Many students and community members have taken to social media in fervent protest or in affirmation of the group. 
@WesternU to whoever approved the anti-abortion display @ the #UCC, reevaluation is needed: I would like to know why a "group" shaming women for choosing what is right for THEIR OWN bodies & a "group" that makes students feel uncomfortable is something that is allowed on campus.

— Hannah (@hpsaucy_) February 13, 2018
In charge of the USC's club system, Mac McIntosh, USC student programs officer, said he's heard over 50 complaints from students regarding Western Lifeline over the past year. On March 27, Kathryn Slack, a third-year honours specialization student in criminology student created this petition: "Ban 'pro-life, anti-abortion, etc.' protests from inside buildings at Western University." At the time of publication, the petition has 428 signatures. 
"My intention as of right now is not to de-ratify the club or to not allow them to protest peacefully or have their freedom of speech: it's to consider the appropriateness of their location and the impact [the displays] have on the general Western population," said Slack in an interview. 
Western Lifeline is far from unique. Similar groups exist at most Canadian universities, and depending on the institution, student unions treat them very differently.
---
Anti-abortion groups at other Canadian universities
Flag displays, such as Lifeline's, can be found on university campuses across the country, including at the University of Victoria and at Wilfrid Laurier University. 
Several universities have denied anti-abortion groups any official status. In November 2017, the University of Victoria Students' Society spoke out against their university's anti-abortion group.
"We at the UVSS stand together with the majority of students in saying that we fundamentally disagree with [Youth Protecting Youth] on this issue. We wholeheartedly support the reproductive freedom of women in making their own decisions surrounding abortions," the society said in a public statement.
A student union in Ottawa took a similar approach. In October 2017, the Student Federation of the University of Ottawa refused to ratify a pro-life group, citing that its mandate was not in compliance with the student union's principles.
The question of whether or not anti-abortion groups should be allowed on campuses has made its way to the Ontario Superior Court of Justice. In 2015, when Ryerson University's student union denied a pro-life group club status, the group claimed they were discriminated against for their ideological beliefs and that their right to freedom of expression as outlined in the Canadian Charter of Rights and Freedoms was violated. Ryerson Students' Union said the club violated their policy on women's issues.
About a year later, a judge dismissed the case, ruling that as a private non-profit organization, RSU could deny a club funding based on whether the clubs' mandates and ideologies complied with RSU's policies, Ryerson's policies and the Ontario Human Rights Code.. Similarly, in February, another judge ruled in favour of Durham College and UOIT, as well as the University of Toronto Mississauga Students' Union in their decisions to deny official campus club status to a pro-life group.
In these cases, the student unions' mandates, rules and regulation played an important role. 
According to McIntosh, there is nothing in the USC's clubs policy that explicitly bans Western Lifeline. Under the policy, a club may be ineligible for ratification if its sole purpose is to fundraise or support a specific charity, if it's an extreme sports club (due to the USC's insurance) or if it violates Western's student code of conduct.
John Doerksen, vice-provost of academic programs, said the administration works with the USC, when sometimes a student club sponsors a controversial speaker, demonstration or display coming to campus. In these cases, he said the university consults leaders across campus, including the USC, Campus Police and Facilities Management. He said Western is committed to providing a welcoming environment where students feel safe to discuss and debate difficult issues in a way that is respectful to all.
"We are aware that some topics can have a significant negative effect on some students and we have supports in place to help students who have concerns," he said in an email.
McIntosh said the USC's bylaws wouldn't explicitly bar other controversial clubs, like men's student unions or white students clubs, both of which were topics on Western's campus over the past two years. In those cases, though, McIntosh said he'd likely defer to the university's administration and policies for guidance.
McIntosh noted that Western Lifeline adheres to the USC's bylaws very diligently, and McCann said that the USC approves of their displays ahead of time.
"Any student is welcome to report the club through the university, through the student code if they feel they're doing something wrong," McIntosh said. "But at the end of the day, Lifeline follows the rules of the club system."
However, there have still been missteps. In January, the USC approved a Lifeline booth in the UCC basement next to the pharmacy and Wellness Education Centre and in close proximity to Student Health Services. Many students criticized the booth's location, citing it as potentially damaging to students trying to access support and health resources.
As a result, USC president Tobi Solebo said Western Lifeline booths would only be upstairs for the remainder of the year. Further, he said the USC will extend the Peer Support Centre's hours as needed and alert campus partners to Lifeline events, so they can better support students. 
In February, the USC's Women's Issues Network began posting on Facebook and Twitter when Lifeline booths are in the UCC.
---
Looking ahead
Still, some students want to see more from the USC and university.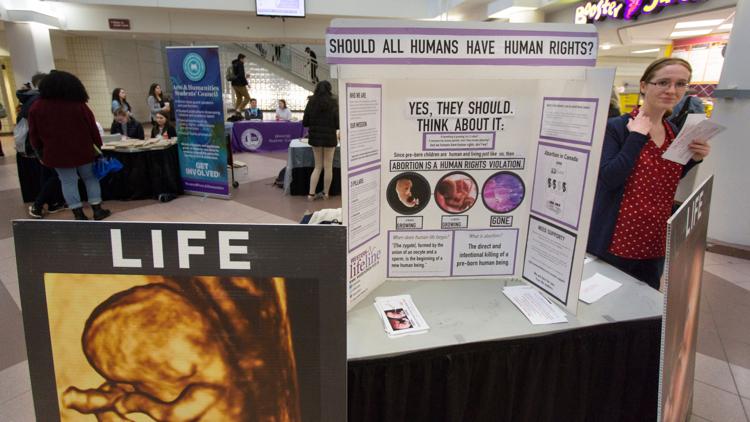 Robyn Schwarz, history PhD candidate and co-founder of Pro-Choice London, started using Twitter in January to notify Western students about of Lifeline's on-campus events. However, Schwarz said the USC does not notify her or WIN when Lifeline will hold displays; therefore, she is only able to warn community members after the displays have already started.
"I shouldn't be finding out at 10:30 a.m. that day if they've had that space booked before," Schwarz said.
The USC's main social media accounts have not posted any alerts about Lifeline's presence this year nor has Western University. McIntosh said the USC typically confirms when Lifeline will be in the UCC 10 to 12 days in advance.
At other universities, such as the University of British Columbia, the university administration consistently updates students ahead of time about when the university's anti-abortion group will host displays on campus. Schwarz believes, at the minimum, the USC and Western should make a bigger effort to notify students ahead of time when Lifeline will be on campus by, for example, sending out an email.
Slack agrees.
"If it has to continue like this, the USC should do a better job at putting out trigger warnings and letting students know the resources they can access if they're affected by it," said Slack. "I know Western talks a lot about wanting to protect students and mental health, and I think, if they want to take that route and preach that, they should be more diligent in helping students."
Both Schwarz and Slack also wants the USC to bar Lifeline from hosting displays in the University Community Centre, citing its centrality as a difficulty people will have avoiding the displays.
"Their regular display in the UCC is upsetting to people who had to make that choice, and society still has so much stigma and shame around [abortion]," Schwarz said. "They make you feel like you did something wrong and that you're a bad person, and that's not true."
McCann said she encourages Western students to try not to silence discussion. Instead, she encourages them to take a look at the science of human development and what happens during an abortion.
Schwarz thinks the USC's bylaws should be revised and cites Ryerson Students' Union as an example to follow which bans groups that don't adhere to it's specific policies on women's issues and rights of all students.
Ultimately, McIntosh and Solebo do not think it's the role of the USC's executives to intervene in political issues and influence how students should think.
"Even with things like Jordan Peterson, we tend not to get involved in political issues, and I don't think that it's our role to decide," McIntosh said. "But with that being said, it is our role to make sure students are feeling supported and being heard."
McCann believes a university campus is a place where students should be able to have discussions about difficult topics.
"If people are upset about the USC's ratification of Lifeline, I would encourage them to remember that doesn't mean that the USC necessarily agrees with us at all."
Solebo said students should understand there are two sides to the issue and that some students fully believe Western Lifeline should exist. At this point, Solebo said no decisions have been made to remove Western Lifeline from the UCC, but he'll be reaching out to Slack to discuss the change.org petition.
"It's important that we continue to be an institution that allows educational conversations and discourse, but we also need to be really mindful of people and their experiences and how we can ensure we're supporting them," Solebo said.