It's 8:30 p.m. in a study room at King's University College. Six undergraduate and graduate students, a Western alum and a professor sit around a table, looking up at a slideshow with statistics and articles about murders in Atlanta. A student flips through the slides, outlining cases. The others take notes, nodding along at grizzly details as they give their input. A question hangs in the air — how are the murders connected?
This is Western University's Cold Case Society, a collective of students that analyzes data from unsolved U.S. homicide cases. Established in 2010 by Michael Arntfield, a Western professor, criminologist and former police officer, the group focuses on finding patterns in homicide cases that may go undetected by police departments.
Since the fall of 2016, the group has been working on a group of potential serial killings that span nearly 40 years. Between 1976 and 2013, 130 women were strangled to death in Atlanta, GA. This is the largest cluster of strangulation homicides in American history — and 100 of the cases remain unsolved. Through the use of algorithms and critical analysis, the CCS is searching for answers.
The CCS looks for patterns using data from the Murder Accountability Project, the world's largest homicide database. MAP uses algorithms to group murders together based on factors such as cause of death, date of the murder, and age and ethnicity of the victim, allowing investigators to parse the relevant data to search for patterns.
Arntfield co-administers MAP, and when he noticed the number of unsolved strangulations in Atlanta, he wondered if the cases could be the result of serial killings.
However, the database is just a starting point. MAP presents homicide victims merely as statistics, leaving the CCS to determine patterns among the cases and assign narratives. Once MAP illuminated the homicide patterns in Atlanta, Arntfield and his students investigated further to find details about the victims, including their names and occupations. 
"We need to be able to assign biographical details and narratives in order to understand," Arntfield stated. "Are all 100 maybe the same killer? Is there diversity among the victims that's sufficiently compelling and that we should begin looking at multiple offenders? That's what the students do. They begin finding names, and they begin building profiles."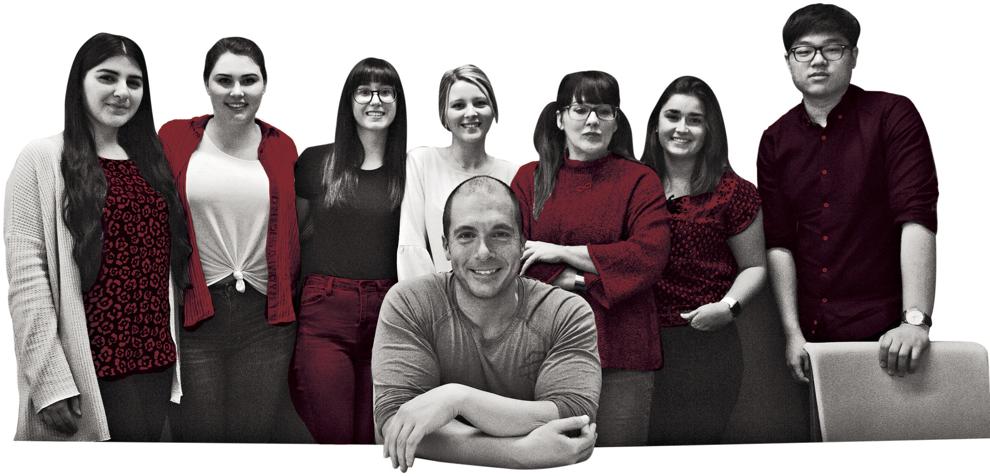 Brikena Qamili, a former Western psychology student who now attends Osgoode Hall Law School in Toronto, is leading the CCS's Atlanta investigation. She explained that since the CCS started their investigation, they've made great progress in finding those biographical details — a task which proved to be incredibly difficult.
In the first stages of the investigation, the group worked closely with the Atlanta Police Department to learn more about each victim. Though the police department was initially surprised, they were helpful and diligent.
"We brought that to their attention," Qamili said. "They helped us come up with the victim names that corresponded to the statistics."
Finding names proved to be integral to the investigation, but the process itself was long and arduous. Since many of the murders occurred before cases were recorded online, both students and APD analysts searched through records manually to find the details they needed. The records they used include "murder books" dating back to the 1970s, which are handwritten notebooks that detectives use to describe specific cases in great detail.
Ultimately, by working closely with the APD, the CCS found names for 44 of the 100 victims. Once they had those names, the next step was to search for viable connections between the victims based on factors like where they lived, their jobs and their hobbies. Finding commonalities between victims is a process called "victimology," and it enables detectives to see if victims might be linked to one common offender.
Arntfield explained that some of the victims share more than one commonality. Many of them are African American sex workers between the ages of 13 and 30 — a minority group of women that is statistically more at risk when it comes to violent crimes. Beyond a predisposition to risk, the CCS is searching for more connections.
Both Qamili and Arntfield speculated that they're dealing with more than one serial killer.
Qamili explained that serial killers generally tend to be consistent in their patterns of behaviour. For example, a serial killer who focuses on elderly victims won't usually go for a young victim, and certain killers pose their victims meticulously as though they're leaving behind a signature. Qamili and Arntfield believe that four or five serial killers may be responsible for the 130 homicides that occurred.
One group within the larger cluster consists of a small number of senior women who were all found in the same areas and in similar housing conditions, like apartments that had poor security. 
"In such situations, we can pretty much conclude that it was one serial killer for that cohort," Qamili said. "It is very unlikely for one serial killer to be so all over the map."
 Qamili speculated that it's possible that some of the serial killers, especially those that were active in the 2000s, are still active today.
"You can have 'cooling-off periods,' which means that a serial killer could be active for two slayings and then stop for a long period of time," she explained.
Beyond the sheer number of unsolved cases, what sets the Atlanta strangulations apart is the amount of time it took for someone to notice them. Qamili speculated these cases went unsolved for so long because the APD wasn't ready to admit they had serial killers on their hands. Since Atlanta faced a prolific child murderer in the '70s — a case sensationalized by the media — the police department might not have wanted to admit that other similar problems were surfacing.
However, despite the time spent helping the CCS investigate the strangulations, the APD doesn't believe the 100 cold cases are linked by serial killers at all. Carlos Campos, the department's director of public affairs, said that while the APD is familiar with Arntfield and the CCS's work, the department doesn't see patterns connecting the cases.
"To be clear, not all of these cases are in the city of Atlanta: some of them fall out of our jurisdiction," Campos said in an email. "In the cases that are within our jurisdiction, we candidly do not see patterns that we believe are consistent with a serial killer. The fact that we do not see such a pattern does not, by any means, indicate we would consider these cases closed."
The Atlanta strangulation cases remain open, and Arntfield and the CCS have no plans to stop investigating them. He has a lead he will be exploring in Atlanta in the near future.
"You can know a location on Google Maps, but until you're there, until you can see what's going on, until you talk to locals who have been there for generations, you don't get the full gist of what's happening," Qamili explained. "This is an ongoing case for us.… You haven't heard the last of the Atlanta strangulation killings."