Standing on the bank of the Thames River since 1877, London's Labatt Memorial Park, called home by the Western Mustangs and London Majors, is the world's oldest baseball ground. There's an aura of history around the ballpark that you can't find anywhere else.
Aside from Western University, no other Canadian school can say its ball players take their cuts in the same batter's box where Ty Cobb once did or that they pitch off a mound once graced by Fergie Jenkins. One of the greatest hitters of all time and the first-ever Canadian in the Hall of Fame are just two of the many legends to pass through Labatt Park.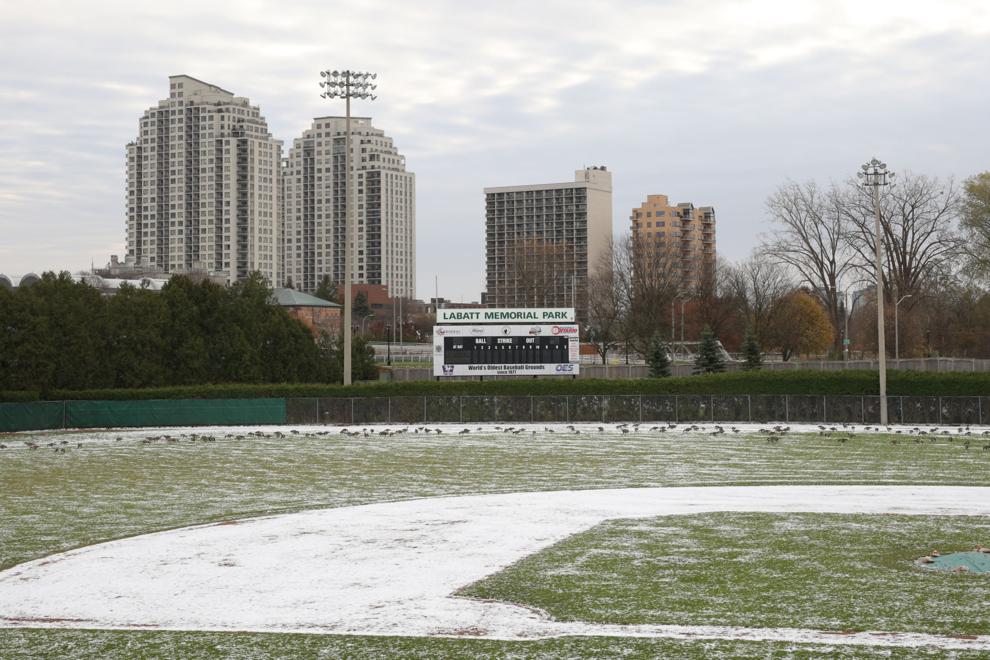 The experience is on par with any great minor league ballpark. The second you walk out of the tunnel and into the stands, you're hit with the full force of its charm. There's a huge sugar maple tree just inside the gates that predates the Confederation of Canada. Many a family has spent a summer afternoon at the surrounding parkette and picnic tables.
"You have that feeling when you get out there that you're walking on a hallowed ground," says Scott Stafford, a former London Majors player and London's current managing director of parks and recreation. "You literally stand at home plate and look out over downtown. It's just a beautiful thing to see; we take great pride in that."
Tucked away in a residential neighbourhood across the river from downtown London, Labatt Park is a titan of Canada's rich sporting history. Despite its pedigree, the park doesn't always get its due. Barry Wells, 63, is a semi-retired freelance journalist and a longtime supporter of the park. He has fought tirelessly for the park's place in the annals of baseball lore. 
In 1993, Wells founded the Friends of Labatt Park with the intention of having the stadium designated a Provincial Heritage Site in Ontario. The group achieved its goal a year later, but their work in protecting the interests of the park hasn't slowed since. Wells always has something going on, whether it's working on his section of an upcoming book, The IBL — 100 Seasons Strong, or defending the park against rival historians from the United States.
Of course, Wells wouldn't call it work. 
"It's a fun place; it's a happy place," he says. "It's open air. There's grass. You go down there, and everyone has a good time even if you don't like baseball. It's a social outing. Shoot the shit. If you miss a couple innings because you're talking to a friend, who cares."
One person who grew up around it all is Mustangs second baseman and London native, Matt Bowden. He's been playing at Labatt Park for years, even for Little League Baseball teams. Although he and a few other Mustangs that grew up in London may take it for granted, he sees that visiting players are always impressed.
"You get all these players that come here from out of town, and it's kind of a whirlwind for them. They see this place and it's like 'wow'," he says. "But this is what we've always been playing at. It's definitely a treat to be able to play there all the time."
The home of the Mustangs (although not in 2017 due to construction at the park in September) is easily the largest and oldest baseball venue in Ontario University Athletics. Bowden points out that it's the only diamond in the league with seating all the way down both baselines, and its grass field is probably the nicest in the country, thanks to the professional grounds crew. In 1990, the park was named "Beam Clay Diamond of the Year" for the best-kept field in North America.
"You get that true professional atmosphere," adds Bowden.
Despite it all, Labatt Park hasn't always received the recognition it deserves. 
In 2007, for example, Fuller Field in Clinton, Mass., was named the world's oldest baseball diamond by Guinness World Records. Wells and the Friends of Labatt Park fought to have that rectified.
"Fuller Field had documentation going back to 1878, but Labatt Park opened up on May 3, 1877," explains Wells
The basis of the Massachusetts stadium's objection is that Labatt Park's home plate was moved after a flood in 1883 from the current left centre field to where it is now. Regardless, there's been baseball on the site for all 140 years of its existence, making it the world's oldest continuously used field (which Guinness has recognized since 2008).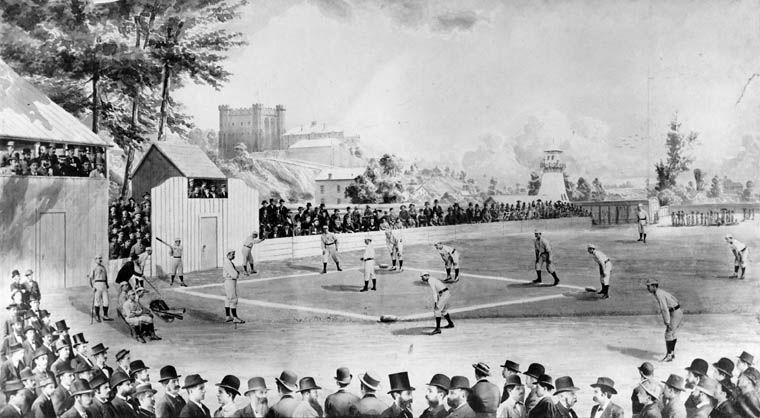 International recognition for the park remains tenuous. In the midst of its 140th anniversary celebrations in 2017, Labatt Park faced backlash from a U.S. baseball historian who claimed the stadium had no baseball team for 40 years. 
The historian in question, Joe Santry, made his case in an interview with Global News. He stated that no team called Labatt Park home for 40 years, but he didn't specify when that was (or if they were 40 consecutive years)
That claim didn't sit well with people like Wells. Incredulous at the thought of such a gap, he says definitively that there's been baseball at Labatt Park every year since 1877.
"The Americans think they own the game of baseball," adds Wells. 
But Ontario was always a historical hotbed for the sport. The great Babe Ruth hit the first of his many professional home runs at Hanlan's Point Stadium on the Toronto Island. In fact, historians generally accept that the first documented game of baseball was played in Beachville, Ont., 40 kilometers down the road from London. 
Labatt Park's significance to baseball extends well beyond its age. In the early days of the pro game, London was right at the centre of it all. 
According to Wells, the London Tecumsehs (who played at the stadium when it was known as Tecumseh Park) were founding members of the International Association for Professional Base Ball [sic] Players in 1877. The Tecumsehs, one of two Canadian teams at the time, were the inaugural champions of what's now considered the world's first minor league.
Of the many episodes in Labatt Park's history, perhaps none are more impressive than the 1948 London Majors season. With a serious claim to the epithet "greatest amateur team of all time," that world-beating Majors squad took home the North American National Baseball Congress championship. That team will celebrate their 70th anniversary next fall.
London took down the heavily-favoured Fort Wayne General Electrics in a tense seven-game amateur World Series. Tagged as the underdogs throughout, the Majors fought back from a 3–2 series deficit, taking the crown in a heart-stopping seventh game at Labatt Park.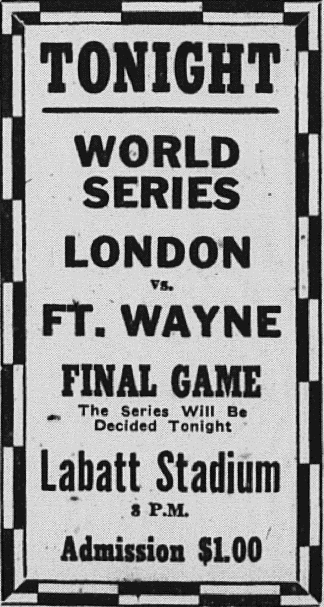 In those days, Londoners went nuts for the Majors. A capacity crowd of 5,000-plus packed into Labatt Park for every game, making the $1 entry fee the hottest ticket in town.
According to a Sept. 30, 1948 London Free Press article, Majors fans were turned away at the stadium, prompting a flood of calls to the newspaper's office asking about the score.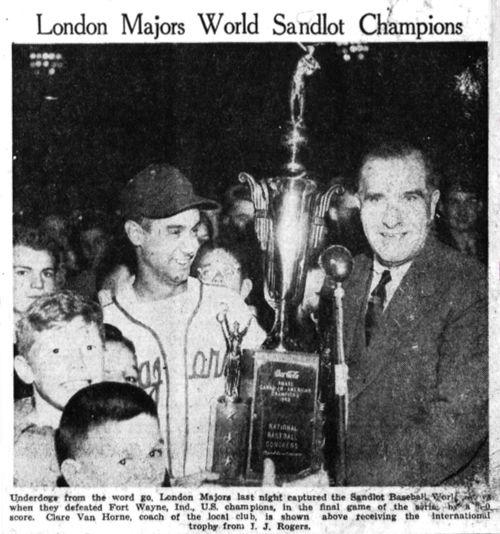 "Citizens in all walks of life, right from Mayor George Wenige down to a ragged urchin, who spends most of his time hawking newspapers, they all wanted to know how the Majors made out," wrote Eisen. "Majors 5, Fort Wayne 0, they were told! Their gasps of cheerful surprise were really something to hear." 
Although it may be the apex of baseball history in London, the 1948 title is by no means the only chapter in the city's illustrious relationship with the sport. 
"Every decade is a different vibe," says Wells. "There was a time when there was no TV, so on a Friday night, you went down to Labatt Park."
Several pro teams have called Labatt home over the years, most recently the London Tigers, who left in 1993. As for whether a pro team will ever return to the city, though, Wells is on the fence.
"The problem with pro teams is when they do a home stand, they have four or five games in a row," he says. And consistently seating several thousand fans isn't feasible for a city the size of London.
So maybe London will never again be the baseball-world titan it was in the early twentieth century, but Labatt Park isn't going anywhere. 
The oldest part of the park, the Roy McKay Clubhouse — standing behind the bleachers since 1937 — is protected from any meddling under the Ontario Heritage Act.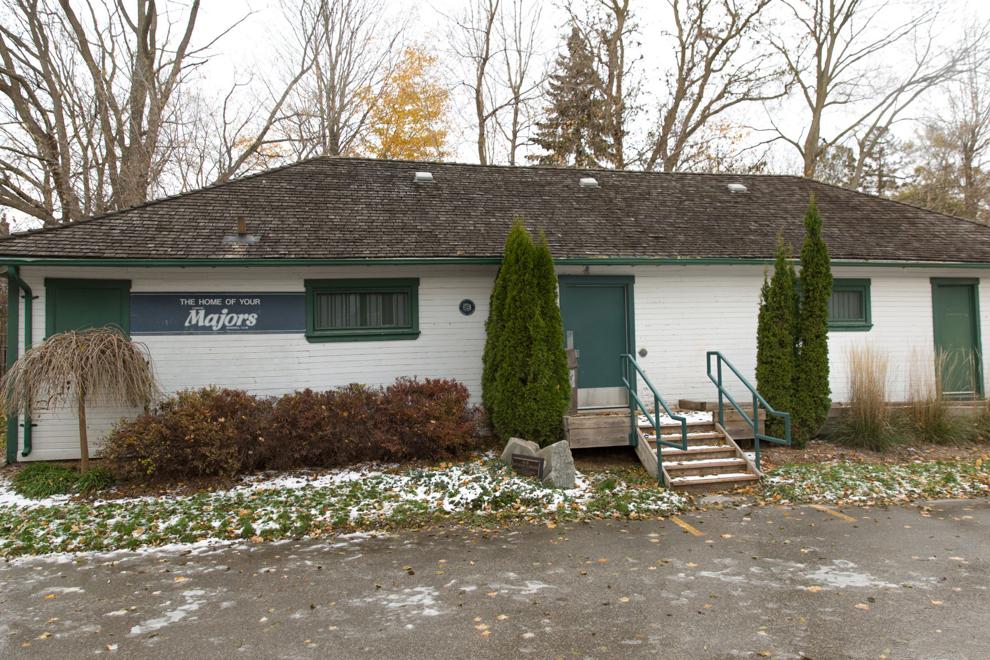 The clubhouse, which Wells likens to stepping back in time to the 1930s, is still in use today, serving as the dressing room for the Mustangs. 
As for what's next for the park, there's plenty to come. Stafford says the city has plans to modernize the facilities, particularly the concession stands and dugouts. 
"We want to bring a little bit of a modern feel to it while still keeping that historic look," he explains.
Wells wants to have it designated as a national historic site, rather than just a provincial one. He says it's a fairly straightforward process, and it can probably be done within the next couple of years. National recognition would be another feather in the park's cap, putting it on a list alongside hundreds of other locations with key significance to Canadian culture and history. Not many sports facilities get such an honour; the only other in Ontario is Toronto's Maple Leaf Gardens. 
The future seems bright for London's jewel of a stadium, and Wells, Stafford and Bowden agree that it's worth celebrating.
To Bowden, the park is firmly entrenched in the London community, even if it's unknown to the city's student population. 
"The park kind of being off campus, it doesn't truly get appreciated by the student body," he admits. "When we play there there's not too many people that would come out and watch and stuff like that."
He says Labatt Park is a key part of the city of London's identity. In his view, the park gives London something unique to call its own. 
"London's always looking to imitate other cities; they want to be Toronto, they want to be Pittsburgh," he says. "Be London. You've got something here that no other city in the world has."