London's Food Community
Farm to Fork
Culture editor Ellis Koifman looks into the local food movement taking root in the Forest City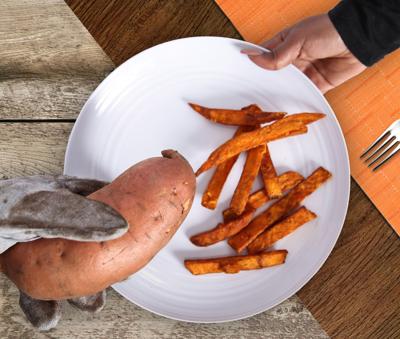 Talissa Watson has bags and bags of frozen fruits and veggies in her freezer. 
Growing up in Caledon, Ontario, the second-year social science student's backyard bordered on farmland. She saw her neighbouring farmers put in long days and the effect that imported produce had on their livelihoods.
For Watson's family, eating local just made sense.
"Smaller farms are being run by people that you can relate to because they're in your area; their family is just like you and they're trying to support the local foods movement," Watson says. She remembers the bundles and cartons of local kale and strawberries her family would buy toward the end of the season, freezing them to eat throughout the winter. 
At university, Watson does her best to keep supporting the local movement. She'll grab local, frozen produce when she's back in Caledon and keeps pre-cut vegetables on-hand, like squash or celery, so she can throw them together for a quick meal.
But Watson's not the only champion of the local food movement — it's something that has picked up momentum in London in recent years. The movement is about connecting a community's food producers and consumers to help create sustainable food networks. The added bonus is the local food movement helps the community's economy, health and carbon footprint too.
In fact, Western students have probably experienced the movement without realizing it. Terms like "plant-based," "organic" and "farm to fork" are all tied to the movement and are popping up on more menus and signs every day.
But is the local food movement just another fad, or a trend that's here to stay?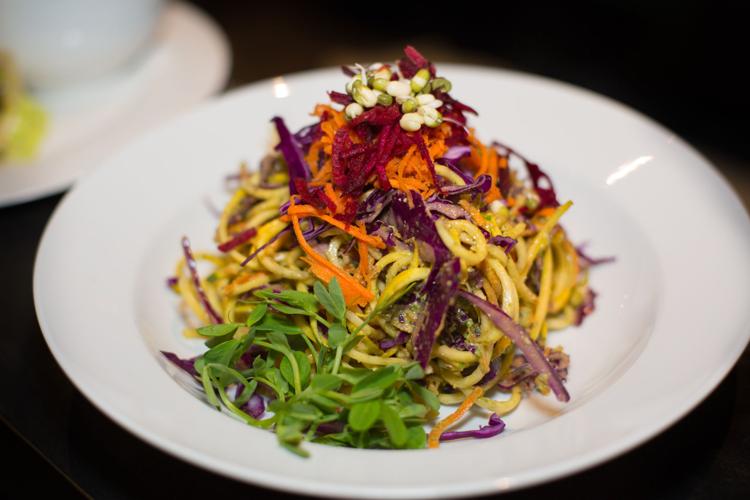 The local movement
The Western Fair Grounds are transformed.
People from all backgrounds squeeze into the Convention Centre. Vendors' products range from local Portobello burgers to Booch, a London-based Kombucha iced tea.
It's a sign the local movement has taken root in the Forest City. At the November event, over 7,000 came out to the festival — including 1,000 in the first 15 minutes — to celebrate veganism, farm to fork and food wellness.
For third-year psychology student Sally Zheng, VegFest was her first encounter with the local movement.
"Eating locally, I think most of the vendors promoted that," she said. "You get to know where your food is coming from, and you're also benefitting the people who grow it."
But Zheng wasn't the only one whose eyes were opened by the festival. After leaving last year's VegFest, Glenn Whitehead knew change was coming.
"It was last November, and I turned to my wife, and I said, 'Wow, I don't know what I'm going to do in this vegan moment, but I'm going to do something,'" he says.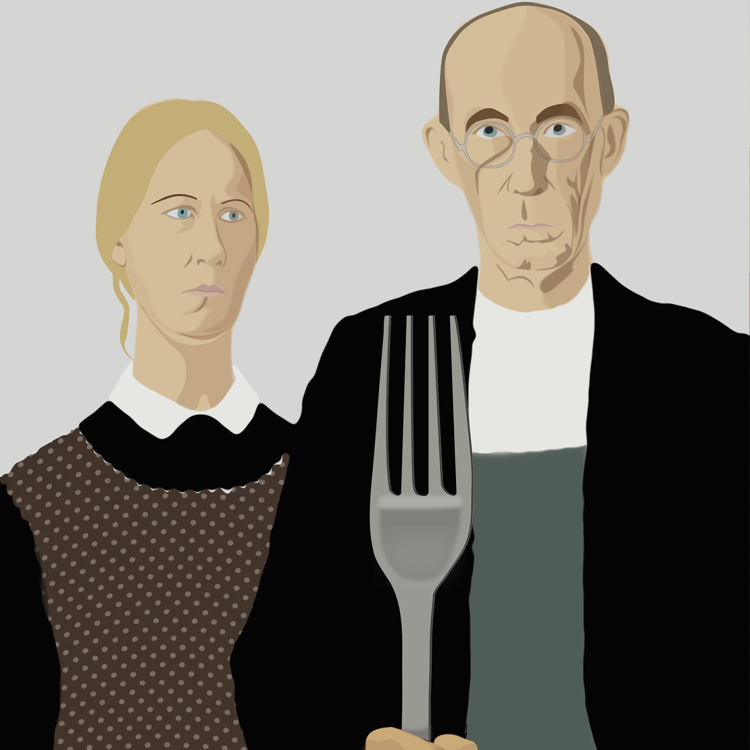 A few weeks later, Whitehead bought the space that would become Plant Matter Kitchen — a popular vegan comfort food restaurant in Wortley Village. Whitehead says the restaurant gets all of its ingredients from dozens of local businesses, which deliver boxes of fresh produce, oils and more into the open-concept kitchen that is in full view of the customers.
"There is a shift happening in people's food and people's choices," he says. "Whether it's health, social, ethical or environmental — all of the different reasons you might be a vegan — they're all valid."
Beyond Plant Matter Kitchen, London's local food movement has grown rapidly. The Only on King helped kick things off a few years ago by introducing a locally-sourced menu and since then other restaurants, like Glassroots, the Root Cellar and McVegan food truck, have followed suit.
For Glassroots, it's also about serving up nutritious options, according to co-owner and chef Yoda Olinyk — and the research backs her up. Studies suggest vegetables can lose their nutritional value immediately after being picked and during storage.
And although many students' go-to will always be frozen pizza, other undergrads are latching on to these new locally-sourced restaurants. Since Glassroots and Plant Matter Kitchen opened this year, Western's Vegan Society's has hosted joint events with both restaurants.
"I feel like students care about the local movement," Zheng said. "It's brought to their attention, but they don't know how to get involved."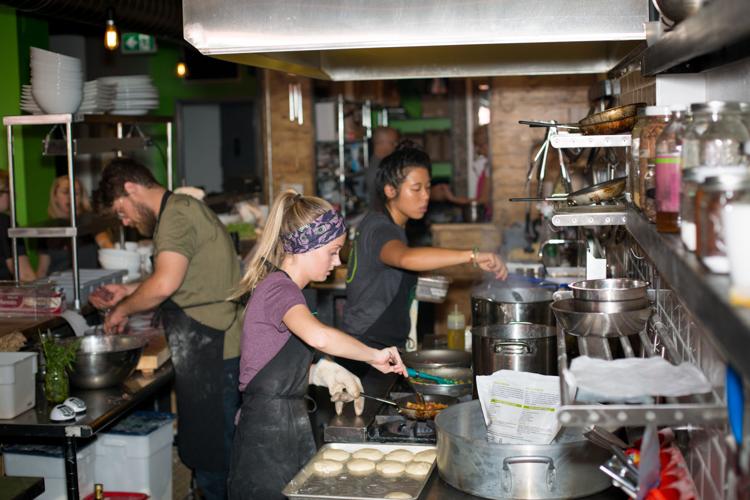 The buzz behind the buzzwords
Buzzwords may be part of the reason why student engagement with the movement is slowly picking up steam.
With restaurants offering local certified angus beef, and independent restaurants like Glassroots offering local tomatoes, it's easy to question what "local" really means.
As it turns out, there's no clear definition for the word — at least in the culinary world.
"You could say the word local and it could literally mean it's from Canada," Olinyk says. "For me the word local means somewhere than I could drive to in less than an hour, going to the farm yourself or getting the farmer to deliver it."
Olinyk added that one of the local food movement's struggles happens when restaurants jump onto the bandwagon and use buzzwords, like farm to fork and locally-sourced, without actually buying their food from somewhere nearby. She says the only way to know is for customers to ask.
Places like Glassroots and Plant Matter Kitchen are happy to give customers the rundown. Glassroots will even give customers their farmers' numbers to call up anytime. 
"We source from probably no less than 20 or 25 local companies as opposed to getting one truck to deliver everything every day," Whitehead says. "It's a lot of extra work, but it's important that we have relationships with all of those small local London businesses and the people they employ to create a community and a better London." 
It's companies that ambiguously brand items "local," like discovering your local beef is actually from Alberta, that get in the way of a clear meaning and true value behind the word "local."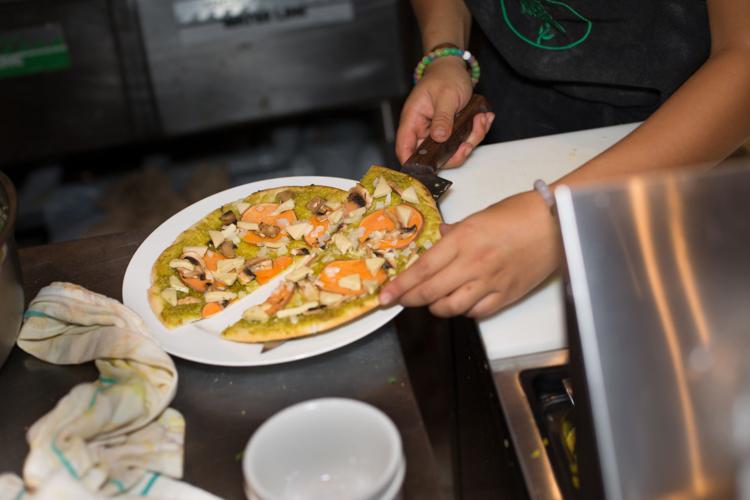 The Western movement
But the local food movement isn't limited to off-campus locations. On campus, Western University isn't tossing buzzwords around — it offers everything from its own honey to exclusively local apples.
Western's Hospitality Services recognizes the local movement is growing and here to stay. Every summer, they hire a master's student in environment and sustainability to vet what kind of food Western is purchasing and where that food is from.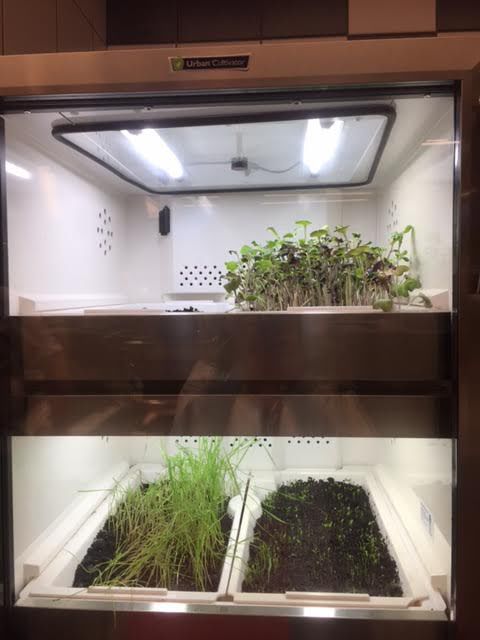 Most notably, Western's "GREEN dining option," the Green Leaf Café, gets many of its ingredients from within about 40 kilometres from Western. In fact, the café even sources its honey from an on-campus bee garden behind North Campus Building — a hyper-local source.
"If you look at what we've done since 2007, it's staggering," said Anne Zok, a Hospitality Services nutrition manager and sustainability committee member. She said in 2012, the Ontario government's Local Food Fund project did an assessment of Hospitality Services that found up to 40 per cent of their food was locally sourced.
"Since then, we have grown that," she said, adding their turkey and beef now come from Hayter's and Norpac, both near London. "When it comes to local I think we're doing pretty well."
This past year, the environment and sustainability master's student convinced Hospitality Services to pledge to purchase only local apples. While this reduces the variety, they believe students are receiving healthier apples as they are grown for optimal nutrition rather than storage time. Residences are also making an effort —  Saugeen has an urban cultivator, an incubator that stands on a counter and can grow sprouts, herbs and lettuce in plain view.
For Watson, buying local food is all about strengthening your community — she says it goes back to caring for people that are nearby and even far away through advocating for fair trade.
"For me, it's a better choice because buying local is supportive of our Canadian agricultural infrastructure," she says. "I don't believe that you should look down on someone for not living this life, but I feel a lot more people would choose it if they learned a bit more about the local food movement's importance."