Dexter Fichuk pores over his laptop with a team member as they scramble to complete their project, LIVEstock. 
Around him, the Mustang Lounge is abuzz with other teams from universities and high schools across Ontario — everyone is working tirelessly to beat the clock at Western's 36-hour hackathon. Over 500 students have come together for the mid-October technology conference and competition where participants build technology-based projects over the course of a weekend. Projects such as omelette-making robots, financial literacy websites and virtual reality games are all common place at Hack Western. 
This year, Fichuk, a fourth-year computer science student at Trent University, and team member Laura Mann take the prize for best design presented by the Scotiabank Digital Factory, one of the key sponsors of Hack Western.
Their product, LIVEstock, is an affordable and easy way for small-scale farmers to keep track of their animals. Similar to scanning the barcode when you add a friend on Snapchat, the QR-code system in LIVEstock allows farmers to scan a QR tag attached to the ear of an animal to bring up identifying information.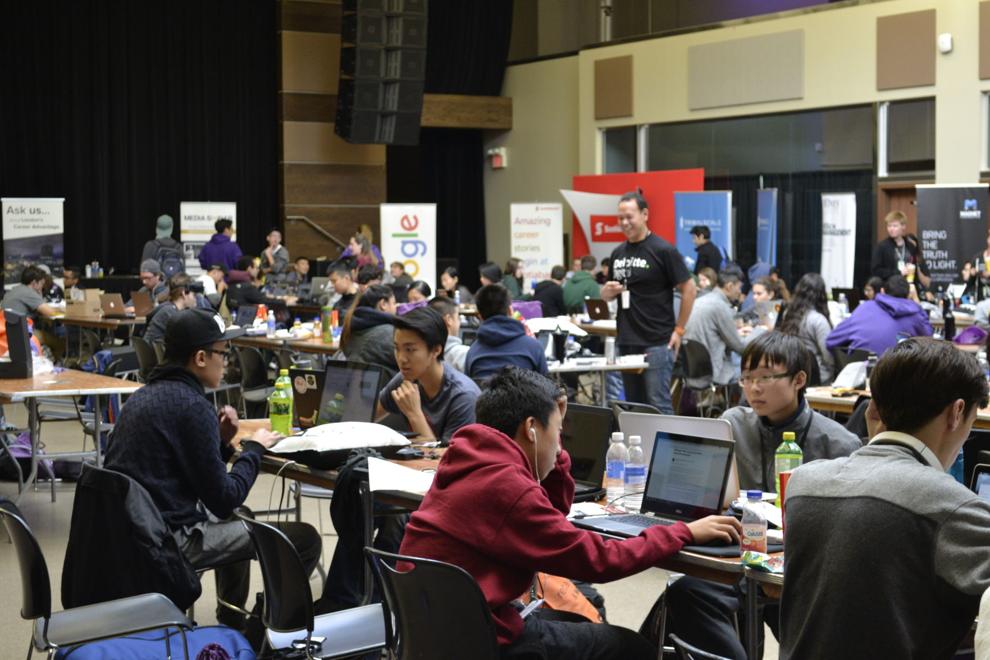 "It keeps track of breeding, projected birth time, medical history and general information about the cow," says Mann, a second-year computer science student at Trent. "I came from a farm where if a cow was pregnant we wrote it down on scrap piece of paper and tried to keep track of it," Mann laughs.  
The event, Hack Western 3, is only Western's third annual hackathon, but students have come prepared: dozens of tables are stacked with laptops, sleeping bags and bags of popcorn. Sponsor booths line the room's perimeter where hackers intently listen to technical and informational workshops, such as Scotiabank Digital Banking Lab's workshop on block chain technology. Sleeping rooms with air mattresses in the UCC basement are available for the hackers wanting to take a quick catnap during the weekend marathon.
But hackers like Fichuk present a very different image from what people might typically associate with the word hacking. Rather, the type of hacking done at Hack Western 3 refers to quickly building a tech-based product within a short amount of time, known as 'hacking' something together, explains Cathy Chen, a fourth-year HBA and computer science student and co-director of Hack Western 3.
"I switched into computer science in my second year here at Western," Chen says. "At the time I thought that learning through classes was really great, but I wanted more real life applications and to figure out a place where I could do a lot of learning really fast," Chen adds, talking about what interested her at her first hackathon. 
At Chen's first hackathon last January, she worked with a mentor from Apple who walked her through how to build an iPhone app from scratch. At hackathons, chief sponsors such as Major League Hacking act as mentors and also lend out hardware for the weekend such as virtual reality headsets, smart watches and high-processing computers.
However, not everyone at hackathons are computer whiz kids. Hack Western 3's other co-director and fourth-year HBA student Monique Tuin comes from a non-technical background. She used her first hackathon as a learning opportunity to immerse herself in the world of technology.
"Hackathons are what really introduced me to coding, and I basically learned all my coding knowledge at hackathons," Tiun says. After realizing how much she could learn over the course of a weekend, Tuin was hooked on hackathons, and has since attended these events across North America and even one in Barcelona.
For many hackathon attendees, the hackathon experience doesn't end after 36 hours.
Beyond the demo fair
When the clock hits 10 a.m. on Sunday, hackers are asked to stop working on their projects. A combination of relief and excitement cross the face of many hackers as they prepare to pitch their product to judges and sponsors at what's known as the demo fair. There, teams only have three minutes to pitch their product.
At Hack Western 3's demo fair, the hectic energy and range of projects are undeniable. A hacker in a hard helmet with brain scanning hardware attached to the front eagerly answers questions about his device; another team demos a virtual reality zombie-themed maze. The excitement lasts for a few hours before the final element of the hackathon occurs — the award ceremony. Awards are given by sponsors for a variety of categories including best design, best hack for social impact, most complicated hack and best newcomers.
This year, Calvin Leyon stands behind a sponsor booth rather than behind a table nervously waiting to demo a product. Leyon, a fourth-year medical science and pharmacology student at Western, returned this year as a sponsor following his success at last year's hackathon where his team was able to turn their app, Plug, into a viable business following the event.
Like Tiun, Leyon didn't come into the hackathon as an expert coder.
"I actually don't even code," Leyon says. "I do more graphics and wire framing, but I learned a lot of programming things that I would have never learned or picked up before." Typically, teams have two to three developers, one designer and one role for pitching/marketing. 
Leyon's hackathon experience paid off. His app is now well known in the hacking community; Plug allows people at networking events to simply tap their phones together to exchange social media handles and contact information for a quicker and more streamlined networking process. 
While Leyon is still working to publicly launch Plug, he says Western's on-campus entrepreneurship centre Propel helped him to get the project on its feet by providing a stipend and mentorship. He's hopeful for the future success of Plug.
"Even for the people who don't code themselves but who have ideas and are creative or have a really good imagination, hackathons will give them the inspiration to see how quickly a product can be turned around with the right team," he says. 
That sentiment rings true; At Hack Western 3, 50 per cent of attendees are first time hackers. Because of this, Chen and Tiun wanted to ensure that Hack Western 3 was accessible for students from all disciplines, not just computer science programs. They said it's not uncommon for first time hackers to simply observe the action of a hackathon and attend workshops rather than join a team to build a a product.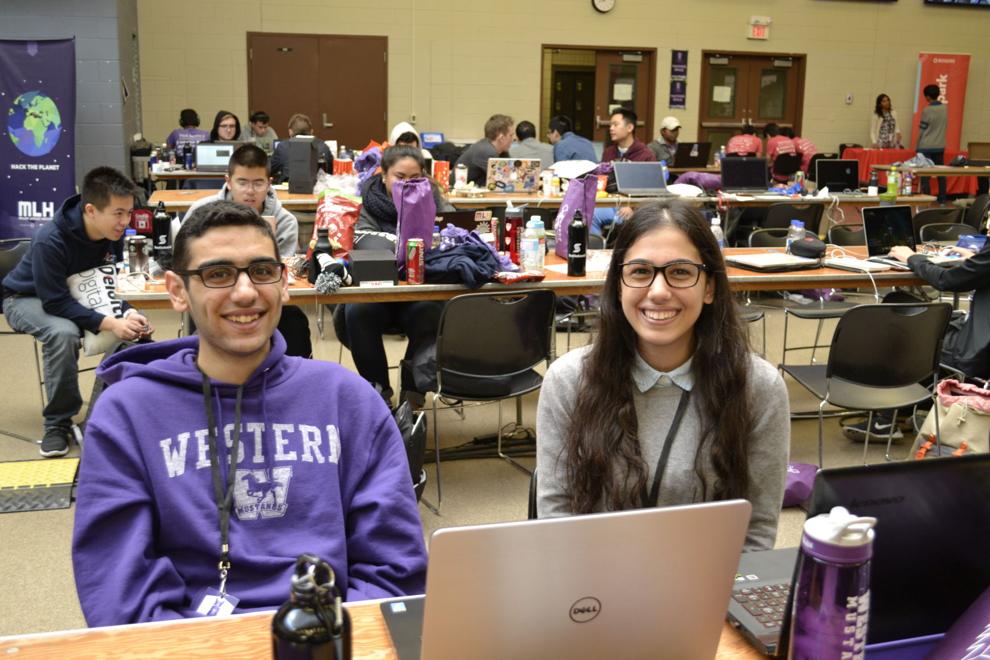 The spread of hackathons
For Fichuk, who has attended five hackathons, Hack Western has been an incredibly inspirational experience — so inspiring that he is organizing Trent's first hackathon, Electric City Hacks.
Alongside co-director Matthew Barnes, also a fourth-year computer science student at Trent, Fichuk hopes the 400-person event scheduled for Nov. 4–6 will go off without a hitch.
"Attending Hack Western last year was a life-changing experience, as corny as that sounds," Barnes says. "I don't think I've had more fun at a hackathon. The coordinators were fantastic and the representatives from the companies were great." 
Fichuk and Barnes initially reached out to sponsor Major League Hacking to get Electric City Hacks underway. With the support of MLH, the computer science faculty at Trent and other universities, Electric City Hacks started to take shape.
For Fichuk, the growing culture of hackathons across Canadian universities can be summed up using a computer-science analogy.
"In computer science, we follow this thing called Moore's law, which states that the processing power of computer and technology doubles every 18 months," Fichuk says. "I think it holds true for hackathons as well. Every 18 months it's growing exponentially."
Hackathons in Canada have grown in popularity only within the past few years; the world's largest hackathon, Angel Hack, only came to Toronto for the first time in 2012, and the Canadian government first sponsored a hackathon in 2014. But as the culture of hackathons continues to spread across Canadian universities, companies are increasingly using hackathons to scout talent and network with students. Within Ontario alone, the University of Waterloo, Western University, Trent University, McMaster University, Queen's University and University of Toronto all host hackathons open to students from other universities.  
While hackathons can seem intimidating, first time hackers — or even hackers with little to no technical background — can make valuable contributions to a team and immerse themselves in an fast-paced learning environment for 36 hours. Giving a hackathon a try may just be the most rewarding and unexpected experience of your university career. 
"Hack Western does a really great job at engaging students with employers and that's one of the big things that inspired us," Fichuk says. "It's an amazing learning opportunity and students just get an experience they've never had before."