Campus Health
Student Health Services: Funding and space to blame for long wait times
Long wait times at Student Health Services seem like a chronic problem. News editor Drishti Kataria digs deeper into the reasons behind the delays and what can make things better in part one of this series.
Earlier this semester, Alison Riverest believed she was coming down with the flu.
The fourth-year biology student tried to wait it out for a few days, but after her cough and throat got worse, she decided to call Student Health Services (SHS) at 9 a.m.
That's when SHS is supposed to open according to its website. But Riverest's call was not accepted until 9:30 a.m., after which she spent another 15 minutes in queue.
"Last time I tried to get an appointment, I was told it was a two week wait," Riverest said. "So I just went to a walk-in in London."
At the Oxford and Hyde Park walk-in clinic, Riverest said she only had to wait around 15 minutes.
Like many students, she would've preferred to see a doctor at SHS due to its convenient on-campus location.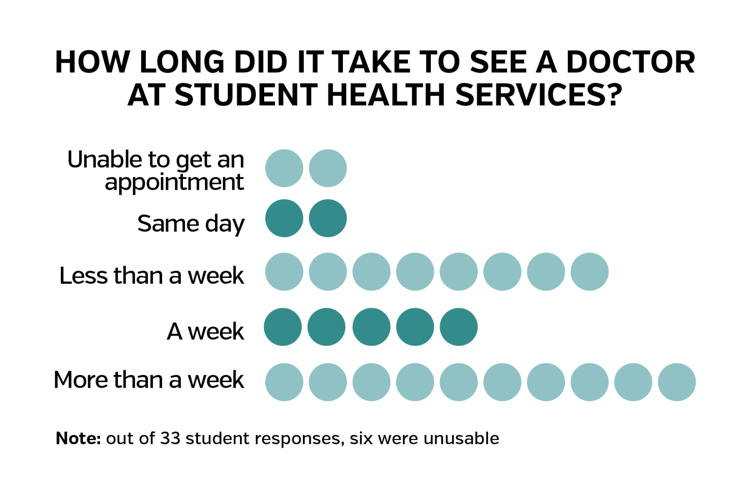 ---
Student Health Services, located in the basement of the University Community Centre (UCC), is an appointment-based medical clinic for students attending Western and affiliated colleges.
It operates similar to a family doctor's office where students can request to see a physician of a specific gender or see the same physician. 
Students can book an appointment to see a doctor by stopping by the clinic or calling the office. SHS also offers year-round counselling services, allergy injections, immunization and free STI testing. 
A Gazette survey of Western students revealed that this year (since Sept.), out of 25 students, 10 were given an appointment for more than a week after they booked, five were given an appointment a week later, eight were given appointments within the week and two were given appointments the same day.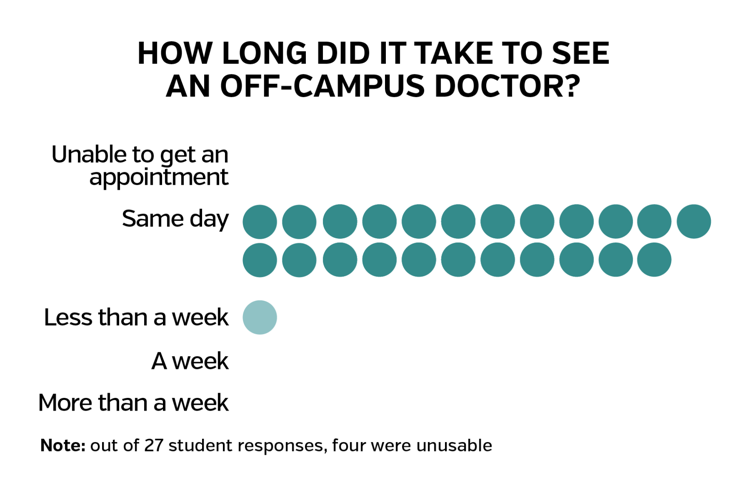 Sarah Masari, a fifth-year sociology student at King's University College, had to wait about two months before she was set up with a SHS psychiatrist.
"Getting in to actually see someone was rough only because they are backed up right now, and it took me a couple of months before I actually got to see someone," she said.
Masari acknowledged that her situation was unique. She got a priority spot due to her situation and only got an appointment due to another's cancellation. Other students would've had to wait longer.
So are the wait times getting longer for students trying to access health services on campus?
Riverest echoes the sentiments of several students across campus.
"In the past, I was satisfied but it seems to be getting worse as of very recently," she said.
Cynthia Gibney, director of Western's health services, confirms that the number of patients SHS has seen so far has been consistent with previous years.
And while SHS regularly hears complaints over the wait times, a few doctors departing for maternity leave may have contributed to a further increase in wait times this year. 
The problem goes beyond being short-staffed.
---
 The challenges
 "We're kind of bursting at the seams right now, we've maxed out the space," Gibney said.
She adds that while the current space in the UCC has been reconfigured to allow for more doctors on staff, there are still challenges.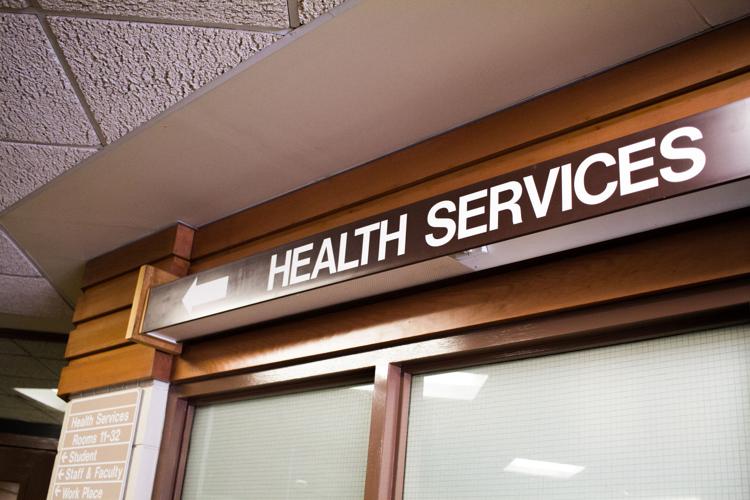 Currently, SHS is partly funded by student ancillary fees with full-time students paying $46.48 towards the service. But the bulk of the funding comes from OHIP billings.
SHS occupies about 25 rooms, each with plumbing and IT services, which are expensive to maintain.
According to Gibney, while funding is an issue, the lack of space is a campus also poses problems.
"It's definitely a money thing, but there is no other space available that I know of," she said. 
Jamie Cleary, vice-president of the University Students' Council, said that as new buildings are developed on campus, services may be moved out of the UCC, freeing up more space for SHS or perhaps moving it into a new building entirely. 
"One of the first priorities needs to be SHS and [the Student Development Centre] to see if there is new space that becomes available that might work better from them and our students," he said. 
---
 Next steps for SHS
Student responses to the survey have indicated that wait times at walk-ins are much more reasonable compared to SHS. 
While wait times at SHS ranged from a few days to two weeks, students reported that most wait times at walk-in clinics ranged from 10 minutes to five hours.
Gibney envisions a new space.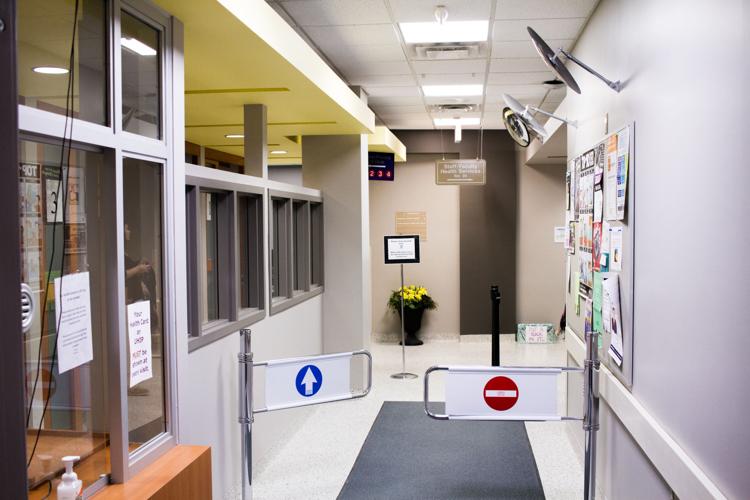 Ideally, all wellness services Western offers students — Wellness Education Centre, SHS, SDC —  would be available in one centralized location: a wellness space.
Gibney and Cleary acknowledge the confusion among students when it comes to what the different services offer.
"In an idealistic world, especially if its front-line service care, it should all be under one roof so a student is not confused about where they need to go," Cleary said. 
According to Cleary, a lot of the USC's lobbying is focused on centralizing the operations of both services and merging of the administrative resources available to them. 
"[Western] is looking into ways we can have a centralized or harmonization of the administrative resources, which if you free up ... allows more for front-line care," he said.
Gibney said that a third-party report is currently assessing services on campus and the spaces available for them. Once the report is completed, it will be sent to Western administration for consideration.
Furthermore, Western's mental health strategist, Deb Chiodo, is working with student mental health and wellness advisory committee to draft a mental health and wellness strategic plan. The plan is expected to be preliminarily launched in September 2017.
---
Dealing with limited resources
There appears to be no short-term solution to SHS's wait time issues. In the meantime, the staff is doing what they can with the available resources.
"Depending on issue and urgency ... if people come here and we don't have appointments and they feel they need someone right away, we do have a triage nurse that will talk with them," Gibney said.
The staff also provide a list of local walk-in clinics that students can potentially visit if they can't find an appointment on time.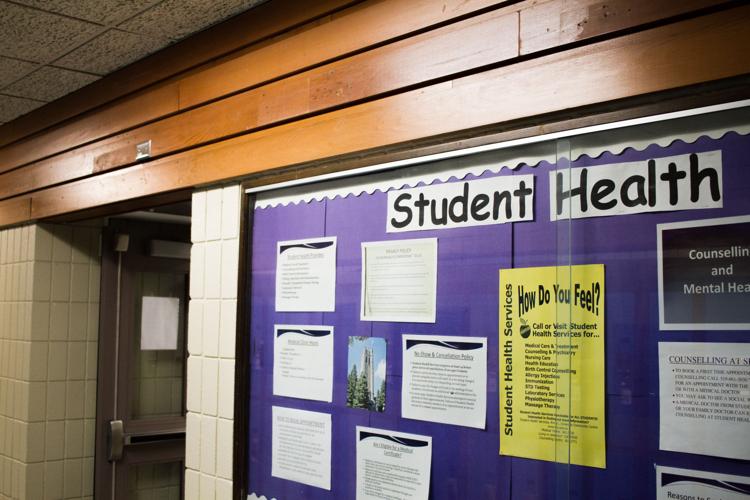 Riverest admits that the University has limited resources which has an impact on how many improvements it can actually make to current services. She encourages others to seek help off-campus as needed.
"Patience is key, and if you're in urgent need, there's other resources in London," she said.
Seeking off-campus services regularly might be a temporary solution for students. However to make improvements — including a reduction in wait times that sometimes extend to two weeks — SHS needs more space and funding.
Getting an appointment at SHS isn't the only struggle students face when engaging with health services on campus. Several students point towards a two-part struggle when it comes to their well-being — first with wait times, then with academic counselling accepting a doctor's note and providing accommodation.
This feature is the first of a two-part series that will explore the challenges of getting accommodation from academic counselling on health grounds.
---
 From March 21 to April 20, crisis counsellors from the Canadian Mental Health Association (CMHA) will be available on Tuesdays, Wednesdays and Thursdays at SHS (Room 11, UCC) to provide walk-in support to anyone in need. The counselling availability is a joint collaboration among the USC, Western Society of Graduate Students (SOGS), CMHA and SHS. 
---