Part One
Student parking at Western: An unusual struggle
The Gazette investigated differences between faculty and student parking rates at universities across the province. The practice of charging students significantly more is unique to Western.

Nic Gowing drove to campus fifteen minutes earlier than usual for his morning class.
He headed to Springett West, a small lot reserved for students with parking permits. The fifth-year engineering student drove around for over half an hour trying to find parking and missed his class because of it.
"They charged $460 this year, I think, for a parking permit, and there's days I can't even park on campus," Gowing said.  "It just kind of makes you wonder if there's anyone really concerned with this issue in the parking community at Western."
Gowing's concerns aren't unwarranted. Students driving to campus face many challenges at Western ranging from paying higher permit fees than staff and faculty to only having access to a limited number of lots that are farther away from campus.
Many students drive to Western because they live far away from campus or commute from other towns, but expensive permits and daily parking rates have raised concern.
"I feel that the majority of students who drive to school are students who don't need to be there necessarily everyday, so even if you are to get a parking pass it's not even worth it," said Emma,* a local Western student who lives on the outskirts of the city and has preferred driving to campus in the past.
It takes Emma an hour and a half to bus to campus. 
The parking permit struggle at Western
A Gazette investigation has revealed that Western has one of the largest disparities between staff/faculty and undergraduate student permit rates across Ontario — students are offered permits which are often 50 per cent to 300 per cent more expensive than faculty permits.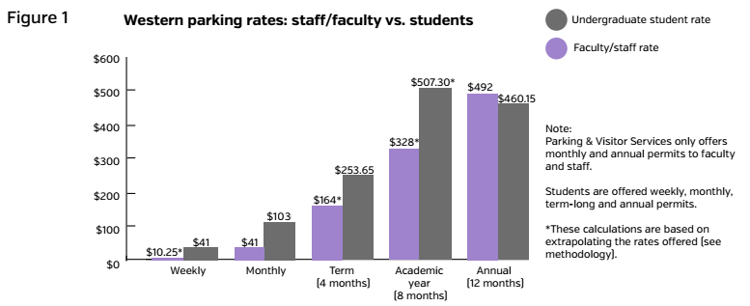 An analysis of the student rates refutes a report put out by Western titled "2016 Parking Modernization: Parking for the future."
The report portrays Western's parking rates as being one of the lowest among Canada's U-15 universities and Ontario's research-intensive universities.

The data in the report is misleading. The report only uses Western's faculty and staff rates to represent the University's permit fees. Accounting for the student rates would considerably raise Western's permit price average (See figure 4).
Considering the student fees is important because other universities used in the report, including University of Toronto, McMaster University and Queen's University, give the same rates to undergraduate students as their faculty and staff. 
The differences in parking rates between students and faculty and staff at Western stand out among the thirteen provincial universities surveyed for this story.
Universities surveyed: University of Toronto, University of Ottawa, Queen's University, McMaster University, University of Waterloo, York University, University of Windsor, Brock University, University of Guelph, Laurentian University, Trent University, Wilfrid Laurier University and Carleton University. Fanshawe College was also surveyed to provide a local comparator on parking at post-secondary campuses.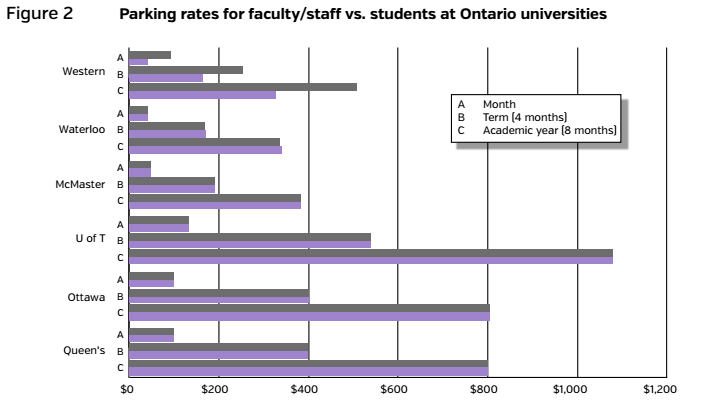 Every university surveyed provides faculty, staff and students the same or similar parking rates (See figure 2).
Some of the starkest differences appear in the weekly and monthly rates offered to undergraduate students at Western. A monthly parking pass costs faculty and staff $41. For students, it's $103.20. To buy a term-long permit, students pay $253.65. Faculty and staff can pay $164 for the same four-month period. 
This difference rises even further if Western students want to purchase parking permits for the eight-month academic year. Their two options are to either pay month-to-month or pay for term parking twice a year.
While the faculty and staff will only pay $328 for the eight-month period, students will pay either $825.60 if they choose to pay on a monthly basis or $507.30 if they pay for two term-long permits.
The most viable option remaining for students then is to buy the year-long permit for $460.15. This is the only permit where students pay less than faculty and staff, who pay $492 for the same 12-month period (See figure 1).
But many students like Gowing, who lives in Wingham, a town an hour and a half north of London, the parking permit is of little use in the summer when he's not at Western.
To provide students with a fair rate for the academic year, many universities, like the U of T, U of Ottawa and York, provide students with an eight-month academic permit with similar rates as faculty and staff.
Other universities such as McMaster, Queen's and Waterloo, provide students with reasonable monthly or term-long rates which total up to the same amount as faculty and staff. 
Western currently offers no eight-month, academic-year permits to students.
Rise in daily parking rates 
The recent increase in daily parking rates from a $6 flat rate to a $12 maximum has also raised some concerns among students.
"It's really inconvenient for them to increase the amount for parking and make me feel even worse about myself that I'm spending $12 a day to park where I could last year be paying $7," Emma said. 
Keith Marnoch, director of community and media relations at Western, said that the change was to improve daily parking issues at Western. The new increase allows visitors to pay $1.50 per half hour up to a $12 maximum instead of $6 each time they parked. 
"The maximum was adjusted up to $12 to standardize with the rest of the campus lots," Marnoch said. "The University sees that as an improvement. This may also lead to greater space turnover during the day, opening up spaces that might otherwise be occupied all day."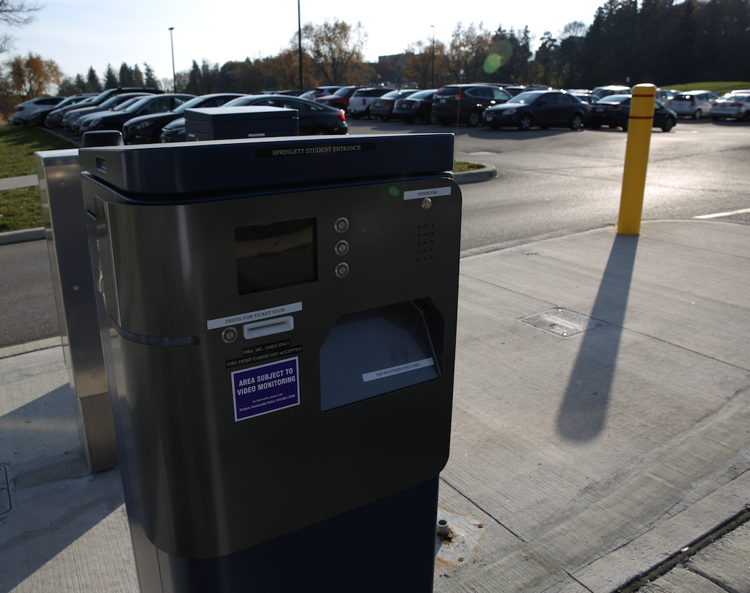 The University has also introduced a 20-minute grace period where people can exit the lot for free if they leave within that time.
According to Marnoch, despite the adjustment, campus rates are lower than in other parts of the city for both daily maximums and hourly rates. 
"And most importantly, there are less expensive options available on campus than paying on an hourly basis. If you are regularly driving to campus and parking for the entire day, the better option is definitely a parking permit," Marnoch said.
Where can students park? 
In addition to paying more for their parking access, students have limited access to parking lots on campus.
Undergraduate students can only buy parking permits for the student lots which are the farthest from the campus core. The other two lots are core and perimeter zones.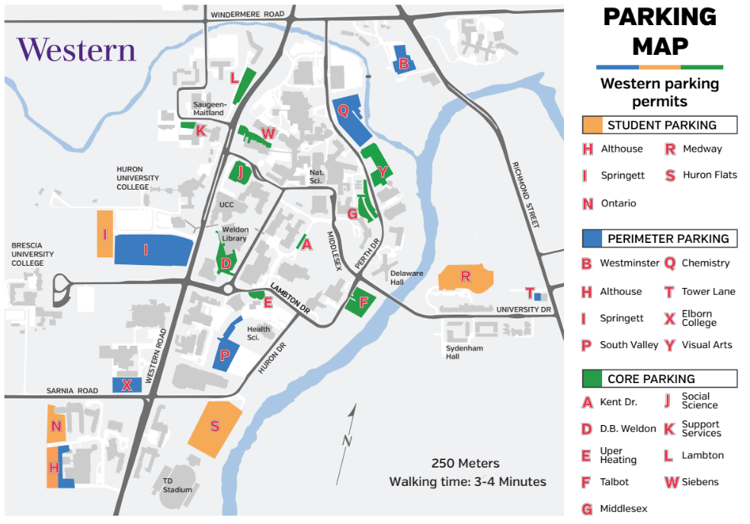 The core and perimeter lots are closer to campus, have reserved spots, more parking space overall and can only be accessed by faculty and staff via permits (See figure 3).
When Gowing was unable to find parking and ended up missing class, he had no other choices beyond the student lots. Faculty and staff, on the other hand, can access and park in the student lots as they wish. 

"The location isn't a huge issue, but when you park at the student lots you walk through the reserved lots to get to class," Gowing said. "You see that they are maybe at most at 75 per cent capacity while students are struggling to find parking just to get to class."
The lack of parking spaces, higher daily flat rates and the dearth of fair-priced permits has left many students disappointed.
"It's crazy how students who can barely afford to eat, let alone who have to park and drive to school, have literally paid almost double the amount just to park at school," Emma said.
"The whole system is flawed."
With files from Moses Monterroza, Mike DeBoer and Drishti Kataria. 
Have you had an experience with parking at Western you'd like to share with the Gazette? Email editor@westerngazette.ca. 
---
 Western's parking services and other campus leaders have been reached for comment and will feature in the next part of this series. 
---
 Part two of "Student parking at Western: an unusual struggle" investigates the reasons behind the disparities between parking rates and spaces for faculty, staff and students, and what, if anything, is being done to alleviate concerns.
---
*Name has been changed on condition of anonymity.
---
Methodology: The Gazette looked at thirteen different universities across Ontario to compare parking permit rates. Out of the thirteen, five research-intensive universities are represented in the graphs — the same used by Western in its "2016 Parking Modernization: Parking for the future" report.  
To account for different lot rates at other universities, the lowest possible rate available to faculty and students was considered for each. For universities where monthly rates were unavailable, the term rate was used to extrapolate the monthly rate. For universities where the academic year rate was unavailable, the monthly or term rate was used to extrapolate the academic year rate.